01-11 TABLE of CONTENTS:
Developer of the genre of realistic writing
DATES, ANNIVERSARIES, and EVENTS
QUOTES by Eva Hesse, Henry Ibsen, Mary Wollstonecraft and John Stuart Mills.
---
Caroline Matilda Stansbury Kirkland
Born 01-11-1801, Caroline Matilda Stansbury Kirkland, a New Yorker, was the actual developer ofthe genre of realistic writing, pre-dating authors credited with it. She was also the first to describe the importance of women in pioneer life. She wrote A New Home - Who'll Follow? (1839), Forest Life (1842), and Western Clearings (1845).
Educated by an aunt who ran a school, CSK and her husband also taught, CSK teaching through the six pregnancies plus taking care of her children and home in Geneva, NY. Her husband got the westward ho! bug in 1836 and moved the family to an area in Michigan that could only be described as a wide clearing. The primitive living conditions were horrible. Her letters home formed the nucleus of her first novel that described in realistic terms the frontier hardships, the uncouth ways of many of the men, etc.
Returning to New York, she became entirely responsible for her family when her husband died. She succeeded him as editor of two magazines. While editing, she continued to write her novels - and run a household with herself as sole support - and raise her children - and... was prominent in New York City's literary circles - and took part in many charity works, dying in 1864 after overworking herself while organizing a fundraiser for the U.S. Sanitary Commission.
| PRIOR DATE | | HOME | | WOA INDEX | | NEXT DATE |
---
B. 01-11-1795, Barbara Heinemann or Heynemann, French-born U.S. spiritual leader of the Community of True Inspiration who supported Christian Metz in his moves from Europe to Iowa and organizing the network of the seven communities known as the Amana Society. As spiritual leader she held the society together after Metz's death.
B. 01-11-1801, Caroline Matilda Stansbury Kirkland, a New Yorker who after her marriage lived as a frontier wife and authored A New Home - Who'll Follow? (1839). She wrote in a realistic style life that set a new standard for fiction. Her style was continued by her son Joseph Kirkland in his novels. She succeeded her husband as editor of a Unitarian weekly and later edited what became Sartain's Union Magazine. She was prominent in New York City literary circles.
B. 01-11-1870, Alice (Caldwell) Hegan Rice, American novelist and short-story writer best known for her 1901 novel Mrs. Wiggs of the Cabbage Patch which has been translated into dozens of languages, made into plays and movies.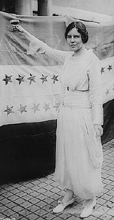 B. 01-11-1885, Alice Paul, American radical women's suffrage leader. After being jailed three times in England while working under the British radical feminists, learning their tactics, AP returned to the U.S. to continue street protesting for women's suffrage.
She was the spiritual leader of the National Women's Party, financed and headed by socialite Alva Belmont. AP began the first campaign in the 20th Century to adopt an equal rights amendment.
It was her wording of the Equal Rights Amendment that went to the states for ratification in 1972 and failed by three states. She wept when she heard the way the feminists had been tricked into accepting a time limit on ratification of the proposed amendment.
Event 01-11-1897, M.H. Cannon of Utah became the first woman state senator in America.
B. 01-11-1899, Eva LeGallienne, British-born American actor, author, Tony and Emmy award director, producer, manager, and lecturer. Her obituary read "a national treasure... a reminder of what greatness in the theatre can be." She received so many awards it takes a page to list them. She could not accept the Kennedy Center award because she was too ill to attend the ceremonies personally, a requirement.
Unable to find good parts as an actress, she founded, along with Margaret Webster and Cheryl Crawford, the American Repertory Theatre.
Her mother was a Danish journalist, after parents divorced, mother moved to Paris and managed to eke out a very frugal living by doing translating and some writing until she was able to open a hat shop. After seeing Sarah Bernhard, ELG said, "From that moment on, the theatre... became to me the all important aim...my experiences, my reading, my studies from then on were focused toward one ultimate goal from which I never again wavered for an instant: the theater; the power of the theater to spread beauty out into life. To be a worker in, a part of such power, seemed something worth struggling for."
Her long-time companion was Marion Evensen. In 1964 she received the Tony's distinguished contributions to the theater award to go along with her many other Tonys. Autobiographies: At 33 (l934) and With A Quiet Heart (1953). She lived to be 101.
B. 01-11-1905, Helen Howe, American author, came from a family of writers although her mother only contributed articles for publication "anonymously" so as not to rival her husband and two brothers.
B. 01-11-1914, Dorothy Jenkins won three academy awards for costume design and was nominated 12 more times. She was a free-lance designer not on the payroll of any studio. DJ also designed for a number of stage productions. She was kidnapped by her father when she was five and never knew what happened to her mother.
B. 01-11-1921, Juanita Morris Kreps, American economist, Secretary of Commerce 1977-79 under President Jimmy Carter. JMK was the first woman to serve in that capacity. She was also the first woman director of the New York Stock Exchange. She was a full professor of economics at Duke University, dean of the women's college, and vice-president of the university.
B. 01-11-1936, Eva Hesse, German-born American abstract sculptor. Her family escaped the Nazi to American in 1939. Her later works utilized fiber- glass. After her death from a brain tumor, Guggenheim Museum presented its first retrospective ever given to a woman artist.
B. 01-11-1945, Naomi Judd, singer.
B. 01-11-1963, Tracy Caulkins, American swimmer, winner of more titles than any other amateur athlete. TC won 48 national titles, three Olympic gold medals (1984), set 66 world or U.S. records, and is a member of the International Swimming Hall of Fame (1990).
Event 01-11-1977, AT & T approves dual listings in phone books for wife and husband without extra charge, ending a three-year battle by feminists.
| PRIOR DATE | | HOME | | WOA INDEX | | NEXT DATE |
---
HESSE, EVA:
"A women is sidetracked by all her feminine roles...She's at (a) disadvantage from the beginning...She also lacks the conviction that she had the 'right' of achievement.. that her achievements are worthy... A fantastic strength is necessary and courage. I dwell on this all the time."
-- Eva Hesse, 1965.
IBSEN, HENRY:
"There are two kinds of moral law, two kinds of consciences, in men and women, and they are altogether different. The two sexes do not understand each other. But in practical life, the woman is judged by man's law as if she were a man, not a woman." -- Henry Ibsen, Notes for A Doll's House, 1878
WOLLSTONECRAFT, MARY:
"If women be not prepared by education to be the companion of man, she will stop the progress of knowledge, for truth must be common to all."
-- Mary Wollstonecraft
MILLS, JOHN STUART:
"The majority of the male sex cannot yet tolerate the idea of living with an equal."
-- John Stuart Mills, mid-1800's
---
| PRIOR DATE | | HOME | | WOA INDEX | | NEXT DATE |