02-02 TABLE of CONTENTS:
Eileen Collins, Woman Astronaut
DATES, ANNIVERSARIES, and EVENTS
QUOTES by Adrienne Rich and Astronaut James Lovell.
---
Eileen Collins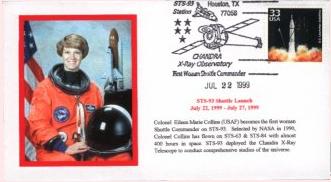 Event 02-02-95 - Wearing a scarf that belonged to Amelia Earhart and carrying the pilot's license of early endurance flight champion Bobbi Trout, as well as items belonging to members of the Women Airforce Service Pilots who ferried military aircraft in the U.S. during WWII (and died) and from the women who applied and passed initial tests in NASA's Mercury program in the 1950's but were turned down because of their sex, Lt. Colonel Eileen Collins, 38, lifted off from Cape Canaveral in the co-pilot's seat, as the first woman to pilot an American space craft.
An Air Force test pilot, she was selected for the NASA space program in 1990, the first woman chosen as a space shuttle pilot. In December 1994, two more women were chosen.
Eighteen of NASA's astronauts are women.
Personally invited by Collins (not NASA) to witness the blastoff were some of the women who tried out for the initial Mercury program, did exceptionally well, and then were turned away because - shock! - they were women! (See Commander Lovell's infamous quote below.)
In June 1963, Valentina Terreshkova, Soviet cosmonaut, became the first woman in space. She manually controlled Vostok-6 during parts of the 70.8-hour flight through 48 orbits of earth.
Set to start in NASA pilots' training program in March 1995, are Air Force Maj. Pamela Melroy and Navy Lt. Susan Still.
The first American woman in space was Sally Ride, who used the shuttle robot arm to release and retrieve satellites.
The first American woman to perform a spacewalk was Kathryn Sullivan, who practiced techniques for refueling satellites, and Kathryn Thorntorn went outside the shuttle to help repair the Hubble Space telescope.
Almost all the non-pilot women trainees hold Ph.D's in their fields of expertise.
[cont. at WOA 02-03...]
| PRIOR DATE | | HOME | | WOA INDEX | | NEXT DATE |
---
NASA's dirty little secret
Beginning in 1959, Jerrie Cobb secretly underwent tests for the aerospace program, often outscoring men such as John Glenn. When other women in the secret project also tested very high, a shocked NASA quickly cancelled the testing and kept (classified?) the results secret.
The NASA tests showed women to be as physically, emotionally, and mentally equal to men in space. Later NASA admitted under questioning by Congress that it had no intentions of allowing women into space.
---
Event 01-16-1978, The newly created post of "Mission Specialists" was created by NASA and six women appointed to fill the posts. It marked the first time since the inception of the U.S. space program in 1959 that NASA had recognized women. Janet Guthrie, who would win fame as an Indianapolis 500 racer, was turned down because NASA decided all the women had to have Ph.D. degrees.
| PRIOR DATE | | HOME | | WOA INDEX | | NEXT DATE |
---
B. 02-02-1650, Nell Gwynne, popular English actress and mistress of Charles II whose last words were "Don't let poor Nelly starve." Guess what happened?
B. 02-02-1811, Delia Salter Bacon, gave popular "historical lesson" lecture in her native New England and became obsessed with the idea that Shakespeare's plays were written by Sir Walter Raleigh or Francis Bacon. Laughed at, she however was given the first fellowship on record for an American woman and went to England to research her theory.
Nathaniel Hawthorne, whose contempt for women writers has been well documented, was serving as American Consul in Liverpool and although claiming he didn't believe the theory, found publishers for Bacon's The Philosophy of the Plays of Shakespeare Unfolded (1857), and she is consequently blamed for stirring up "the biggest mare's nest in the history of the English-speaking world."
Shortly after she was returned to the U.S. hopelessly insane and died the next year in an institution.
B. 02-02-1862, Elizabeth Putnam, a socialite who headed women's groups that did ovulating work on educating the public of poorly trained doctors in attempts to reduce the soaring infant and mother mortality.
B. 02-02-1889 Rajkmuari Amrit Kaur, Indian cabinet minister and one of the founders of the All-India Women's Conference.
| PRIOR DATE | | HOME | | WOA INDEX | | NEXT DATE |
---
RICH, ADRIENNE:
"As long as birth, metaphorically or literally, remains an experience of passively handing over our minds and our bodies to male authority and technology, other kinds of social change can only minimally change our relationship to ourselves, to power, and to the world outside our bodies."
-- Adrienne Rich in Of Woman Born (1976).
LOVELL, JAMES:
"We've never sent any woman into space because we haven't had a good reason to. We fully envision, however, that in the near future, we will fly women into space and use them the same way we use them on Earth - and for the same purpose."
-- James Lovell, astronaut, 1973.
LOVELL WAS NEVER REPRIMANDED FOR HIS REMARKS... Fly on Lt. Col. Eileen Collins... Straight ahead past morning, Capt'n ma'am...
---
| PRIOR DATE | | HOME | | WOA INDEX | | NEXT DATE |