04-15 TABLE of CONTENTS:
The 2000 Sydney Australia Olympic games
Quintus Hortensia and the Taxation of Women in the Roman Empire
DATES, ANNIVERSARIES, and EVENTS
QUOTES by Martha Boesing, Emma Jung, and Erin Solaro.
---
The 2000 Sydney Australia Olympic games
The 2000 Sydney Australia Olympic games marked a watershed in attendance as more and more spectators braved growing crowds to watch women compete - sometimes in larger numbers than watched the men.
The spectator gender revolution held true in the U.S. as well as stubborn viewers of the terrible TV coverage of the Sydney games showed a marked preference for women's competition tuning out the men's events even though the men usually had better viewing times. TV commentators treated the higher women's viewing as an accident rather than a preference. (Where have women heard that before?)
The stage for the spectator revolution in the U.S. anyway, was set back in 1988 when the greatly honored PROFESSIONAL men's basketball team - millionaires all, the dream team - lost the gold to a Soviet Union team of nobodies. The loss was bad enough, but the actions of the U.S. men afterwards as they made raucous, angry excuses were too blatant for even their sportswriter toddies to cover up.
Especially since the U.S. women's team, only in its fourth year of competition, won its second gold in spectacular and gracious fashion. It was the Olympics in which Cheryl Miller (now a WNBA coach) soared to great heights averaging 16.5 points per game as did Lynette Woodard who would be the first woman - albeit token - to play with the Harlem Globetrotters.
But the greatest shame for the U.S. would come at the games in Japan when the men's hockey team, soundly beaten, wrecked their living quarters and in general acted like spoiled-brats. In contrast, the women's hockey team won the gold and accepted their good fortune with great joy but graciousness.
Then, there was of course, the stunning victories of the women's softball team and the soccer team - the women conducting themselves off field in a manner typical of the by-gone days of the Olympics when sports meant sportsmanship.
And so it has gone on with other events - men track stars throwing tantrums while - so far - women keeping their cool. (This "graciousness" may change as big money becomes a greater factor in women's play as men's, but at least for now, it is there.)
The cold eye of TV in getting down on the playing fields to show the intimate actions of the players is changing what spectators will accept.
One of the great problems, however, with the new Olympics is the amount of money the winners of the premier events can pocket - often more than a million dollars.
The large payoffs - with some women athletes receiving multi-million dollar endorsements for the first time - may be changing women's basketball as some coaches encourage their players - even at the college level - to get rough and intimidate their opponents rather than play the basket.
The days of the Olympics being the greatest exhibition of amateur sports and sportsmanship appears destined to rest in the past unless women can continue to uphold the best of the tradition.
In another few years comments that women athletes play a "pure" game of tactics rather than individual grandstanding for super-star payoffs may soon go the way of the millionaire's IRA.
And who is to say whether its good or bad as women are finally getting a piece of the pie.
-- A commentary by Irene Stuber who was an amateur athlete of no great accomplishments and has bemoaned the lack of money being made by women athlete.
| PRIOR DATE | | HOME | | WOA INDEX | | NEXT DATE |
---
Quintus Hortensia and the Taxation of Women in the Roman Empire
Event 04-15-042 B.C.: The Roman Empire top brass that included such luminaries to future historians as Mark Antony and Octavian, the man who later be called emperor Augustus, decided to tax the property of 1,400 rich Roman women to pay for an internal war they were waging against the assassins of Julius Caesar (43 B.C.)
Quintus Hortensia, a Roman matron, didn't think the taxation was fair and rebuked the Roman leaders in a speech so notable that was referred to by Appian, the noted chronicler of the times.
Hortensia pointed out that the women had no part in the fighting and had no voice in starting or running wars.
She said women would help pay for a foreign war but not for a civil war.
The triumvirate got really mad at the audacity of the women who they felt should simply obey their bosses, but when the women stayed united against them, the leaders were forced to back down.
They reduced the number of women to be taxed to 400, but most importantly, extended the same special levy to include 400 men.
[Note: this taxation of women at a rate higher than men was more common than historians generally admit. Even in the U.S., in good honest New England, city fathers felt they had a right to tax women at a higher rate.]
| PRIOR DATE | | HOME | | WOA INDEX | | NEXT DATE |
---
History of Women of Achievement on the Internet
In 1995 when I posted the 260th episode of Women of Achievement and Herstory I wrote the following:
Many of the ever- increasing number of WOA readers are not aware that WOA has been posted almost daily since June 1994 for the FREE enjoyment of everyone and so we are starting a numbering system... today is the 260th installment. We also posted almost a year of feminist history on Prodigy when we were hooked in there, but those episodes are not counted in the present numbering system. (The numbering system was abandoned in 1997 when it became too unwieldy because of new information, etc.)
The Women of Achievement and Herstory series is the outgrowth of a casual hobby I started a few years back. It has grown into a 15-ton female gorilla who is shouting: "YES, women of accomplishment exist - have always existed. WORLD - STOP TRYING TO HIDE THEM!" I am a slave to her demands for research ... research ... research. So many women ignored, overlooked, erased from HIStory.
Why am I posting the information on cyberspace and not books for profit? Because internet can and will reach more women of all generations and backgrounds than any book or books I could write. And why do I do this? Because I have two daughters, a son, and three granddaughters and a grandson (and now a great-granddaughter) and they SHALL live under an Equal Rights Amendment that gives us all the same rights to our dreams, our abilities, and happiness!
Thank you Paula for making it possible. -- IS
| PRIOR DATE | | HOME | | WOA INDEX | | NEXT DATE |
---
04-15 DATES, ANNIVERSARIES, and EVENTS
---
B. 04-15-1684, Catherine I - Empress of Russia. She was proclaimed sole empress following the death of her husband, Peter I, the Great (reigned 1682-1725).
Shrewd and intelligent she ruled for only two years, but it was enough to change the power in the nation back (1725-27) to the aristocracy and away from the parliament.
Catherine who is by tradition called a peasant had been captured by Russian invaders of her native Lithuania and passed on to Peter who fell in love with her.
She had his child in 1703, accepted the Greek Orthodox religion. They were married in 1712 and ibn 1724 she was crowned empress-consort of Russia. Dying without naming his successor, Catherine gained immediate support and was named empress. She effectively transferred governmental control to a six-man Privy Council from a combination of Senate and religious leaders, changing the power of Russian rulers for more than a century.
She named Peter's grandson Pyotr Alekseyevich her heir (he reigned as Peter II 1727- 30). Later, her daughter Elizabeth (reigned 1741-62) and her grandson Pyotr Fyodorovich (reigned as Peter III; 1762
B. 04-15-1710, Marie Camargo - French ballerina born in Brussels. Said to be brilliantly innovating, MC changed the way women danced. She raised her skirts to calf height to free and then show off her strong, beaten steps and her strong leg movements such as jumps that had previously been reserved for men dancers.
MC took the heels off her ballet slippers and developed new positions such as the 90 degree leg position from the hip. To show off her legs, she invented tight fitting leggings that eventually devloped into today's tights. She starred and directed the Paris Opera 1726-1735 and 1741-1751.
B. 04-15-1829, Dr. Mary Harris Thompson - U.S. physician.
MH founded Chicago Hospital for Women and Children and was the first female surgeon in the U.S. She studied a year with the Elizabeth and Emily Blackwell, the first woman doctors. When in training in a regular hospital, she received a great deal of the same kind of sexually harassing ridicule that the Blackwells had received while studying to be doctors.
B. 04-15-1865, Emily Smith Putnam - U.S. educator.
ESP was the first dean of Barnard College and the writer of a major historical study of women: The Lady: Studies of Certain Significant Phases of Her History (1910). Both as a dean, a trustee, and a teacher she was one of the great women who developed Barnard into a major educational opportunity for women. She resigned as dean in 1899 to marry and then became a trustee of the college to continue her drive to to equalize Barnard's academic relationship with Columbia University. She returned to teaching at Barnard in 1914, permanently retiring in 1930. She authored a number of important historical studies and biographies.
B. 04-15-1888, Florence Rabe Bates - U.S. attorney. A woman of varied talents, FRB was a piano prodigy, the first woman lawyer in Texas, and an actor. She appeared in a number of movie roles including the dowager in Rebecca (1940).
B. 04-15-1889, Frieda Miller - U.S. government official. FM was director of the Women's Bureau of the U.S. Department of Labor (1944-1952). She supported equal opportunity rather than protective legislation.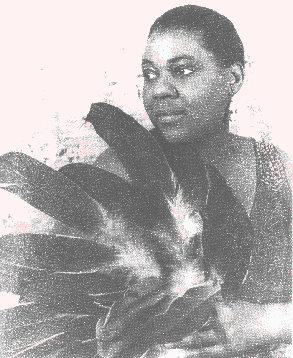 B. 04-15-1894(98), Bessie Smith- U.S. Afro-American singer. BS was known as the Empress of the Blues. Her voice and songs tore the heart out of her listeners as she demanded they weep, laugh, and then face life as it was dealt.
Her first recording, "Downhearted Blues," sold two million copies. She was queen of all she surveyed during the 20s and early 30s but a disastrous marriage and unwise financial decisions left her impoverished.
Her more than 150 records are greatness preserved and her one movie St. Louis Blues that was banned for being too realistic is part of the Museum of Modern Art movies section.
Her vocal greatness was recognized early by the great Ma Rainey who hired the 12-year-old to sing in her minstrel review. Like so many of her sister blues singers, the bottle became her refuge in a life that just didn't seem to hang together. Unlike Billie Holiday who went the same disastrous booze and drugs route, her voice continued strong. She died in 1937 after an automobile accident in Mississippi. A white hospital refused her admittance and she died on the operating table of the black hospital some miles away.
Like many singers of the era, she fought an unsuccessful battle with alcoholism and her popularity declined during the last years of her short life. Some claim people's tastes changed and they no longer reacted to the blues as they had earlier, but then she died at the height of the Great Depression when it all seemed too hopeless.
A tall, upright woman, she was known to have had affairs with women.
B. 04-15-1896, May Edward Chinn - although considered one of the first Black women physicians in New York City, she was half Amerind. Her mother was a full-blood from the Chickahominy tribe. It was her mother whose respect for education drove her Her research work led to the development of the Pap smear to detect cervical cancer. She was the first non-white woman to graduate from Bellevue Hospital. For years she was only allowed to practice medicine at Harlem hospital which necessitated her starting her own private practice. During her training she road ambulances as a paramedic, one of the first women to do so in the U.S. Chinn's father escaped slavery from a Virginia plantation at the age of11. MC continued in private practice until she was 81.
B. 04-15-1898, Molly McGreethe - U.S. comedic radio actor. During the golden era of radio, MM was the Molly of one of its most popular shows, Fibber McGee and Molly. She portrayed the much suffering wife married to a dreaming impractical husband. Well, it was funny on radio.
B. 04-15-1912, Ardyth Kennelly - author.
B. 04-15-1915, Elizabeth Catlett - expatriate American sculptor and printmaker renowned for her accessible and intensely political art
B. 04-15-1915, Caroline Mahoney Bird - U.S. writer, lecturer, and equal rights activist. Carrie Chapman Catt was a visitor to her liberal home. Her best known book, Born Female: the High Cost of Keeping Women Down.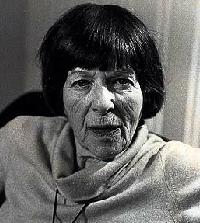 B. 04-15-1916, Helene Hanff - U.S. writer. In spite of a lifetime of writing in New York City that never earned her much money, HH's fame ironically rested on a series of business correspondence she had with a British bookseller. Set over a 20-year period, her correspondence changed from requests for advice on books to warm friendships with all the British employees. During World War II, hearing of the food shorgage in England, HH sent regular "care packages" and the staff reciprocated by sending her Irish linens or sought-after books. She would never meet the book manager nor the employees because by the time she made it to London, the manager had died and the store closed. The correspondence became the backbone of the popular movie and play 84 Charing Cross Road. The movie co-starred Ann Bancroft and Anthony Hopkins.

B. 04-15-1930, Vigdis Finnbogadottir - first women to be democratically elected head-of-state of any nation in the modern world. She was elected president of Iceland 06-30-1980 and re-elected in 1984 and 1988. When she retired she exhorted the Icelanders to not go back to the male domination in politics but to vote for a very qualified woman as her successor. The lesser qualified man was elected.
Before her election to the presidency of her island nation, she was director of the Reykjavik Theatre Company from 1972 to 1980. She emphasized the works of Icelandic playwrights and her skilled management made the struggling enterprise a success. She also taught French at the Iceland State University.
B. 04-15-1932 , Eva Figes - English novelist, social critic, and translator who reacted against traditional realist literature by inventing new forms for her own works
B. 04-15-1933, Elizabeth Montgomery - U.S. actor. Although she starred in a number of TV films, she will always be remembered for her portrayal of Samantha in the long running TV series Bewitched (1954-72) (and outliving two husbands on the show).
B. 04-15-1947, Linda Bloodworth - Thomason - TV writer and producer. LBT created and wrote the first 35 episodes of the fabulously successful TV series Designing Women, a series that returned wit to TV. If you don't think there's imbedded sexism in TV note that this very popular series only won one Emmy: for hair styles.
B. 04-15-1951, Marsha S. Ivins - U.S. astronaut. MSI logged more than 764 hours in space. MSI has been employed at the NASA Lyndon B. Johnson Space Center since July 1974, and until 1980, was assigned as an engineer, Crew Station Design Branch, working on Orbiter Displays and Controls and Man Machine Engineering. Her major assignment in 1978 was to participate in development of the Orbiter Head-Up Display (HUD). In 1980 she was assigned as a flight simulation engineer on the Shuttle Training Aircraft (Aircraft Operations). She continued to work on development of the Orbiter HUD, in addition to duties as a flight test engineer for the Shuttle Training Aircraft.
MSI also served as co-pilot in the NASA administrative aircraft (Gulfstream-1). She holds a multi-engine Airline Transport Pilot License with Gulfstream-1 type rating, single engine airplane, land, sea, and glider commercial licenses, and airplane, instrument, and glider flight instructor ratings. She has logged over 5,300 hours in civilian and NASA aircraft.
She was selected in the NASA Astronaut Class of 1984 as a mission specialist. Her technical assignments to date include: crew support for Orbiter launch and landing operations; review of Orbiter safety and reliability issues; crew interface for Space Station safety and reliability; avionics upgrades to the Orbiter cockpit; software verification in the Shuttle Avionics Integration Laboratory (SAIL); Capsule Communicator (CAPCOM) in Mission Control; crew representative for Orbiter photographic system and procedures; crew representative for Orbiter flight crew equipment issues.
A veteran of three space flights, she was a mission specialist on STS-32 (Columbia) in 1990, STS-46 (Atlantis) in 1992, and STS-62 in 1994.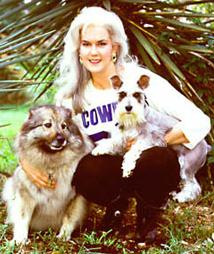 Heloise of Hints from Heloise
fame, at home with her dogs.
B. 04-15-1951, Heloise Cruse Evan - U.S. newspaper columnist best known for her domestic hints.
Event 04-15-1955: Margaret Sanger, birth control pioneer is the first woman invited to address the Japan's parliamentary Diet and urges the Japanese to use birth control.
B. 04-15-1957, Evelyn Ashford - U.S. athlete. In 1984 EA set a new world record of 10.76 in the 100 meters dash for a woman while she was PREGNANT! Before her pregnancy, in LA she became the first woman to run 100 meters under 11 seconds to win the Olympic gold. She also anchored the winning relay team to victory - in spite of a twice injured hamstring muscle.
In 1988, she carried the flag into the Olympics and came home with another gold in the relay and a silver for the 100 meters finish just behind Kersey-Joyner. She was in the record books with 20 of the 23 top times in 100 meters! She competed with five U.S. Olympic teams (1976 to 1992).
She is a member of the Track and Field Hall of Fame as well as the Women's Sports Hall of Fame
B. 04-15-1959, Emma Thompson - British- American actor. ET began her career as a classical actress on London before being enticed to Hollywood. She won the Academy Award for her 1993 work in Howard's End. Her mother is also a classically trained actor with a successful career and recently appeared in several productions with her daughter. One of her drawbacks in movies in her height of 5'7" when so many leading men are short.
B. 04-15-1962, Nawal El Moutawakel - the first gold medalist from Morocco and the first woman from a Muslim company to win an Olympic medal. In 1984 NeM won the first 400m hurdles ever allowed women by the Olympic committee that historically restricted women's participation in spots that might disprove the male superiority As it turned out, the fears were real. Women have become the stars of the Olympics in the 21st century and have begun to draw larger crowds - so again, the Olympic prejudice probably had the same basis as in all other sports endeavors and in board rooms: money.
NeM considers herself a traditional Muslim wife and is now the mother of two. She coached the Morrocan team after she retired from racing.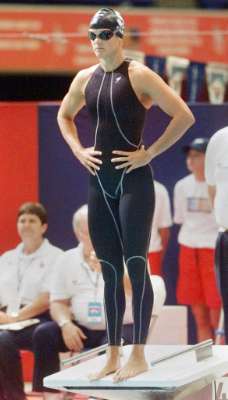 B. 04-15-1967, Dara Torres - U.S. swimmer. Dara Torres is the only American woman to win a swimming medal at three consecutive Olympics - and then added a fourth in the 2000 Olympics at age 33. She culminated her career with a last night victory in the women's 4x100m relay along with B.J. Bedord, Megan Quann, and Jenny Thompson. She got first gold medal as part of the U.S. 4x100-meter freestyle relay team at the 1984 Los Angeles Games, a bronze in that event in 1988 (along with a 4x100 medley silver), and another gold in the 4x100 free relay at the 1992 Barcelona games.
Following Barcelona, Torres, then 25, retired for the second time in her career. However, she returned to competitive swimming in 1999 after a seven-year hiatus. In the Sydney 2000 Olympics, she tied for third in the women's 100m, finished third and finished third in the women's 50m freestyle, and third in the women's 100 m butterfly. She captured the gold, again as part of the relay team, in 4x100m relay final and in the 4x100 medley final. Torres stands 5'11" and weighs 161 pounds.
B. 04-15-1967(?), Alla Pugacheva - Russian superstar pop singer.
Event 04-15-1975: a Utah law which required fathers to support their sons to age 21 but girls to only age18 was ruled unconstitutional by the U.S. Supreme Court. Justice William Rehnquist cast the only dissenting vote.
Event 04-15-1985: Dawn Steel is promoted to production president of Paramount Pictures Corp., the highest position ever held by a woman in Hollywood to date.
Died 04-15-1999, Grace Zia Chu - Chinese cook and cookbook author. In the 1950s when the average American thought chow nein was the ultimate Chinese delicacy, GZC through her Mandarin House restaurant institute in New York city demystified and made practical the cuisine we all take for granted today. Later, her two books The Pleasures of Chinese Cooking (1962) and Madame Chu's Chinese Cooking School (1975) continued to spread the word: fresh, raw ingredients were the healthiest. Although she recommended traditional Chinese vegetables, she would substitute American foods when they were not available.
Born in China, educated at Wellesley College in Massachusetts, she returned to China, married an army officer who would later become military attache in Washington. It was there she began her ambassadorship of Chinese cuisine top the American public. She returned to China during World War II but settled in the U.S. permanently in 1950.
Craig Claiborne said Chu's Pleasures of Chinese Foods "[That it] may well be the finest, most lucid volume on Chinese cooking ever written."
Died 04-15-2000, Micheline Blum-Picard (Glover), 76, winner of a U.S. citation for outstanding activities in the French Resistance. She was awarded a medal of honor from the French government.
MB-P acted as a courier delivering messages for the Allies and the French Underground even under the watchful eyes of the Nazis. She also helped rescue down Allied airmen over France In her courier work she traveled across France with messages taped to her back. She never lost her nerve even when stopped and her papers were found not to be in order. She slipped her guards, boarded the train again and finished her mission.
Even more dangerous than her courier work was photographing damage sustained by factories after bombing raids and getting the film into Allied hands.
| PRIOR DATE | | HOME | | WOA INDEX | | NEXT DATE |
---
BOESING, MARTHA:
"The great creative power is everything. If you leave out one whole chunk of it, by making God only masculine, you have to redress the balance."
-- Martha Boesing
JUNG, EMMA:
"The real thinking of woman... is pre-eminently practical and applied. It is something we describe as sound common sense, and is usually directed to what is close at hand and personal... In general, it can be said that feminine mentality manifests an undeveloped, childlike, or primitive character; instead of the thirst for knowledge, curiosity; instead of judgment, prejudice; instead of thinking, imagination or dreaming; instead of will, wishing. Where a man takes up objective problems, a woman contents herself with solving riddles; where he battles for knowledge and understanding, she contents herself with faith or superstition, or else she makes assumptions."
-- Emma Jung (1882-1955), Swiss scholar, lecturer. "On the Nature of Animus" (1931; repr. in Animus and Anima, 1957).
SOLARO, ERIN:
"Conventional wisdom is a lie because it does not account for what women know. In fact, it generally isn't interested."
-- Erin Solaro, 1998, budding historical writer.
---
| PRIOR DATE | | HOME | | WOA INDEX | | NEXT DATE |