04-20 TABLE of CONTENTS:
Soap Didn't Always Come from the Super Market
Lone Medical Officer in the ENTIRE Australian Outback
Tullia d'Aragona -- (c.1510-1556) Italian Courtesan and Poet
DATES, ANNIVERSARIES, and EVENTS
QUOTES by Hilton Hotema, Elizabeth Cady Stanton, and Gro Harlem Brundtland.
---
Soap Wasn't Always a Super Market Item
For those of you who believe soap was always purchased at the super market, or whatever passed for a super market in the old days... read about the good ole days when "HIStorians" imply that women were delicate and did only "dainty" things.
Marie E. Raymond researched the womanly art of a soap making in years gone by:
"Some frontier women purchased their lye, but more often they made their own by pouring water and lime through fireplace ashes carefully preserved for this purpose. Then the lye was combined with the leftover household grease, also carefully preserved in a barrel or can. The two ingredients were boiled together and had to be constantly stirred until the soap "came" and could be dipped into the soap barrel.
"This odiferous task was usually done outdoors in the blowing wind, while the nauseous steam assaulted the cook's nostrils, ashes clung to her arms and hair and sparks threatened skirts and bare skin."
[Direct quote from Sandra L. Myers' book Westering Women and the Frontier Experience, 1800-1915 p. 152. A fascinating book that shows how wrong so many HIStorians are about what *real* women's lives were really like. Colonial women, regardless of social class, made soap like every other woman. Hired help was rare in the early days and homes were little more than huts.]

Another view:
"Soap making was a complicated - even dangerous - job done two or three times a year. It involved pouring boiling water over wood ashes to form a caustic lye, adding scrap animal fats, and stirring the whole mess for long,hot hours. 'Soft soap' came first, and was hardened by adding salt during the boiling process and poured into molds."
[From Susan G. Butruille's Women's Voices From the Oregon Trail, p. 39. It was a tough, hard trail!]

For you history buffs:
The Phoenicians are credited with developing the first "true" soap about 1000 B.C. using goat fat, water, and ash high in potassium carbonate - the same basic process that has been used for the past 3000 years. Alkali solutions were used before lye soap.
Now, WOAH asks you, what was more important? The discovery of soap making or the conquests of Alexander the Great?
Which event has reverberated down through the ages? Remember, soap is the biggest deterrent to disease there is.

| PRIOR DATE | | HOME | | WOA INDEX | | NEXT DATE |
---
April is VD Awareness Month
April is VD Awareness Month, sponsored by the California Department of Health Services to inform the public that VD is becoming a bigger problem every year because of public apathy (and the refusal of conservative elements to confront the problem through the use of condoms which they say prevents conception - a more important thing than the saving of a life.).
In spite of drugs that were supposed to easily cure many VDs, drug resistant strains are mutating - and a number of non-curable sexually transmitted illnesses have become common-place... AIDS/HIV, genital warts, etc.
When West Virginia used billboards and honest talk about VD some years back, it cut the infection rate dramatically. The campaign was aborted when certain religious groups objected. Again it was the attitude, don't talk about sex, just die because of it.
| PRIOR DATE | | HOME | | WOA INDEX | | NEXT DATE |
---
Lone Medical Officer in the ENTIRE Australian Outback
Australian-born Mary De Garis was one of the earliest medical graduates of the the University of Melbourne, getting her M.D. in 1907.
She was a lone medical doctor in the entire Australian outback 1907-14 - a job no man wanted.
She went to Europe with Australian troops during World War I. On her return she set up private practice in Geelong and faded from herstory.
| PRIOR DATE | | HOME | | WOA INDEX | | NEXT DATE |
---
Tullia d'Aragona - (c.1510-1556) Italian Courtesan and Poet
The daughter of a courtesan, Tullia d'Aragona was raised in the free social society of the Italian Roman Catholic church's renaissance period - and became persecuted under its forced conservatism caused by the Protestant reformation movement.
Like her mother to whom Tullia gave full credit for her intellectual accomplishments, she became learned in the arts of music and literature and traveled in the highest social strata of the era. She formed a salon that drew the intellectuals of Venice and her writings, primarily poetry, became known and admired.
However by the time she was in her 30s the influence of the Protestant conservative movement was being felt in the Roman Catholic controlled country and the free social positions of courtesans were being hampered by laws defining where they might live and travel as well as forcing them to wear distinctive clothing (but never to stop their professional services).
The Council of Trent opened in 1545 that would change the church's social openness forever.
She married, probably in name only to legalize her position but it does not seem to have helped (her husband disappeared) and she was driven south to Florence where at 36 she formed an alliance with a powerful writer with ties to the Duke of Florence, Cosimo de Medici who also took Tullia under his protection.
When Tullia was prosecuted under the new sumptuary laws, Cosimo de Medici requested mercy to her as a poet.
At 37 the first volume of her poetry was published, Rime della Signora Tullia d'Aragona; et di diversi a lui. It contained 56 poems by Tullia Aragona as well as 74 poems by male literary figure - mostly written about her or dedicated to her.
A few moths later her prose work Dialogo della infinita d'amore (Dialogue on the infinity of love), was published. The book of poetry was dedicated for Cosimo's wife and the prose to Cosimo.
She left Florence to settle in Rome and only one other work has been attributed to her, a romance Il Meschino altrimenti desto il Guerrino published in 1551.
(One must remember that in the Dark Ages, the Renaissance, etc., there was almost no way a low born person could rise in rank, especially a woman.
In most countries and societies, women of lower rank could only marry men like themselves and work in the meanest drudgery, usually pregnant until an early death - or became a prostitute. This condition, unfortunately, existed into the 19th century in the United States as well.)
| PRIOR DATE | | HOME | | WOA INDEX | | NEXT DATE |
B. 04-20-1586, Saint Rose of Lima - the first person born in the Western Hemisphere to be canonized by the Roman Catholic church. She is said to have slept on a bed of broken glass and worn a thorn crown, and (not surprisingly) had many visions. She is the patron saint of Peru where she was born and lived.
Born into a wealthy family, she refused to marry and pledged a life of virginity and was drawn to penitential practices.
In 1606 Rosa became a Dominican of the Third Order and lived in a "strict enclosure" which was a secluded hut in the family garden. There practicing contemplation she "wore a crown of thorns, practiced fasting, slept on a bed of broken glass and potsherds, and experienced numerous visions, particularly of the devil."
Because of the many miracles that occured after beatified in 1668 by Pope Clement IX and canonized by Pope Clement X, who proclaimed her patron saint of South America, the Indies, and the Philippines.
B. 04-20-1795, Cynthia Farrar - first U.S. unmarried woman to be sent overseas as a missionary.
Event 04-20-1815: Boston's Handel and Hayden Society which claims to be the oldest singing group in the United States was made up of members of nine Boston churches. It excluded women from membership/ However, the chorus of ninety men "permitted" ten women to perform at its first concert 12-25-1815 of Handel's Creation because it was *written* with women's parts and solos.
The barring of women was based on the church's rulings that women were not to lead.
The melodies were converted to male voices and women were only allowed to sing harmony! Oddly enough, the society hired Miss Sophia Hewitt, the only women they have ever employed as organist and accompanist is its history. She also served as organist at the two major churches in Boston and performed in New York and other parts of New England in concerts and benefits.
Following her marriage, the receipts for her pay were signed for by her husband since married women at the time had no legal rights to their own money and could not own property.
Sophia Hewitt was replaced in 1830 by a MALE German organist by a narrow vote. She separated from her husband and raised her daughter alone by giving concerts as far away as the Canadian Maritime provinces while primarily residing in Portland, Maine where she was church organist.
As her daughter Eliza grew older and became a fine singer, her father finally took an interest in her and she studied in Europe. Eliza became a great concert favorite from Boston to San Francisco to Lima. Peru, and yet, perhaps because of the drain of her husband and father on her earnings, she died impoverished at age 72 in the Rossini Foundtion Home for Musicians in Paris. [Information excerpted from Chistine Ammer's wonderful Unsung, a History of Women in American Music, Greenwood Press, 1980.]
B. 04-20-1826, Dinah Craik - U.S. children's author.
B. 04-20-1841, Albertine-Adrienne, Necker de Saussure, Swiss-born writer and advocate of women's education.
Strongly religious, her best known book published in several volumes 1828-38 is the noted educational work L'Education progressive, ou'tude sur le cours de la vie. It has been translated into English.
B. 04-20-1869, Mary Agnes Chase - U.S. botanist.
MAC was an important contributor to systematic botany and became the primary authority in the world on grasses. She was active with the radical feminist wing of the American suffrage movement.
MAC was arrested picketing the White House and force fed by a tube stuck down her nose when she went on a hunger strike. Self-educated, her only degree was an honorary D.Sc. from the University of Illinois. She was born in Iroquois County, Illinois.
B. 04-20-1899, Margaret Harrison - British violinist.
Margaret was one of the remarkable four sisters who were leading figures of the British musical scene of their time and close friends with such musical geniuses as Myra Hess.
Margaret and May were violinists, Beatrice was a cellist, Monica was singer - and all of them played the piano as their second instrument.
It was a time when good music was as esstential to gracious living as fine dining. Individually they had several compostiions dedicated to them by the finest composers of their day such as Delius, Elgar Glazunov, and Kodaly and the sisters performed under the baton of the leading philharmonic conductors.
B. 04-20-1924, Nina Foch - U.S. actor who often played the woman you loved to hate in the movies. A fine stage and film actor.
Event 04-20-1933: Nazi Germany began its persecution of Jews with a boycott of Jewish-owned businesses...
B. 04-20-1938, Betty Cuthbert - Australian runner.
BC won three gold medals in 100 and 200 meters and 4x100m relay at 1956 Olympics in Melbourne.
She is popularly hailed as the golden girl in Australia that still honors the Olympians. She was injured with a pulled hamstring in 1960 but came back to win the 400m gold at 1964 Olympics.
During the years 1956-63 she held 12 world records in races from 60 to 400 metres.
Seriously ill, but smiling gloriously, the golden girl was wheeled into the Olympic stadium during the opening parade of past Olympic champions by none other than Dawn Fraser who won gold in three Olympics and was chosen the world's greatest woman swimmer of the 20th century. The applause and cheers were breathtaking.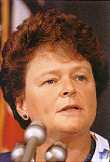 B. 04-20-1939, Dr. Gro Harlem Brundtland - 22nd Prime Minister of Norway, and head of the (U.N.) World Health Organization. Dr. Brundtland (M.D.) was dubbed the "green goddess" when she was Minister of Norway's Environmental Affairs from 1974-1979 because of her strong work on the environment.
She was named prime minister of Norway 02-04-1981, the first woman to head the Norwegian government and the younest to bolster the Labor Party which had been losing popularity. She lost the post in the election.
However, she took charge and then served as premier 1986-1989 and returned again in 1990. She retired powerful enough to name her own prodigee as her successor.
In spite of the laws mandating equal opportunities for women, during political campaigns she was the subject of sexist slander from male opponents, who sneered at her, calling her "Chatterbox" and "Mother."
In January, 1998, she was named director general of the World Health Organization. She immediately vowed to place health at the top of the global political agenda.
"The health dimension has not had enough attention from leaders of the world and I think we need to change that. I see that as my first priority," said Brundtland at 58 is the first woman to hold the top WHO top slot. She was backed by the U.S. (Secretary of State Madeleine Albright and President Bill Clinton).
Brundtland joined a growing rank of women leaders at the UN.
U.S. native Carol Bellamy heads UNICEF, Sadako Ogata the UN refugee agency while Mary Robinson the UN commissioner for human rights, and Nafis Sadik from Pakistan is the outspoken executive director of the UN population fund.
When Brundtland resigned as Norway's premier she was rumored to be seeking the Secretary General's position that went to Kafai Amman and subsequently turned down the number two spot.
A trained doctor with a master's degree in public health, Brundtland is a powerhouse of energy: a tiny brunette with blazing blue eyes who is known for her tireless work schedule and fighting spirit.
Dr. Brundtland is a strong supporter of the right to abortion, which has led her into conflict with the Vatican, among others. As soon as she began to streamline WHO a coalition of anti-choice countries including Muslims and the Vatican tried to prevent her from implementing her woman-protective policies, going as far as trying to prevent the moving of WHO from moldering, cramped headquarters to a more spacious location in another part of Geneva where there was parking.
In 1987, she was appointed chair of the UN's World Commission on Environment and Development. This commission produced the so-called "Brundtland report" and led to the Earth Summit held in June 1992 in Rio de Janeiro.
Her father was defense minister in one of Norway's governments.
She is married to Arne Olav Brundtland, a member of Norway's Conservative party while Gro is Labor. It makes for interesting breakfast conversation, Arne said.
The Brundtlands have four children and eight grandchildren.
Political Chronology of Gro Harlem Brundtland
1970s -- Lobbied for abortion rights in Norway.
1974-1979 -- Served as Minister of Environment.
1977 -- Became one of the Labour Party's members of Parliament.
1981 -- Became head of the Labour Party. Became Norway's youngest ever and the first female Prime Minister. She appointed eight women to the 18 total positions in her cabinet--a first in Norway.
1981-1986 -- Labour party loses power, Brundtland leads the Party in opposition to the new government.
1983-1984 -- Upon a request by the UN Secretary General, Brundtland establishes the World Commission on Environment and Development. She chairs the convention, which created the term "sustainable development."
1986-1989 -- Labour Party victorious, she serves as Prime Minister.
1989-1990 -- Labour Party loses power again, Brundtland leads opposition.
1990-1996 -- Reappointed Prime Minister when the Labour Party again regains power.
1992 -- After the suicide-death of her son, Brundtland resigns as Labour party leader, but remains Prime Minister.
1995 -- Attends and speaks at the Fourth World Conference on Women in Beijing, China.
1996 -- Resigns as Prime Minister, is rumored to be seeking the position of UN Secretary General.
1998 -- Elected first female Director General of the UN World Health Organization
First 100 Days as Director-General of WHO:
"There is a very close connection between being a doctor and a politician. The doctor tries to prevent illness, then tries to treat it if it comes. It's exactly the same as what you try to do as a politician, but with regard to society." -- Gro Harlem Brundtland
She immediately put her combined medical and political skills to work at her new job by completely altering the structure of the WHO that had become bloated and ineffective.
The organization now consists of programs in nine separate "clusters." Each cluster is headed by an Executive Director. Following in the tradition she established in Norway, a number of the Executive Directors - five of the nine ministers - are women.
Brundtland's agenda for the organization includes:
* two programs aimed at stopping non-communicable diseases, "Roll Back Malaria" and the "Tobacco Free Initiative"
*bringing aid to the victims of Hurricanes (initially Mirch)
*working toward developing an AIDS vaccine
*the "Stop TB Project," which aims to curb the spread of Tuberculous
*developing a "sustainable health financing system," aimed at helping nations financially
*support programs and doctors to combat diseases.
*confronting the problem of global poverty.
"WHO has to be the vocal force to drive home the message that poverty remains the biggest source of ill health - and that ill health in turn breeds poverty."
B. 04-20-1939, Katherine V. Forrest - U.S. novelist and editor whose erotic lesbian novel Curious Wine has sold more copies than any lesbian-centered novel since Well of Loneliness. She crossed over to mainsream novels using some lesbian characters, especially a mystery series that features a Los Angeles detective. The detective series is strong on technical police work without being didactic.
B. 04-20-1940, Pilar Mir¢ó Romero - Spanish film and TV director.
Mir¢ó; was the first woman to work as a drama director in television in Spain. She began as a program assistant in 1960 and became a director in 1963.
Her first feature film had a strong feminist theme. Her second was banned because of its political content It, but El Crimen de Cuenca (1979) was praised by critics.
She became director of cinema for Spain's cultural ministry (1982-85) and was able to subsidize a number of young filmmakers. She died at 57.
B. 04-20-1949, Jessica Lange - U.S. actor. JL won the Academy Award for best actress for her work in Blue Skies (1995) and for best supporting actress for her role in Tootsie (1982). She was nominated for her work in Frances (1982).
Event 04-20-1971: The U.S. Supreme Court upheld the use of busing to achieve racial desegregation in schools
Event 04-20-1988, Helen Thayer, New Zealand-born American reaches the North Pole on foot and on skis with no mechanical assists. Using a rope attached to her belt, she pulled a sled which held her tent and all her food (and her dog's food). Her sole companion was a husky who would warn her when polar bears were approaching. (The big bears are absolutely silent when they attack.) Temperatures in storms dropped to minus 100 degrees. The 345-mile, 27-day journey marked the first time a woman had reached the North Pole alone. Thayer, a mountain climber and U.S. Luge Champion in 1975, was 50 years old at the time. In 1990 she would serve as the leader of the first International U.S./Soviet Arctic Women's expedition.
HT has a website at http://www.goals.com/thayer/expfrm.htm that explains the arctic trip in detail.
However, she writes, since she spent her 50th birthday treking the arctic, what to do for her 60th birthday.
"November 1997 - at 50 I was the first woman to travel solo to any of the world''s Poles when I soloed the magnetic North Pole. I walked and skied, pulling my own 160 pound sled without the help of a dog team or snowmobiles. I chose this Pole because it is the one with a large population of polar bears and my fascination with these dangerous but intelligent animals played a decisive part in my decision.
"But what should I do to celebrate my 60th? What else, but a trekking journey at the opposite end of the world, Antarctica.
"I began my almost 200 mile journey on November first 1997. I walked and skied alone, pulling my sled once more without the help of a dog team or snowmobile. I was entirely alone, trekking in a place white and lifeless with no other living creatures and an always circling sun that never dipped below the horizon. Just as was the case for my 50th, I was again about to embark on a journey of challenge and danger."
WOW!!! What is she going to do on her 70th in 2007???

Event 04-20-1996: In a case that sparked an uproar reminiscent of the Rodney King case in Los Angeles, two Riverside County, Calif., sheriff's deputies were videotaped repeatedly clubbing a Mexican man and woman after a 70-mile highway chase involving a pickup truck suspected of sneaking across the border.
Why they beat the woman remains a mystery since she wasn't driving.

Event 04-20-1998: In NOW v. Scheidler, 1998, a Jury unanimously finds defendants conspired to end abortion through fear, force and violence. The Supreme Court gave the OK to treat anti-abortion terrorists like racketeers.

| PRIOR DATE | | HOME | | WOA INDEX | | NEXT DATE |
---
HOTEMA, HILTON:
"It seems strange that the Mother of the race should be made the Slave of the Fruits of her Womb. It appears peculiar that she should have no privileges except those received through her son. It seems illogical that the God Principle of the Universe, in its infinite wisdom, should endanger the existence of the Race by making the Mother of it the weak, cringing underling of her husband."
-- Hilton Hotema
STANTON, ELIZABETH CADY:
"Let Us Withdraw Our Mite" 1852
(Keen and interested in the root of women's oppression, Stanton used an early dalliance in the temperance movement as a chance to call for suffrage, divorce law reform and to criticize religion.
As President of the New York State Temperance Convention, in an address on April 20, 1852, she essentially advised women to stop supporting the ministry, and "the unknown God." The closing of churches, she hinted, would be no loss):
"...In as much as charity begins at home, let us withdraw our mite from all associations for sending the Gospel to the heathen across the ocean, for the education of young men for the ministry, for the building up of a theological aristocracy and gorgeous temples to the unknown God, and devote ourselves to the poor and suffering about us.
"Let us feed and clothe the hungry and naked, gather children into schools, and provide reading-rooms and decent homes for young men and women thrown alone upon the world.
"Good schools and homes where the young could ever be surrounded by an atmosphere of purity and virtue, would do much more to prevent immorality and crime in our cities than all the churches in the land could ever possibly do toward the regeneration of the multitude sunk in poverty, ignorance, and vice."
-- the History of Woman Suffrage, pp. 482 483.
BRUNDTLAND, GRO HARLEM:
Brundtland said in a November 10, 1998 speech to the Permanent Missions of the United Nations in Geneva:
"We need to present the evidence and develop the language to demonstrate that the right investments in health - to all - but especially to children and women - means investing in a strong economy..."
"Women will not become more empowered merely because we want them to be, but through legislative changes, increased information, and redirection of resources. It would be fatal to overlook this issue."
---
| PRIOR DATE | | HOME | | WOA INDEX | | NEXT DATE |