04-24 TABLE of CONTENTS:
Leave It to a Practical Woman to Invent the Ice Cream Cone
Stem Cell Research of Petri Dish Fetuses - Preferably Female?
Fanciest Fielding First Baseman
Labelle Early Canadian Government Official (1973)
France's Claire Lacombe Jailed for Seeking Women's Rights
Mother/Daughter Raised and Developed Violet Hybrids
DATES, ANNIVERSARIES, and EVENTS
QUOTES by Sojourner Truth, Freda Adler, Jane Addams, and Sue Grafton.
---
Leave It to a Practical Woman to Invent the Ice Cream Cone
Women's practicality led to the invention of the ice cream cone.
An unnamed woman, unable to hold two things at once, took the top off an ice cream sandwich, rolled it into a cone... and the rest is HIStory, because all the men involved in the incident are known, but the woman's name who actually invented the ice cream cone seems to have been "overlooked."
The ice cream cone is sid have been originated at the Louisiana Purchase Exposition in St. Louis in 1904. Charles E. Menches, a young ice cream salesman , gave an ice cream sandwich, as well as flowers to the young lady he was escorting.
Lacking a vase for the flowers, she took one of the layers of the sandwich and rolled it in the form of a cone to act as a vase. The remaining layer was also rolled with the result that the ice cream cone was invented.
His name is remembered, middle initial and all. Her name, the real inventor, is unknown... melted away by the mirror of history that only reflects those who look like the men who write it.
| PRIOR DATE | | HOME | | WOA INDEX | | NEXT DATE |
---
Stem Cell Research of Petri Dish Fetuses - Preferably Female?
"If anyone is curious about the new scientific studies that would eliminate women as such, remember that a baby girl's ovaries contain 2 million egg follicles, but most of them will not become ova. At puberty there are only about 300,000 left, still many times more than the 300 to 400 ova released during a woman's reproduction lifetime."
-- Womanlist - Weiser & Arbeiter
| PRIOR DATE | | HOME | | WOA INDEX | | NEXT DATE |
---
Poland's Great Queen Jadwiga
Jadwiga, aka Hedwig, was Poland's Queen who ushered in 200 years of progess for her nation that was just beginning to break out of the Dark Ages. Although she died at 25 in childbirth - all too common fate of married women throughout history when unregulated pregnancy was ordered by religion - during her short life she re-established the University of Krakow, awakened an appreciation of the arts in her nation that led to new artistic endeavors including musical composition, especially of church music.
Jadwiga, who lived 1374-1399, was the daughter of Louis d Anjou, King of Hungary and Poland.
At ten she became queen of Poland when her father died. Her sister Maria became queen of Hungary.
She was married in 1386 to the Grand Prince of Lithuania for money, a guarantee that Lithuania would become Catholic, and the uniting of the two countries. She was 12 and he was 32.
Jogaila/Jagiello ruled as Wladyslaw II with Jadwiga for 19 years. She is considered Poland's greatest queen.
| PRIOR DATE | | HOME | | WOA INDEX | | NEXT DATE |
---
Fanciest Fielding First Baseman
Dorothy Kamenshek, born in 1925, was not only the best player of the All-American Girls Baseball League , Dottie was also considered one of the best first base players by many including the famed New York Yankee firstbaseman Wally Pipp who called her "the fanciest-fielding first-baseman I've ever seen, man or woman."
Her way to the majors was blocked when her Rockford team's owner refused to sell her contract to a minor league men's league team. There were a number of women baseball players through the years who were good enough to play in the majors, but like today, their way is blocked by sexism.
Dottie was a left-handed first base plyer who could place her hits, her favorite were punches down either foul line. She won the batting titles in 1946 and '47. She only struck out 81 times in 3,737 career at-bats. By the way, a right-hander is at a disadvantage at first base because their gloved or catching hand is towards home plate and can interfere with the runner.
In her 10-year career with the Rockford (Ill.) Peaches, her team won four league championships.
Injuries forced her out of the game in 1951 when, wearing a back brace, she still hit 345 and stole 63 bases.
The movie A League of Their Own gives one a flavor of what the women's league was like during World War II. When the men came back, women's baseball was muscled out from the top, not the fans. They couldn't find places to play, etc.
Since the U.S. women's baseball team's Olympic victories, women's baseball that has been played avidly in colleges is beginning to get TV coverage.
| PRIOR DATE | | HOME | | WOA INDEX | | NEXT DATE |
---
Labelle Early Canadian Government Official (1973)
Hugette Rochon Labelle was one of the first women to reach senior administrative positions in the Canadian government.
Born in 1939, she was sppointed to the top nursing administrative position as principal nursing officer at Helath and Welfare Canada in 1973.
She became under secretary of state in 1988 and Deputy Clerk of Privy Council in 1985.
| PRIOR DATE | | HOME | | WOA INDEX | | NEXT DATE |
---
France's Claire Lacombe Jailed for Seeking Women's Rights
While HIStorians wax poetic about the reforms of the French Revolution, Claire Lacombe is a living testament that the fraternity, liberty and equality of the French (as well as American) revolutions were for the benefit of men.
CL was an actor in the provinces who went to Paris to help with the revolution in July 1792.
She became active with the revolutionaries and was named a Heroine of August 10 when she took part in the storming of the Tuileries.
Then she made her mistake. In 1793 she founded a Republican Revolutionary Society for working women and became known as a liberal.
So liberal in fact that Robespiere himself denounced her and the organization when they asked for the right to take part in the Revolutionary Committee (women had fought and died for the cause the same as men) as well as committing the unpardonable sin of asking for the right to vote!
Within months the movement was violently disbursed by authorities and CL was arrested.
A coup in 1795 put different revolutionaries in charge but the same anti-rights for women prevailed. She vanished from the pages of history, probably returning to the south to continue her acting career.
| PRIOR DATE | | HOME | | WOA INDEX | | NEXT DATE |
---
Mother/Daughter Raised and Developed Violet Hybrids
The International Violet Association honored Emily Pawla, 95, and her late mother Edith Pawla for their contributions to violet development and named an award after them.
The women ran a nursery in the early part of the 20th century, Pawla's Violet Farm in Soquel, California, and developed one of the most enduring of the violet hybrids.
According to Don Garibaldi, the only wholesale violet grower left in California, there were a number of women who ran nursery businesses in the early part of the last century. Violets - not to be confused with African violets - are scented and were the most popular cut flower in the world until the1960s.
Garibaldi's wife Carolina said their farm used to sell 2,000 bunches of violets a week.
Brochures from the 1940s show Edith and her daughter Emily sold more than 30 varieties of violets. Edith was known as a free spirit having married several times and run several businesses including a chain of movie theaters.
[Excerpted from the San Jose News article by Mia Amato, sent to WOAH by Barbara Wardenburg.]
| PRIOR DATE | | HOME | | WOA INDEX | | NEXT DATE |
---
Some Joke
Protests occurred April 24, 2000 in Romania after Playboy magazine ran an article in its April issue entitled "How to Beat Your Wife Without Leaving Marks".
Playboy's Chicago based editors apologized to Romanian women and local editors say they printed the story as an April Fools' Day joke.
However, like the United States in developed nations, Romania leads Balkan statistics for domestic violence against women.
| PRIOR DATE | | HOME | | WOA INDEX | | NEXT DATE |
B. 04-24-1852, Annis Bertha Ford Eastman - U.S. Congressional minister and intellectual.
Event 04-24-1863: Anastasia Tocheva, (1837-1915) opened a city-supported school for girls in Belgrade that led to wider education for all women. She had been one of the first Bulgarian women to study in Russia, forced there because Bulgarian education for women was almost nonexistent.
Through her efforts, some women were finally allowed to attend the university in Belgrade and those women then taught other women.
AT founded the Mother Love association that enabled women to network with each other. She was Director of the college for women at Plovdiv and Stara Zagova.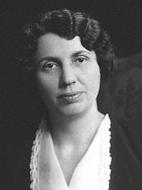 B. 04-24-1894, Kathryn Ellen O'Loughlin (McCarthy) - Representative, U.S. Congress from Kansas.
In 1932 she defeated Republican incumbent Charles Sparks for the House seat from Kansas' Sixth District.
After taking her seat in the Seventy-third Congress, KEO protested her assignment to the Committee on Insular Affairs and requested a seat on the Committee on Agriculture which she considered more relevant to the needs of her constituents. The Committee on Ways and Means, responsible for Democratic assignments, refused her demand but transferred her to the Committee on Education where she sought increased federal funding for vocational schools. (The leadership's decision cost her re-election and gave the seat to the republicans.)
KEO generally endorsed the New Deal legislative program and was particularly supportive of the Agriculture Adjustment Act which she hoped would bring relief to the farmers of Kansas. In the election of 1934, she faced the farmers' dissatisfaction with the bureaucratic requirements of the AAA and lost her bid for another term.
She was a delegate to the State Democratic Conventions in 1930, 1931, 1932, 1934, and 1936, and to the Democratic National Conventions in 1940 and 1944; member of the State House of Representatives in 1931 and 1932; elected as a Democrat to the Seventy-third Congress (March 4, 1933-January 3, 1935); was an unsuccessful candidate for reelection in 1934 to the Seventy-fourth Congress; resumed the practice of law; also owned and operated a large ranch and was part owner of an automobile agency
KEO (after election was married to Daniel M. McCarthy and thereupon served under the name of Kathryn O'Loughlin McCarthy).

B. 04-24-1900, Zelda Fitzgerald - talented U.S. writer who was sacrificed on the altar of a huge male ego and the male critics' adoration of her husband.
ZG authored Save Me the Waltz (1932) while in a mental institution. It showed a great deal of promise but she continued to got lost in the life and excesses of F. Scott Fitzgerald.
Scott not only was smothering of her personally but he used a great deal of her writing (letters, notes, etc.) In his books. She is said to have had the feeling he was appropriating both her life and her soul by stealing her writings.
In all she spent some 18 years of her life in volunteer confinement. She died in a fire at an instituion, one of nine women trapped by the fire.
She is best known as the subject of the best-selling biography Zelda but she was highly talented - some say more so than her husband J. Scott Fitzgerald. But it's all opinion since booze, and a constant downslide after the birth of her son (could there have been post partum psychosis?)
The Zelda and Scott Fitzgerald museum is located at 919 Felder Avenue, Apt. B, Montgomery, Alabama 36106
Zelda's papers and some of her drawings are to be found at http://libweb.princeton.edu:2003/libraries/firestone/rbsc/aids/zelda.html
Her mother named her Zelda after a gypsy queen in a novel she read.
B. 04-24-1900, Elizabeth Goudge - New Zealand playwright and novelist, author of Tower in the Mist and Green Dolphin Street (1944.)
Her mother was an invalid with "a wonderful gift of storytelling."
She wrote a number of children's books including The Little White Horse which was awarded the Carnegie Medal in 1946.
As Goudge aged she turned her attention to religious books.
B. 04-24-1905, Helen Tamiris - U.S. choreographer, dancer, and teacher who appeared with the Metropolitan Opera Ballet company before founding her own company.
One of the great geniuses of modern dance, she choreographed almost 200 dances ranging in tone and style because she felt dance was to reflect emotion and the music not overlay it.
Her works were featured in such diverse settings as repertory theatre to Broadway. She won the Tony award for her choreography of Touch and Go (1949). An innovator, she used jazz, Black rhythms, and political themes. HT operated her School of American Dance from 1930 to 1945. She was a major influence on modern dance. Tamiris was the U.S. born daughter of Russian immigrants who lived on the lower east side of Manhattan and received her first dance lessons at the Henry Street Settlement .
B. 04-24-1927, Josy Barthel - Luxembourg athlete. JB won the 1952 Olympic gold in the 1500m runner event.
B. 04-24-1931, Bridget Riley - British artist who was a leading artist of the Op art movement with her vibrant optical pattern paintings but she changed her style dramatically to win of the 1968 Venice Biennale award. Her sister is an attorney.
B. 04-24-1934, Shirley Maclaine - U.S. singer, dancer, actor, author, and activist.
SM finally wpm the Academy Award for her work in Terms of Endearment (1983) after being nominated four other times. She skyrocketed to fame on Broadway as a "hoofer."
SM's documentary The Other Half of the Sky; A China Memoir which she wrote, produced and co-directed was nominated for an AA award. She has authored a number of books, primarily metaphysical, some dealing with past lives.
One of the greatest talents of stage and screen. She is a much overlooked actor who makes acting look so easy, it doesn't look like acting.
B. 04-24-1935, Elisabeta Polihroniade-Rusu - Romanian chess grandmaster.
B. 04-24-1936, Jill Ireland - British-born U.S. actor, film producer, and writer
Moving to the U.S. after her debut as a dancer in Britain, she got her big break in a short-lived TV series, Shane but it led her to Charles Bronson whom she married the same year.
It was a highly successful and happy marriage from all reports and the couple acted in a number of films together with JI taking over many of the production duties.
Her two books, Life Wish (1987) which chronicled the breast cancer that would kill her and Life Lines (1989) about her son's addiction gave an intimate look into the couple's lives.
B. 04-24-1940, Sue Grafton - U.S. novelist who may not have reach her goal of writing the perfect mystery but has created one of the world's most successful series of the genre.
Her books that started with A is for Alibis is for stars her fictional private eye, the irascible, the flawed, the marvelous Kinsey Milhone with her beat-up voklswagon and one little black dress that doesn't wrinkle while waiting in a rolled up discard heap. Her latest book, P is for Peril has just been published.
Prior to creating Kinsey Milhone, Grafton wrote for films and TV.
Her mother was a high school chemistry teacher suffered from alcoholism as did her father which led to a childhood what she described as benign neglect.
During a contentious custody battle with her second husband, Grafton said, "Like many women I had not been taught how to fight. I found myself feeling frustrated and powerless, and under these circumstances, homicide seems like a quite reasonable solution to your problems. However, I am personally such a law-abiding little person that I knew I would never actually act it out. And if I did, I would never get away with it. so the next best thing was to put it in a book and get paid for it."
She learned to do all the things that her character Kinsey Milhone does such as pick locks, handle a gun, etc. She admits that she and KM have "the same sensibilities, though we have different biographies."
In an interview Grafton said she will never sell Kinsey to Hollywood and that she has made her children promise it. She told them if they did she'd come back and haunt them - and they wouldn't like that at all.
She has slowed down her writings about Kinsey because, as she said, she worked like a dog.
Now, living a comfortable life on the earnings, and with a new husband, she is developing a new relationship with her alter ego and may (but we'll guess no) slow down too.
B. 04-24-1942, Barbra Streisand - U.S. singer, actress, director, and writer.
BS has won three Academy Awards, two for acting, one for best song.
Considered by many to have the greatest voice of the half century.
Streisand became the only director in the history of the Academy Awards not nominated as best director when her film Prince of Tides was nominated as best film. (They NEVER forgave her for Yentl.) Since then there have been several directors who have suffered the same fate - a real slap in the face. Who made those "best pictures?" They got made themselves????
BS won Academy Award for best actress in Funny Girl (1968), nominated for The Way We Were (1973), won AA for her song Evergreen (1976).
In the late 1980s, BS added political activist to her list of accomplishments; a staunch democrat she raises money, lobbies Congress. She became a close admirer of President Bill Clinton's mother, Virginia Clinton Kelley.
Her 1994 concert tour made more money that any other concert in the history tour in the history of entertainment (including the Beattles) - and her later concerts just added more records.
In 1969. In that year she received the Antoinette Perry (Tony) award as "star of the decade" for her stage work.
Her later films include Funny Girl 1968, Hello Dolly 1969, On a Clear Day You Can See Forever, 1970, The Owl and the Pussycat, 1970, What s Up, Doc?, 1972, The Way We Were, 1973, For Pete's Sake, 1974, Funny Lady, 1975, A Star Is Born, 1976, The Main Event, 1979, All Night Long, 1981, Yentl, which she also directed and produced, 1983, Nuts, which she also produced, 1987, and The Prince of Tides, which she also directed and co-produced, 1991. Streisand's many recordings have won her seven Grammy awards.
And she's not done yet.
Streisand is accused of being controlling, a bitch, etc., etc.
She explains:
"Language gives us an insight into the way women are viewed in a male-dominated society. A man shows leadership; a woman is controlling. If a man wants to get it right, he's looked up to and respected. If a woman wants to get it right, she's difficult and demanding."
-- Barbra Streisand
And she does get it right.
From her website:
"She was honored with an Emmy Award and the distinguished Peabody Award for her first television special, "My Name Is Barbra," in 1965. The program earned a total of five Emmys. This achievement was repeated 30 years later by her most recent musical production on television, "Barbra Streisand: The Concert," with two additional Emmy awards for Ms. Streisand among the five for the production." http://www.barbrastreisand.com/.
| PRIOR DATE | | HOME | | WOA INDEX | | NEXT DATE |
---
TRUTH, SOJOURNER:
"There is a great stir about colored men getting their rights, but not a word about colored women; and if colored men get their rights, and not colored women theirs, you see the colored men will be masters over women, and it will be just bad as it was before. So I am for keeping thing going while things are stirring; because if we wait till it is still, it will take a great while to get going again."
-- Sojourner Truth, brilliant women's rights speaker, former slave in an 1851 speech.
Sojourner was born into slavery and was the mother of 13 - all her children sold away as slaves. Her "Ain't I a Woman" speech has gone down in herstory as one of the most poignant cries against inequality against blacks and against women.
ADLER, FREDA:
"The type of fig leaf which each culture employs to cover its social taboos offers a twofold description of its morality. It reveals that certain unacknowledged behavior exists and it suggests the form that such behavior takes."
-- Freda Adler author of Sisters in Crime (1975).
ADDAMS, JANE:
"With all the efforts made by modern society to nurture and educate the young, how stupid it is to permit the mothers of young children to spend themselves in the coarser work of the world!"
-- Jane Addams from her Twenty Years at Hull House (1910).
GRAFTON, SUE:
"I just thought you have to be nice in life and everything would come out all right. Which is often true, unless you're getting divorced. Then nothing comes out right."
---
| PRIOR DATE | | HOME | | WOA INDEX | | NEXT DATE |