05-22 TABLE of CONTENTS:
DATES, ANNIVERSARIES, and EVENTS
QUOTE by Simone de Beauvoir.
---
Edna St. Vincent Millay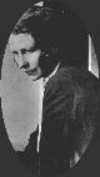 A letter addressed to the New York University, dated 05-22-1937, shows how life REALLY worked in those wonderful days of yesteryears.
The writer was obviously thrilled at having an honorary doctorate bestowed on her.
She accepted with pleasure being guest of honor at a dinner given by the chancellor's wife for a small group of women the evening before the award.
This distinguished woman then found out that a SEPARATE dinner was to be given that same night at the swank Waldorf-Astoria, and we quote from her letter commenting on the fact:
"...In honor of the other recipients of honorary degrees, that is, the male recipients ...On an occasion, then, on which I shall be present solely for reasons of scholarship, I am, solely for reasons of sex, to be exclude from the company and the conversation of my fellow-doctors... (The chancellor's wife) should be the last, I think, to be offended by my attitude. I register this objection not for myself personally, but for all women.
"I hope that in future years many women may know the pride, as I shall know it on the ninth of June, of receiving an honourary degree from your distinguished university. I beg of you, and of the eminent council whose representative you are, that I may be the last woman so honoured, to be required to swallow from the very cup of this honour, the gall of this humiliation."
(Signed) Edna St. Vincent Millay.
The above is from Letters of Edna St. Vincent Millay (New York: Harper & Row, 1954). p 290-91. Ms. Millay won the Pulitzer Prize for her poetry and is one of the great poets of this nation.
| PRIOR DATE | | HOME | | WOA INDEX | | NEXT DATE |
05-22 DATES, ANNIVERSARIES, and EVENTS
---
B. 05-22-1844, Mary Cassatt, only U.S. painter to exhibit with the French Impressionists. MC was a noted printmaker as well. ///She is known for her paintings of women and children because, some say, such subject matter did not challenge any male egos and it was the price she had to pay to be accepted into the French impressionists school.
In fact, she liked to paint women and children and it enabled her to expand in an uncrowded field. The natural posing of her subjects is still unsurpassed.
She resided in France most of her life and in her late 50s began to have eye problems until forced to stop painting at age 70. Altnough often described as a "old maid," her diary reveals love affairs - some with women.
B. 05-22-1849, Bertha Honore Palmer, a socialite who was instrumental in having the noted Woman's Building being erected at the 1893 World's Exposition in Chicago. She recruited exhibits from 47 countries. 7No feminist, she reduced the honorarium given to the woman architect to a fraction of that paid to the men architects of other buildings at the exposition.
She had a shrewd business mind and doubled her husband's fortune after his death.
B. 05-22-1902, Marie Poland Fish, ichthyologist. At 21 she discovered where eels laid their eggs, a puzzle that for 2,000 years was one of the great mysteries of science. Eels are a staple food source in much of the world and the discovery enabled the enlargement of the crops.
In later years she was awarded U.S. Navy's Distinguished Public Service Award for her work in oceanography and as a marine biologist. Her inventions enabled the Navy to distinguish between large schools of fish and enemy submarines with sonar.
B. 05-22-1930, Marisol (Escobar), leading U.S. pop artist of Venezuelan ancestry. Her assemblages combine wood, real items, and photographs.
B. 05-22-1936, Jill Sheila Tweedie, British journalist and author. She was one of the first to write with a scornful voice at some of society's accepted horrors toward woman such as the demand for doctor comfort regardless of how it affected women during childbirth, bride burning in India to collect dowries, and the genital mutilation of women to guarantee a that any children would be of the particular male's parentage.
B. 05-22-1943, Betty Williams, with Mairead Corrigan organized the Community of Peace People in Northern Ireland and shared the 1976 Nobel Peace Prize. Both resigned from the organization as the course of action of the organization changed.
| PRIOR DATE | | HOME | | WOA INDEX | | NEXT DATE |
---
DE BEAUVOIR, SIMONE:
"Distortion begins when the religion of Maternity proclaims that all mothers are saintly."
-- Simone de Beauvoir, The Second Sex.

---
| PRIOR DATE | | HOME | | WOA INDEX | | NEXT DATE |