06-14 TABLE of CONTENTS:
What Religious Men Have Said About Women
DATES, ANNIVERSARIES, and EVENTS
QUOTES by Ruth Bader Ginsburg and Lisa Leslie.
---
What Religious Men Have Said About Women
Progress ... duh?
None of these statements have been condemned or softened by modern conservative churches -
"The judgment of God upon your sex endures even today; and with it inevitably endures your position of criminal at the bar of justice... Do you know that each of you women is an Eve? The sentence of God on this sex of yours lives in this age; the guilt must necessarily live too. You are the gates of Hell, you are the temptress of the forbidden tree; you are the first deserter of the divine law."
--Tertullian, a father of the Roman Catholic church: De Cultu Feminarum (Women's Dress) c.220.
"Woman in her greatest perfection was made to serve and obey man."
-- Protestant reformer, Calvinist theologian John Knox.
"Men have broad and large chests, and small narrow hips, and are more understanding than women, who have but small and narrow chests, and broad hips, to the end, they should remain at home, sit still, keep house, and bear and bring up children... If a woman grows weary and at last dies from childbearing, it matters not. Let her only die from bearing; she is there to do it."
--Protestant reformer, theologian Martin Luther from his various Table Talks.
"Inequality of rights and power proceeds from the very author of nature, from whom all paternity in heaven and earth is named."
--Pope Leo XIII; Quod Apostolici Muneria, 1878
"Any use whatsoever of matrimony exercised in such a way that the act is deliberately frustrated in its natural power to generate life is an offense against the law of God and of nature, and those who indulge in such are branded with the guilt of a grave sin...
"However we may pity the mother whose health and even life is imperiled by the performance of her natural duty, there yet remains no sufficient reason for condoning the direct murder of the innocent..."
--Pius XI: Casti Connubii, December 31, 1930.
"We are also opposed to all forms of birth control with the exception of natural family planning."
-- Judie Brown, president American Life League.
"I don't think Christians should use birth control. You consummate your marriage as often as you like and if you have babies, you have babies."
-- Randall Terry, Executive Director, Operation Rescue (1992) who would never have to bear any children, no less too many.
| PRIOR DATE | | HOME | | WOA INDEX | | NEXT DATE |
06-14 DATES, ANNIVERSARIES, and EVENTS
---
Event 06-14-1623: the first breach of promise suit in the Western Hemisphere was filed in the Virginia colony against a woman, Cicely Jordan.

B. 06-14-1811, Harriet Beecher Stowe - U.S. author. HBS is best known for her novel Uncle Tom's Cabin (1852) which aroused anti-slavery sentiments prior to the Civil War. There are some who give her credit for starting the war, but in reality it merely reflected, not initiated.
It sold more than 300,000 copies the first year. She continued to write articles and other novels and was the toast of England until she dared write her opinion that Lord Byron had an incestuous relationship with his sister.
Her writings remained popular in the U.S. and she was a much sought-after lecturer. The Byron allegations were later verified as well as other rather bad things about the "esteemed" poet.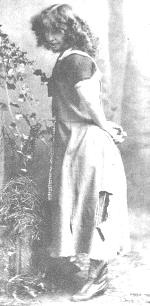 Maggie Mitchell
B. 06-14-1832, Maggie Mitchell - U.S. actor whose elfin appearance led her to play young male roles. She took her Franchon, the Cricket to the New York stage for a six week run and stayed to perform it often for the next 30 years.
People couldn't get enough of it. She was much admired by Abraham Lincoln, Ralph Waldo Emerson and Henry Wadsworth Longfellow.
B. 06-14-1903, Louise Dickinson Rich - U.S. author of We Took To The Woods (1942).

B. 06-14-1906, Margaret Bourke-White - pioneer U.S. photojournalist.
Some of the most remarkable visions of the middle years of the 20th century are her work. Not only was she a pioneer and innovator of the new field of photo journalism, but her sense of independence and her attitude of anything for the photograph made her the first women to be accredited as war photographer and to fly a combat mission during WW II.
She was one of the original photographers for LIFE magazine that made that magazine the great visual experience that it was in its early days.
Her photojournalism in the American South, India, and South Africa are landmarks in the field.
She was one of the first photographers at the opening of the Buchenwald death camp and her photographs captured, to our horror, the reality of the German death camps, in which incidentally, more women than men died. Many of her photographs continue to haunt us today.
B. 06-14-1908, Kathlenn (Jessie) Raine - English poet and critic who often used the landscape of the Scottish countryside for her mystical poetry.
B. 06-14-1918, Dorothy McGuire - U.S. actor. DM was nominated for the Academy Award for her work in Gentleman's Agreement (1947).
B. 06-14-1952, Pat (Patricia Head) Summitt - U.S. basketball's second most winningest coach in history - winning more games than anyone except one male coach.
She is the highest paid coach at the University of Tennessee as 18 of her teams were in the NCAA playoffs and six of her teams, 1987, 89, 91, 96, 97, and 98 won the national titles. (These figures keep changing as her teams are mainstays in the NAAC big four and the finals.
She coached the U.S. Olympic champions in 1984.
In 1974 when she started as UT women's coach, there was not one single cent for women's basketball scholarships. She had only a 12-person team and most of the women had never played full court basketball, yet she took that team to number three in the country.
Now, under the remarkable coaching of Summitt, UT has a $12 million women's program! As a player, she was a member of the silver medal winners at the 1976 Olympic team before Summitt injured her knee.
She is 5'10" and is a mother.
Male critics, following the UT unprececented sixth NCAA win with a team that consists mainly of juniors and sophomores complained that such dominance of the sport would hurt women's basketball. Women, on the other hand, are demanding better coaching and playing facilities so that they too could get to be as good as someone playing on Pat Summitt's teams.
Unfortunately as women's basketball becomes more popular and more money is allocated for coaching, men are moving into the field and teaching a "physical" type of game, i.e., rough. The WOAH compiler for one is saddened by the move. The women's game was a pure type of basketball without sudden breakaways that allow "stars" to do their thing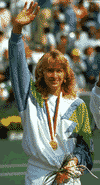 B. 06-14-1969, Steffi Graf, German tennis star, grand slam winner, top-ranked woman player 1987-89. She won the grand slam of tennis in 1988.

| PRIOR DATE | | HOME | | WOA INDEX | | NEXT DATE |
---
GINSBURG, RUTH BADER:
"I pray that I may be all that she (my mother) would have been had she lived in an age when women could aspire and achieve and daughters are cherished as much as sons."
-- Ruth Bader Ginsburg on 06-14-1993 when President Bill Clinton nominated her to be the second woman in U.S. history to sit on the U.S. Supreme Court.

---
| PRIOR DATE | | HOME | | WOA INDEX | | NEXT DATE |