07-06 TABLE of CONTENTS:
Mina Edison More than a House Toy
Ordinary Housewives Not Ordinary
DATES, ANNIVERSARIES, and EVENTS
QUOTES by Alais, Lillie Devereux Blake.
---
Mina Edison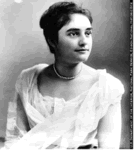 The young Mina Edison.
Born 07-06-1865, Mina Miller Edison has been dismissed as "only" the wife of Thomas Alva Edison.
Like most wives, MME was so much more.
The couple bought an estate called Glenmont as of 1891 and MME was totally responsible for running it, hiring the staff, and entertaining illustrious guests who came to pay their respects to the renowned inventor. The home was often more like a hotel than a family residence.
MME took the role very seriously and went on record (in a magazine article) as saying her role as "housewife" was one deserving respect and recognition, for she considered herself to have the title of "Home Executive."
[Information submitted to WOAH by Kristin Herron, curator, Glenmont, Edison National Historic Site that in 2000 is closed for a very, very badly needed renovation. Herron had written WOAH with the Mina information and had confided her worries that the home was deteriorating at an alarming rate and might be lost to posterity. The following is the National park service's biography of Mina]:
Mina (pronounced MI-na) was perhaps better prepared to be the wife of a famous man. (Edison had married Mary Stilwell in 1871. She died in 1884.) By the time she met Thomas Edison, his name was already a household word. She had a more worldly education, having graduated from Akron High School and having attended Mrs. Johnson's Ladies' Seminary in Boston. Besides, her father was a millionaire inventor himself.

Mina Miller was born on July 6, 1865, the seventh of eleven children. She met Thomas Edison at the home of a mutual friend of her father and Edison, the inventor Ezra Gilliland. Her future husband claims he taught her Morse code so that they could converse in secret, even while the family watched. This is how Edison claims he proposed marriage and how she responded "yes." The two married on February 24, 1886. The couple moved into Glenmont, the Edisons' new home, after their honeymoon in Florida. At age twenty, the new Mrs. Edison became a stepmother to Mary's three children. It was not an easy task. She was less than ten years older than stepdaughter Marion.
Although Mina tried to nurture her new family, Marion later described Mina as "too young to be a mother but too old to be a chum." Her role as Mrs. Thomas Edison was also difficult: Edison frequently stayed late at the laboratory and forgot anniversaries and birthdays. Yet he seemed to love his "Billie." A note found in one of Mina's gardening books reads, "Mina Miller Edison is the sweetest little woman who ever bestowed love on a miserable homely good for nothing male (sic)" As Thomas Edison supervised his "muckers" down the hill (at his laboratory), Mina hired and supervised a staff of maids, a cook, a nanny and a gardening staff. She even called herself the "home executive." After 1891 she, not her husband, owned the house. (This protected the house from being seized to pay Edison's debts if he went bankrupt.)
Here is a partial list of the organizations she belonged to: The Chautauqua Association (where she served as president of the Bird and Tree Club), the National Audubon Society, the local Methodist church, the John Burroughs Association, the Daughters of the American Revolution (she served for a year as its national chaplain), the School Garden Association of America.

Four years after Edison died, Mina married childhood sweetheart Edward Everett Hughes. The two lived in Glenmont until Hughes died in 1940, when she once again adopted the name of Mrs. Edison. She lived at Glenmont until her death on August 24, 1947.
| PRIOR DATE | | HOME | | WOA INDEX | | NEXT DATE |
---
Ordinary Housewives NOT Ordinary
Sometimes even women overlook the amazing contribution "housewives" make in a society that usually limits its values on what males see in their mirrors.
While an "ordinary" bricklayer just lays bricks, an "ordinary" housewife usually keeps the family finances, does the shopping, cleans the house, plans and cooks the meals, oversees the budget, bears the children at great cost to her body, raises the children, nurses children and husband when they are ill, oversees the conduct of the children when they are going to school, emotionally and physically supports her husband's emotional life, and acts as a sounding board (and sometimes the originator) of a man's ideas - often juggling these duties in ADDITION to being a full-time employee working outside the home earning the necessary money to keep the family's finances afloat.
In Mina Edison's case, keeping a home that was almost a public institution had to be, far and away, above "ordinary." See http://www.nps.gov/edis/home.htm
| PRIOR DATE | | HOME | | WOA INDEX | | NEXT DATE |
07-06 DATES, ANNIVERSARIES, and EVENTS
---
B. 07-06-1847, Ellen Martin Henrotin - wealthy U.S. widow who used her money to make the 1893 Chicago World's Fair the national focal point for feminist activity.
Most importantly, she lead a committee that forced the closing of hundreds of brothels in Chicago and brought about the downfall of the flourishing "white slavery" trade in which women were kidnaped into prostitution.
B. 07-06-1899, Mignon G. Eberhart - U.S. mystery writer whose writing career spanned 57 years (1929-1988) and included 59 books. She commonly used brave - plucky - women in exotic locations. Many of her books became Hollywood movies.
B. 07-06-1907, Frieda Kahlo (de Rivera) - Mexican artist who lived under the shadow of her husband Diego Rivera so that most of her fame has been posthumous. She is gradually being recognized as one of Mexico's greatest artists, surpassing the fame and regard even for her more political husband.
A traffic accident when she was a young woman resulted in a life of constant pain and unable to bear a child. As a result of her physical condition and the blantant, constant adulteries of Rivera, her main art production was portrait after portrait of herself.
B. 07-06-1910, Dorothy Kirsten - U.S. lyric soprano who sang leading roles at the Metropolitan Opera for a record 30 years, almost unheard of for a soprano.
She sang the leading role in 169 performances. DK worked as a telephone operator to finance her early musical lessons.
B. 07-06-1921, Nancy Reagan - actor, second wife of U.S. President Ronald Reagan. A woman of burning ambition, NR was pivotal in Reagan's political career.
Most failed to recognize her single-minded protection of her husband and solid political acumen.
Her mother Edith Luckett was deserted by her husband at Nancy's birth. Alla Nazimova, Hollywood screen star of the 1920s and renowned lesbian, was Nancy's godmother.
B. 07-06-1937, Bessie Emery Head - South African novelist and short story writer who described the contradictions and shortcomings of African society - both white and black - that often treats women as "dead things."
Her mother was considered white and her father black under the South African apartheid laws. She was raised in orphanages and by foster parents.
B. 07-06-1954, Louise Erdrich - Amerind-U.S. writer. Her mother Rita Joanne Gourneau was a Chippewa Indian. Her maternal grandmother was Tribal Chair on Turtle Mountain Reservation.
LE's writings show the terrible side of the dying Indian culture but holds out hope for its evolution.
| PRIOR DATE | | HOME | | WOA INDEX | | NEXT DATE |
---
ALAIS:
"...shall I stay unwed? That would please me, for making babies doesn't seem too good, and it's too anguishing to be a wife."
-- Alais, 12th Century, as translated in The Women Troubadours by Meg Bodin, 1976.
BLAKE, LILLIE DEVEREUX:
"[Adam] takes the fruit from the hand of his wife without protest... The subsequent conduct of Adam was to the last degree dastardly. When the awful time of reckoning comes, and the Jehovah God appears to demand why his command has been disobeyed, Adam endeavors to shield himself behind the gentle being he has declared to be so dear. 'The woman thou gaveset to be with me, she gave me and I did eat,' he whines trying to shield himself at his wife's expense! Again we are amazed that upon such a story men have built up a theory of their superiority!"
-- A comment on the Garden of Eden story in Genesis by Lillie Devereux Blake, part of the Revising Committee of The Woman's Bible (1895). Long a rarity, Women of Achievement and Herstory is archiving The Woman's Bible in the WiiN Library.
---
| PRIOR DATE | | HOME | | WOA INDEX | | NEXT DATE |