07-10 TABLE of CONTENTS:
We Should All Rise for Mary McLeod Bethune
DATES, ANNIVERSARIES, and EVENTS
QUOTES by Mary McLeod Bethune.
---
We Should All Rise for Mary McLeod Bethune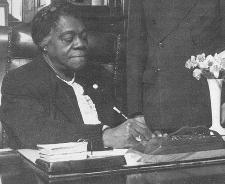 Mary McLeod Bethune is certainly one of the great American women - or American persons - in the history of our nation and perhaps the world.
On 10-03-1904, with $150 of her own money, she opened the Daytona Normal and Industrial Institute for Negro Girls in Daytona Beach, Florida, with five girls paying 50 cents a week... in those days a lot of money for families steeped in poverty. In less than two years, she had 250 pupils, and within 12 years, eight buildings. Most of the pupils were girls because MMB knew from experience that girls were held back from improvement by not only the white culture but also the Black patriarchy.
Black women then, and perhaps even today, suffered as a whole with an invisibility, especially in leadership and policy-making roles - and MMB wanted to change that. MMB's remarkable fund-raising abilities combined with her ingenuity made the school a success. She haunted the trash sites for broken furniture that could be repaired enough to be used by those who had nothing. She used charcoal sticks because there was not money for pencils. She tramped the bypaths of the Daytona countryside for any sort of materials. (See her quotes below.)
A brilliant woman, she built her school with her bare hands and the sweat of her brow. It was a feat that gained her world-wide attention for she taught her girls to be fine human beings as she educated them far better than most girls of her era could ever dream of.
In 1936 she was appointed Director of the Division of Negro Affairs of the National Youth Administration. She was a close friend of Eleanor Roosevelt, which enabled her to act as a special adviser to President Roosevelt.
Many stories have been told of how ER was condemned for befriending MMB and having her EAT in the White House. A biographer tells of how ER would hover under the White House portico when MMB was due (she walked) so that she would not face any prejudicial or racial slurs. Interestingly enough, ER's mother-in-law, the patrician Sara Delano befriended MMB first and sat her at the main table at a luncheon. MMB was an official observer for the U.S. at organizational meetings of the United Nations. MMB was founder of the National Council of Negro Women, served as president of the National Association of Colored Women, and the Florida Federation of Colored Women, and was vice-president of the NAACP 1940-1955. For 30 years she was the most influential Black person in the nation, advocating education as the way out of poverty and prejudice - especially for Black women. Her philosophy was conciliation rather than confrontation, urging Blacks to become active in politics as the one sure way of progress.
Her influence went beyond just committee meetings and schools. She was a symbol - a first - that marched first into the White House, the first into luncheon meetings, the first into government hearings - the first black person to take a majory role stage in U.S. politics.
To paraphrase the famed line from To Kill a Mockingbird, we should all rise for Mary McLeod Bethune's passing through our world. MMB was born 07-10-1875, the last of 17 children.
MMB's mother had continued to work for the McIntosh family - employed and paid for doing the work she did when she was a slave - until she saved enough money to buy five acres.
The family then cut and burned the logs themselves to build their cabin. At nine, MMB picked 250 pounds of cotton a day. She finally learned to read when a school for blacks opened about five miles away. Being the youngest and the one who could be spared from the fields, she walked both ways and taught other members of her family at night.
When Mary Crissman, a white Denver, Colorado, dressmaker, offered to pay for the education of a worthy girl, Mary was chosen. No more worthy a student could have been chosen. MMB shared her education with other black children by teaching school in several locations and then after marriage settled in Daytona Beach, where a large black population stayed after the building of the railroad into Florida.
In 1923 her school was amalgamated with a Black men's college from Jacksonville, Florida, and became the Bethune-Cookman College in Daytona.
She was the president until 1942 and then president emeritus until 1947. Under her direction the enrollment exceed 1,000 and attained full accreditation.
| PRIOR DATE | | HOME | | WOA INDEX | | NEXT DATE |
---
07-10 DATES, ANNIVERSARIES, and EVENTS
---
B. 07-10-1809, Laura Maria Sheldon Wright - U.S. missionary who respected the Seneca tribal ways and attempted to help them make the transition from hunters to farmers.
B. 07-10-1844, Amalie Materna, legendary Austrian soprano and voice teacher.
B. 07-10-1882, Ima Hogg, philanthropist, the legendary "Miss Ima" of Houston, Texas, who endowed what became the Hogg Foundation for Mental Health.
IH was a major player in the organization of the Houston Symphony, restored and endowed for future maintenance a number of historic buildings in the areas, and in general did wonderous things for the culture of Houston and Texas.
B. 07-10-1884, Harriet Wiseman Elliott, only woman member of the National Defense Commission whose job was to protect U.S. consumers during WWII. She founded the first woman's suffrage organization in North Carolina.
B. 07-10-1885, Mary O'Hara - U.S. novelist and screenwriter whose My Friend Flicka (1941) was a runaway best seller. It also became a very popular movie as did several of her other books.
As a screenwriter, her most noted film adaptation was that of Prisoner of Zenda. Leaving Hollywood, she ran a dairy farm in Wyoming single- handed.
Event 07-10-1890: Wyoming became the 44th state in the U.S. For the first time, American women could vote, albeit only in the one state, as Wyoming retained its territorial law of woman's suffrage.
The Wyoming legislature had passed a woman's suffrage act as a joke and fully expected the governor to veto it. When he didn't, it became law. When members of the legislature tried to revoke the vote, they were deluged with objects and so let it be.
B. 07-10-1905, Ivie Marie Anderson, Afro-American jazz and blues singer. She was discovered in the famed Cotton Club revues in Harlem and became the featured singer with the Duke Ellington band 1931-42.

B. 07-10-1917, June Allyson, Hollywood's girl next door. JA was known for her wholesomeness and husky voice in numerous movies and Broadway productions.
She had her own TV show during the 1950s and 60s. An extremely popular actor of her generation.
B. 07-10-1923, Jean Kerr, U.S. playwright and humorist. She became a best selling author with Please Don't Eat the Daisies (1957).
B. 07-10-1931, Alice Munro, Canadian short-story writer.
B. 07-10-1945, Virginia Wade, British tennis champion.
Event 07-10-1952: The Republican Party adopts an Equal Rights Amendment plank in its party platform.
It would reverse its position in later years and actively campaign for the defeat of any further rights for women.
Event 07-10-1972: A local Chicago court rules a pregnant teacher does not have to take a six-month unpaid leave after her fifth month of pregnancy.
In 1974 the U.S. Supreme Court rules that public schools cannot force a pregnancy leave until shortly before the expected delivery date. Recently (in 2000) the compiler of WOAH noticed an obviously pregnant women doing the weather on the weather channel. Only 100 years ago, women of the upper and leisurely middle classes had to retire from public (stay home behind blinds) when they began to show their pregnancy.
| PRIOR DATE | | HOME | | WOA INDEX | | NEXT DATE |
---
BETHUNE, MARY MCLEOD:
Explaining how she developed an outstanding educational school with almost no resources, Mary McLeod Bethune said: "We burned logs and used the charred splinters as pencils and mashed elderberries for ink.
"I begged strangers for a broom, a lamp, a bit of cretonne to put around the packing case that was my desk. I haunted the city dump and the trash piles behind hotels, retrieving discarded linens and kitchenware, cracked dishes, broken chairs, pieces of old lumber.
"Everything was scoured and mended. This was part of the training - to salvage, to reconstruct, to make bricks without straw."
Another quote: "I rang doorbells and tackled cold prospects without a lead. I wrote articles for whoever would print them, distributed leaflets, rode interminable miles of dusty roads on my old bicycle..." (What an awesome human being!)
---
| PRIOR DATE | | HOME | | WOA INDEX | | NEXT DATE |