07-12 TABLE of CONTENTS:
Women Demanded Leadership Roles
DATES, ANNIVERSARIES, and EVENTS
QUOTES by Dorothy Smith and Diane Feinstein.
---
Women Demanded Leadership Roles
There was a time in the history of the U.S. when strong women in leadership positions united and demanded leadership roles in the politics that determined the future of the world.
Mary E. Woolley, president emeritus of Mount Holyoke College, and Emily Gregory Hickman, professor of history at the New Jersey College were two such women following World War II. Woolley who was regarded as one of the 12 most important women of the U.S. and Hickman with a powerful reputation in analysis of historical trends were strong enough and determined enough to try.
In 1944 Woolley called for and Hickman chaired the Committee on the Participation of Women in Post (World War II) Planning.
Only 12 of the more than 30 women's organizations that were invited came to the first meeting. Sixty-one showed up soon after as the newspapers paid attention. The subsequent pressure on the patriarchal politicians was enormous.
It included women from the YWCA, the National Association of Women Lawyers, the National Council of Jewish Women, etc., etc., - in all, the leading women of the times. "What we are going to do specifically is to nominate women who will be qualified for membership in any international body. They will be able to sit with any international conference now being planned; we are going to select those who are trained for such duties," Woolley said.
As a result, Josephine Schain, Ellen S. Woodward of Indianapolis, Elizabeth A. Conkey of Illinois, Dr. Virgina Gildersleeve of Barnard College, Ruth Bryan Owen Rohde, and Emily Hickman were able to contribute women's views to post war planning in various ways - including the formation of the United Nations. Woolley and Hickman didn't wait for the politicians to come to them. They marched onto the world stage and demanded that women's opinions and outlooks be regarded in any planning for the future.
How Is YOUR State Doing - Isn't it time YOU Got Involved?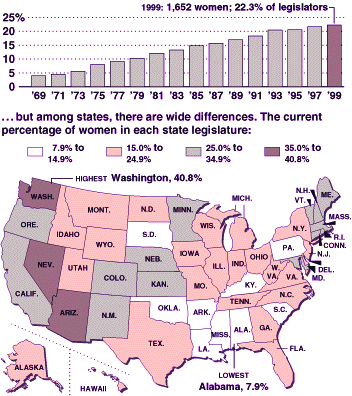 Woman of Color, Daughter of Privilege
Woman of color; Daughter of Privilege by Kent Anderson Leslie chronicles the life of Amanda Dickson (1849-1893), "the daughter of a wealthy white planter and a slave in antebellum Georgia. Amazingly, shielded by her family from the era's strict racial codes, Amanda went on to inherit most of her father's vast estates." (Published in the late 1990s.)
| PRIOR DATE | | HOME | | WOA INDEX | | NEXT DATE |
---
07-12 DATES, ANNIVERSARIES, and EVENTS
---
B. 07-12-1865, Lucy Fitch Perkins - U.S. artist and children's writer whose "twins" series sold more than two million copies.
B. 07-12-1871, Anne Carroll Moore - children's librarian ACM helped establish and directed the Children's Division of the New York Public Library 1904-1940; ACM wrote several children's books.
B. 07-12-1880, Emily Gregory Hickman, world peace activist, professor of history at the New Jersey College for Women that was quaintly described at the time as the distaff side of Rutgers University.=
She chaired the Committee on Pariticipation of Women in Postwar Planning (World War II) - see above.
B. 07-12-1895, Kirsten Flagstad - world-renowned Norwegian dramatic and Wagnerian soprano, considered to have one of the most beautiful voices of the century.
She was unjustly accused of being a Nazi collaborator and blacklisted in the U.S. following WWII because she remained in occupied Norway to help her fellow country persons.
Following World War II she did a tour of the U.S. and she was picketed. The compiler of WOAH went through the picket lines to hear her sing. I refused to believe anyone with that talent and pre-war reputation could have done what she was accused of.
She was vindicated of collaboration and is recognized as a patriot today.
B. 07-12-1918, Doris Grumbach - U.S. novelist, educator, and critic. For many years she was a contributing editor of The New Republic. Her several interesting memoirs begin with Coming Into the End Zone (1991).
Event 07-12-1945: Col. Westray Battle Boyce was appointed director of the Women's Army Corps to succeed Oveta Culp.
The approximately 100,000 WACS who served in WWII were to be reduced to 30,000 or less when the war with Japan ended. She not only oversaw the reduction, but consolidated the remainder so that women became an integral part of the armed forces.
B. 07-12-1971 Kristi Yamaguchi - U.S. ice skater. KY is one of the finest and talented figure skaters in the history of the sport.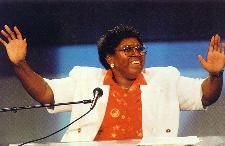 Barbara Jordan receiving applause at the 1992 Democratic convention.
Event 07-12-1976: Representative Barbara Jordan (D-Texas) is the keynote speaker of the 1976 Democratic Convention, the first woman and the first black to be accorded the honor. (And the first lesbian although her lifestyle was not publicized at the time.) It was a rousing speech that electrified the convention and TV watchers.
| PRIOR DATE | | HOME | | WOA INDEX | | NEXT DATE |
---
SMITH, DOROTHY:
"Because men have power, they have the power to keep it."
-- Dorothy Smith, 1978, when describing what she called the "circle of men" who are the philosophers, politicians, poets, and policy-makers who have been writing and talking to each other about issues which are significant to them since the beginning of recorded history in their partial view of the world.
Mary Woolley and her sister academics did not accept the status quo at the end of World War II and set a shining example of what can be accomplished.
FEINSTEIN, DIANE:
"Experience has taught me that the keys to a woman's effectiveness in public office are to be 'trustable': to give directions clearly and to follow up, to verify every statement for accuracy, to guard her integrity caefully, and to observe the public'[s trust one hundred percent. Most important, she must be a team player and build relationships with her colleagues that are based on integrity and respect. She must be able to get the job done. She must be a leader in the true sense of the world."
-- Diane Feinstein commenting about her 1969 election to the 11-member legislative Board of Supervisors which governs the city and county of San Francisc. From the forward to Women in Power - The Secrets of Leadership. Cantor, Dorothy W. and Toni Bernay with Jean Stoess. 1992: Houghton Mifflicon Company, New York.
---
| PRIOR DATE | | HOME | | WOA INDEX | | NEXT DATE |