07-14 TABLE of CONTENTS:
A Brief Paragraph in an Obscure Newspaper
DATES, ANNIVERSARIES, and EVENTS
QUOTE by Carol Gilligan.
---
A Brief Paragraph in an Obscure Newspaper
This brief paragraph appeared in the obscure country newspaper paper called the Seneca County Courier would change the world:
"MAN'S RIGHTS CONVENTION - A Convention to discuss the social, civil and religious condition and rights of women, will be held in the Wesleyan Chapel at Seneca Fall, N.Y., on Wednesday and Thursday, the 19th and 20th of July, current, commencing at 10 O'clock A.M.
"During the first day, the meeting will be exclusively for women, who are earnestly invited to attend. The public generally are invited to be present the second day, when Lucretia Mott of Philadelphia, and other ladies and gentlemen, will address the Convention."
And so the first successful drive for women's human rights began with almost 300 women attending.
See the full text of the Declaration of Sentiments adopted by the convention.
| PRIOR DATE | | HOME | | WOA INDEX | | NEXT DATE |
---
07-14 DATES, ANNIVERSARIES, and EVENTS
---
B. 07-14-1811, Clara Fisher - British-born U.S. actor. CF was generally conceded to be the foremost actress of her time with an adoring public that named babies, even steamships after her. The adoration and following was much in the fashion of rock singer popularity today.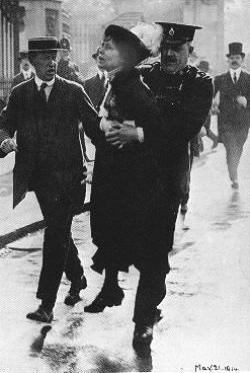 Emmeline Pankhurst
being arrested and dragged
away by London police
during one of the
Votes for Woman
demonstrations
B. 07-14-1858, Emmeline Pankhurst, militant champion of British woman's suffrage whose 40-year campaign achieved partial success in 1918 when women over 30 were given the vote - and won complete success the year she died, 1928.
In 1903 she and daughter Christabel formed the Women's Social and Political Union that became the militant wing of the suffrage movement. A statue of her is near the Houses of Parliament. She also was active in the reforms of the Married Women's Property acts (1870-82) although not one of the leaders.
The Pankhurst campaign is brilliantly described in the book Shoulder to Shoulder based on a BBS TV production, a real visual and information gem except it virtually ignores the years spent by Millicent Fawcett and others of the woman's suffrage movement who worked within the system.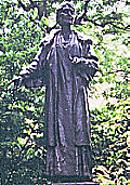 Emmeline Pankhurst statue in London.
Photo by Varda Ullman Novick for WOAH
B. 07-14-1862, Florence Bascom - U.S. geologist. FB was the first woman to receive a Ph.D. degree from any U.S. university (John Hopkins) and was instrumental in making Bryn Mawr a major center for geology as its longtime, much revered professor. She was the first women to be elected a fellow of the Geological Society of America. Her domestic partner Julia Anna Gardner (b. 01-26-1882) was also a geologist who did important work in economic geology and assisted in the strategic planning efforts of WWII.
B. 07-14-1868, Gertrude Margaret Lowthian Bell - English archaeologist and author. In 1921 she headed the British group which chose Faisal I the first king of the newly developed Iraq. GMB was the founder of the national museum in Baghdad.
She traveled in the Middle East after graduating from Oxford University in 1888 and acted as a British agent in Egypt during World War I.
B. 07-14-1916, Natalia Ginzburg - Italian writer who examined the solitude and lonliness of women within a male-dominated family. Many of her novels have been translated into English with her best known being All Our Yesterdays.
B. 07-14-1923, Frances Lear, U.S. publisher of Lear Magazine for "the woman who wasn't born yesterday." It failed as Madison Avenue continued to boycott any feminist publications. It cost her $25 million of the estimated $100-112 million she received as a divorce settlement from her partner-husband Norman Lear, producer of two of TV's biggest hits, All in the Family and Maude, the latter based on Frances Lear's life as a businesswoman and a feminist activist.
| PRIOR DATE | | HOME | | WOA INDEX | | NEXT DATE |
---
GILLIGAN, CAROL:
"As we have listened for centuries to the voices of men and the theories of development that their experience informs, so we have come recently to notice not only the silence of women but the difficulty in hearing what they say when they speak.
"Yet in the different voice of women lies the truth of an ethic of care, of the tie between relationship and responsibility, and the origins of aggression in the failure of connection.
"The failure to see the different reality of women's lives and to hear the differences in their voices stems in part from the assumption that there is a single mode of social experience and interpretations."
-- Carol Gilligan, author of In A Different Voice, Cambridge: Harvard University Press, 1982. (Gilligan is one of the major voices of the feminist movement who has been overshadowed by the strident voices of the "new" feminists but remains the basic, sane voice.)
---
| PRIOR DATE | | HOME | | WOA INDEX | | NEXT DATE |