07-18 TABLE of CONTENTS:
Memories of the first women's rights convention
DATES, ANNIVERSARIES, and EVENTS
QUOTES by Sappho and Lech Walesa.
---
We Were A Procession...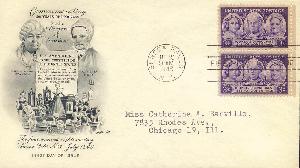 click on image to see enlarged detail
The day the 19th Amendment (women's suffrage) was approved in 1920, a reporter sought out Mrs. Charlotte Woodward, then past 90, the only living person to remember those wonderful days in July of 1848 when the first ever Women's Rights Convention was held in Seneca Falls, New York...
"I do clearly remember the wonderful beauty of the early morning when we dropped all our allotted tasks and climbed into the family wagon to drive over the rough roads to Seneca Falls.
At first we traveled quite alone under the overhanging tree branches and wild vines, but before we had gone many miles we came on other wagon loads of women, bound in the same direction. As we reached different crossroads, we saw wagons coming from every part of the county, and long before we reached Seneca Falls we were a procession..."
More than 300 women attended the conference from a time when a man could beat and imprison his wife without fear of legal retribution. . .in fact, would often be praised for keeping the shrew in line. But a few men also attended the second day. The first day was limited to women only.
"Gentle ladies, you will remember till old age what we did together in our brilliant youth."
-- Sappho, poet of ancient Greece.
| PRIOR DATE | | HOME | | WOA INDEX | | NEXT DATE |
---
07-18 DATES, ANNIVERSARIES, and EVENTS
---
B. 07-18-1821, (Michelle Ferdinande) Pauline Viardot - French mezzo-soprano. PV is best-known for her outstanding success in highly dramatic operatic roles. She was the sister of renowned contralto Maria Malibran. PV was herself a composer of vocal music including opera.
B. 07-18-1850, Rose Alnora Hartwick Thorpe - U.S. poet whose most famous poem "The Clapper Must Not Ring Tonight" was published and recited throughout the country, but because she didn't know to copyright it, she got almost no money from its repeated use.
B. 07-18-1879, Rose Harriet Pastor Stokes - U.S. radical activist, was found guilty of interfering with military recruitment and sentenced to ten years in jail for writing the following line in a 1918 letter to the Kansas City Star: "I am for the people, while the Government is for the profiteers." Her conviction was overturned on appeal.
B. 07-18-1902, Jessamyn West - U.S. novelist best known for the novel Friendly Persuasion (1945; film, 1956). The novels Cress Delahanty (1953) and A Matter of Time (1966) are not as recognized as persuasion but better explore the various crises in women's lives.
B. 07-18-1907, Yvonne Desportes - French composer who won Grand Prix de Rome(1932) and made Chevalier of the National Order of Merit.
B. 07-18-1910, Lupe Velez - U.S. actor. This early Hollywood motion picture star was known for her tempestuous off-screen behavior more than her film roles.
B. 07-18-1925, Shirley Strickland de la Hunty - Australian athlete who won seven Olympic medals, including two0 golds in the 80-metre hurdles in 1952 and 1956 and another gold as a member of the relay team. She was a lecturer in physics and mathematics at the college level.
B. 07-18-1935, Tenley Albright - U.S. figure skater who won the figure skating gold medal at the 1956 Olympics, won the world amateur figure skating championship 1953, and won the U.S. championships 1951-1956. Harvard Medical School required she retire from competition before she could attend classes. She received her M.D. 1961, and became a surgeon. TA had a mild form of polio when she was 11 and exercised to strengthen her body. In 1979 she became the first woman officer of the U.S. Olympic Committee. (Yep, 1979! There aren't all that many in 2000 either.)
Event 07-18-1969: Mary Jo Kopechne drowns after a car driven by Senator Edward M. Kennedy plunges off the bridge at Chappaquiddick Island in Massachusetts.
Cause of the accident and Kennedy's abandonment of Kopechne have never been satisfactorily explained.
Ironically, for all his faults, Kennedy has probably been the staunchest defender and proponent of women's rights in the Congress.
Event 07-18-1984: Geraldine A. Ferraro, Democratic former U.S. Representative from New York, becomes the first woman nominated for the Vice President of the United States by a major political party.
| PRIOR DATE | | HOME | | WOA INDEX | | NEXT DATE |
---
WALESA, LECH:
"Women are to have fun with. In politics I prefer not to see a woman. Instead of getting all worked up, they should stay as they are - like flowers."
-- Lech Walesa, in 1981, when he was president of Poland and abolished abortion and birth control, reduced child care facilities, and through his policies increased women's unemployment and the lowering of their salaries. He is known, historically, to have brought democracy to Poland.
---
| PRIOR DATE | | HOME | | WOA INDEX | | NEXT DATE |