07-24 TABLE of CONTENTS:
What Really Happened to Amelia Earhart?
DATES, ANNIVERSARIES, and EVENTS
QUOTE by Bella Abzug.
---
What Really Happened to Amelia Earhart?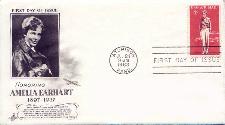 One of the most intriguing mysteries of the 20th century is: What happened to Amelia Earhart?
Greater than the mystery of her disappearance is why Fred Noonan was chosen as her navigator since he was a known alcoholic and no great shakes as a navigator - and why tiny Howland Island in the South Pacific was chosen as a refueling spot.
The sad truth is that both were probably chosen for their publicity value by her husband who had a fine eye for anything that would make EA more marketable. He often forced her into doing things that she would rather not do in order to keep up their (his) lavish lifestyle.
AE, born 07-24-1897, was the world's most renowned aviator - and the second most famous woman in the world (behind Eleanor Roosevelt) when on July 2, 1937, her plane vanished in the South Pacific on her attempt to fly around the world.
The U.S. and Japanese navies scoured the area . No trace was ever found.
Gradually, those fond of conspiracies began a series of conjectures.
The most noted (with many variations) is that instead of being just a simple round the world adventure mishap, it was a spy mission. Her disappearance was to have been staged and she would be found after the U.S. Navy to conducted a sweeping search for her that was actually a mapping of Japanese war preparations.
The conspirators went so far as to have her living in luxury at various places in the world, including a private island in the South Pacific. It is a theory that combined the conspiracy theories that the deaths of Elvis and JFK were faked, etc., etc.
Several adventurers have claimed to have found indications that she and Noonan or parts of their plane were found on isolated islands; no definitive proofs has ever been unearthed.
Earhart's last heard message indicated they were low on fuel and had not sighted any land so it is unlikely they landed on land. Noonan was reported to have been drinking heavily before they took off on the doomed flight.
Earhart, for all her fame, was not considered a good pilot. She was, however, a stellar human being, a feminist, a fighter for women's rights, a woman who believed in women flyers - and from all indications, a really nice person.
Her husband, on the other hand, was not very well thought of by those in the business.
| PRIOR DATE | | HOME | | WOA INDEX | | NEXT DATE |
---
07-24 DATES, ANNIVERSARIES, and EVENTS
---
DIED 07-24-1115, Matilda of Tuscany, aka The Grand Countess, opposed the Holy Roman emperors and sided with the papacy. It was at her castle that Pope Gregory VII accepted the penance of Emperor Henry IV.
She was the sole heir of huge holdings of her family and was known to personally lead her troops.
B. 07-24-1738, Betje Wolff - Dutch writer who collaborated with Aagje Deken in what is recognized as the first Dutch novel Die historie van mejuffrouw Sara Burgerhart (1782 - The History of Miss Sara Burgerhart).
The widowed BW met Deken when she was 38 and the two women lived together thereafter. Their writings were subject to a great deal of criticism from the establishment who did not favor their lifestyle nor the fact that they were women writing!
B. 07-24-1866, Mary Margaret Bartelme - U.S. lawyer and judge. She was public guardian for Cook County (Chicago), (1897-1913) and helped establish the Chicago juvenile court system. She was appointed to hear cases of delinquent girls caused by the city and county's failure to protect girls aged ten to 17 from the rampant "white slavery" in the city. Girls were drugged or dragged off the streets into prostitution and social ruin. (Remember that once a girl had been "defiled," even forcibly, she was RUINED and could not enter decent society again. The male defiler, however, suffered little stigma.)
Chicago had more than 600 brothels at the time, all known to (or used by) the male hierarchy.
MMB established a half-way home system for delinquent girls and helped force the system into hiring women police officers and court representatives for women prisoners or those in trouble. She favored sex education for girls and a minimum age for employment.
MMB was elected to the Cook County Circuit Court where she served 1923-1933. An avid woman suffragist, she was one of the group which centered around Jane Addams' Hull House.
B. 07-24-1900, Zelda Sayre Fitzgerald - U.S. writer who often wrote about women struggling for their own identities, especially married women. She was a prime example having had her personality swallowed almost whole by her husband F. Scott Fitzgerald.

B. 07-24-1920, Bella Abzug - U.S. lawyer, founder of the New Democratic Coalition (1968), U.S. Representative from New York, 1971 to 1977.
She was derided by the media for her signature big hats and her alleged "big mouth" when she should have been acclaimed for her big ideas, big heart, and big accomplishments as a life-long fighter for the rights of women and children.
She was a FEMINIST! She campaigned for the ERA, breast cancer research, child-care, welfare, and women's rights.
Sponsored by Bella Abzug, Public Law 93- 392 was passed by Congress in 1993 to commemorate the anniversary of the adoption of women's suffrage as Women's Equality Day. Since her death, no one in the leadership positions of feminism has pushed observance of the day.
B. 07-24-1940, Cynthia Moss - U.S. wildlife biologist. Primarily an elephant researcher, she proved that elephants are led by the oldest and the wisest cow and that the males are inveterate bachelors. She was senior associate of the African Wildlife Foundation.
Partly because of Moss's research, other women researchers have shown that most herd animals are led by the oldest and wisest female, not the male who is generally used for defense. Even the old idea that the dominant male was the primary breeder has been disproved.
B. 07-24-1963, Julie Krone - the top U.S. female jockey in history and regularly one of the top ten (men or women) money-winning jockeys during the 1980s and early 1990s.
She was the first woman to get mounts in the top races and the first to win a Triple Crown race.
Her mother was a Michigan equestrian champion and showed Arabian horses.
Krone's mounts regularly won more than $8 million a year. She has won more than $58 million, twice rode six winners on one card and has won the meet titles at Belmont, Gulfstream Park, the Meadowlands, and Saratoga - all tracks which draw the best jockeys because of the high purses.
She stands 4'10.5" and weighed at 100 pounds. Because of her smallness, her voice is very high pitched, similar to someone using nitrogen.
Unfortunately several cocky male jockeys underestimated her toughness. One got so mad at her that he reached out and grabbed the reins out of her hands going down the stretch. Fortunately she held her seat; had she fallen the entire field of horses would have trampled and probably killed her. She promptly pummeled the man jockey and was fined.
The next time when a male jockey struck her across the face with his whip as she was passing him in the stretch for the win, she waited until that evening and went to the motel where he was sitting outside by the pool. In the resulting tussle, she broke a chair over the man's back and shoved him into the swimming pool. Some criticized her for the fight but most admit that had she not defended and beaten the bullies, they would have done worse to her the next time out and eventually driven her out of racing, if they didn't kill her on the track first.
Jockeys depend on the races they win for most of their income. The men resent women particularly because of the standard sexism and because so many of the men jockeys have an inferiority complex because of their smallness.
| PRIOR DATE | | HOME | | WOA INDEX | | NEXT DATE |
---
ABZUG, BELLA:
"Our struggle today is not to have a female Einstein get appointed as an assistant professor. It is for a woman schlemiel to get as quickly promoted as a male schlemiel."
-- Bella Abzug
---
| PRIOR DATE | | HOME | | WOA INDEX | | NEXT DATE |