07-28 TABLE of CONTENTS:
Judith Leyster's Paintings Credited to a Male Painter
DATES, ANNIVERSARIES, and EVENTS
QUOTE by Jane O'Reilly.
---
One Reason There are No Great Painters
is That They aren't Given Credit for Their Work
Judith Leyster, Dutch painter born 07-28-1609, is a prime example of why there are no great women painters - KNOWN great women painters, that is. For years most of her paintings were attributed to other (MALE) artists.
When she was rediscovered in the late 19th century, much of her newly known work was then dismissed as merely imitations of Frans Hals until the two are compared, and then Leyster begins to shine as perhaps the more versatile, if not superior artist - in spite of marriage and at least five children.
The difference in a woman's work is shown dramatically when comparing the relationship between the sexes. Male artists usually portray women as licentious towards men, enjoying their sexual overtures while Leyster, in one of her most famous works, painted a modest woman disdaining a man's offer of money in the "The Proposition" (1631).
The finest books we've found on the subject of women artists are Ann S. Harris and Linda Nochlin's Women Artists: 1550-1950 (1976) and Elanor Tufts' Our Hidden Heritage: Five Centuries of Women Artists (1974). They are eye-openers in beauty as well as facts. If you ever get a chance to get to Washington, D.C. you MUST - MUST - stop at the National Museum of Women in the Arts. It is a museum that will absolutely take your breath away. From Leyster's The Concert to works by Rachel Ruysch whose work demanded extraordinary prices while she was still painting to etchings of Kathe Kollowitz, to... hundreds of paintings, etchings, sculptures... it's an amazing experience.
The museum became a reality under the leadership and generosity of Wilhelmina Cole Holladay who donated the backbone of the fabulous collection of art who works are all signed by women. Ms. Holladay continues to devote her time as chair of the board. Ms. Holladay, I thank you. Future generations of women thank you. (BTW, the building itself, a former Masonic Temple is a wonderful visual experience - and trust me - plan to be there for lunch!)
| PRIOR DATE | | HOME | | WOA INDEX | | NEXT DATE |
---
07-28 DATES, ANNIVERSARIES, and EVENTS
---
B. 07-28-1811, Giulia Grisi, the Countessa Barni - Italian soprano who reigned as prima donna of Paris and London opera 1835-1860. She sang coloratura, lyric, and dramatic styles in creating a number of roles in new operas.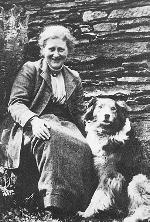 left, author and artist Beatrix Potter
B. 07-28-1866, Beatrix Potter - English author and water colourist, one of the most beloved authors in his/herstory. She published 22 books of illustrated animal stories. Her most noted work is The Tale of Peter Rabbit (1901). The originals of her illustrations for her 28 children's books are in the Tate Museum in London.

Event 07-28-1869: The Daughters of Saint Crispin, an all-woman union of shoemakers with a membership of almost 800 women, was organized. Their ranks swelled to almost 1,000 as they campaigned for better wages. Their demands for better wages and conditions were NOT backed by male shoemakers who were making more money (of course).
B. 07-28-1874, Alice Duer Miller - British novelist, playwright, and poet. Her book-length poem White Cliffs of Dover (1940; movie 1944) sold 125,000 copies in the first ten months and eclipsed all of her 20 other books, combined.
Her 1933 novel Gowns by Roberta was adaped into a Broadway musical Roberta that featured the now classic love song, "Smoke Gets in Your Eyes".
She also wrote Are Women People? a feminist statement.
B. 07-28-1879, Lucy Burns - U.S. suffragist leader and the organizer. LB co-founded the National Women's Party with Alice Paul. NWP was the militant branch of the U.S. suffrage movement.
LB spent more time in prison than any other suffragist. She was the organizer of the famed suffrage parades as well as the editor and main writer of the militant publications. In conjunction with Alice Paul and Alva Belmont, she shaped policy.
In many ways, Burns rather than Paula should be credited for the main militant suffrage work. For example, it was Burns, not Paul, who went to Tennessee to lobby in the final days of the ratification of the 19th amendment.
She became a paid employee of the Pankhurst's Women's Social and Political Union sent to organize in Scotland after being a volunteer.
Burns abruptly dropped all ties with the suffrage movement in 1920 and went to live with her two sisters to care for their children.
There are various rumors regarding the relationship between Burns and Paul that could explain why she thrust the more aggressive Paul into the limelight and stood back. And could explain why she so suddenly dropped out of the women's rights movement.
B. 07-28-1884, Aida De Acosta Breckinridge - U.S. activist. AAB was the founder and executive director of the Eye-Bank for Sight Restoration, Inc. that collected corneal tissue from the eyes of the dead to restore the sight of the living. She had lost the sight of one eye through glaucoma.
B. 07-28-1929, Jacqueline Lee Bouvier Kennedy Onassis. Socially prominent, JBK studied at Vassar, the Sorbonne, and George Washington University before marrying John Kennedy.
She was basically a shy and retiring person who was hounded by the paparazzi. She was particularly admired for her dignified elegance and cool composure after the assassination (Nov. 22, 1963) of her husband President John F. Kennedy.
She is buried next to JFK and her first son at Arlington cemetery. She became a working editor for a major publishing company and raised her two Kennedy children away from the public eye and away from scandal. Considering the other Kennedy clan children, that's quite a feat. Her second son, John-John who died in a tragic air accident was buried at sea.
| PRIOR DATE | | HOME | | WOA INDEX | | NEXT DATE |
---
O'REILLY, JANE:
"CLICK! turned up as a way of describing that instant of recognizing the sexual politics of a situation: any moment of feminist truth.
"(As in 'May you have sons to take care of you in old age.' CLICK!" -- Gloria Steinem.)
"In Houston, Texas, a friend of mine stood and watched her husband step over a pile of toys on the stairs, put there to be carried up.
" 'Why can't you get this stuff put away?' he mumbled. CLICK!
" 'You have two hands,' she said, turning away."
-- Jane O'Reilly, "The Houswife's Moment of Truth," 1972.
---
| PRIOR DATE | | HOME | | WOA INDEX | | NEXT DATE |