08-11 TABLE of CONTENTS:
Women Historians are Remaking the Historical Landscape
Developer of Aspen as a "Ski Resort with Culture" Sees it Overrun by Glitz
Queen Esther of the Seneca Tribe of Indians
DATES, ANNIVERSARIES, and EVENTS
QUOTES by Mary Beard, Dorothy Sayers, and U.S. Supreme Court.
---
Women Historians are Remaking the Historical Landscape
"Historians went their accustomed way, writing about men and the things men do, and calling their work 'history'... then in the 1960's things began to change. There had always been some historians who went beyond or behind politics to the society itself, who examined the way people lived and what they though about and what their most deeply held values were.
"In the 1960's this view and the kinds of questions it engendered began to spread. This new social history attracted many young scholars and gave rise to an ever-increasing amount of exciting work. The techniques, which made it possible to ask and answer question about large numbers of hitherto unexamined groups, provided an added impetus to the growing concern with the history of society.
"All this was going on as a resurgent feminism stirred many women to wonder about the lives and experiences of their mothers and grandmothers and all the other women who had lived and died unnoticed since the first European settlement. Some even began to wonder about the women who were here.... and about the African women brought here against their will. Feminism also emboldened an increasing number of women to seek advanced training and to become professional historians. The combination of these developments has led to an explosion of studies about women and families which are remaking the historical landscape."
--Suzanne Lebsock, A Share of Honour: Virginia Women 1600-1945. Richmond, Virginia: The Virginia Women's Cultural History Project, 1984.
[WOAH Note: There were always some women historians such as Mary E. Beard who initially co-wrote such books as The Beards' Basic History of the United States that included (shock!) WOMEN. Her Women as a Force in History is a classic.
However, until the advent of women's studies courses, such books found no place in the male viewed teaching hierarchy of academia.
To paraphrase Virginia Woolf, men historians only read and taught about figures who they recognized in their shaving mirrors. Not only were women written out of our histories, but major developments in cultures and countries outside of our own were ignored. Women are now undeleting their histories. How people lived is becoming more important than how armies died.]
Filmmaker/writer Jan Oxenberg's 1991 award-winning documentary Thank You and Good Night chronicles the death of her grandmother with a portrait of her life and their relationship. She has also won an award for her episode about abortion in the PBS Nothing Sacred.
| PRIOR DATE | | HOME | | WOA INDEX | | NEXT DATE |
---
Lorenzo's Oil
Michaela Odone and her husband who had no medical training developed a treatment for her son's rare disease that inspired the movie Lorenzo's Oil.
Faced with a rare degenerative brain disease, adrenoleukodystrophy, MO and her husband developed a combination of olive and rapeseed oils to keep their son Lorenzo alive. He had been in a vegetative state and the oil treatments allowed him to communicate in a limited way through hand signals.
Studies on the oil that was developed by the Odones showed the treatment actually worked about half the time when administered in the disease's early stages.
When Lorenzo was 22 and, according to his father, holding his own, Michaela Odone died of lung cancer.
A 1992 movie starring Susan Sarandon and Nick Nolte chronicled Michaela and Augusto Odone's fight to save Lorenzo.
| PRIOR DATE | | HOME | | WOA INDEX | | NEXT DATE |
---
Developer of Aspen as a "Ski Resort with Culture" Sees it Overrun by Glitz
Elizabeth Paepchke, a Chicago philanthropist who fell in love with the Aspen, Colorado, view developed the sleepy mining community into a ski resort with culture. It became known as "An Athens of the West," an internationally known center of intellectual dialogue, music, and the arts, as well as a famous ski resort.
Early in their marriage, she had prevailed on her husband to use recognized artists instead of commercial art in advertising, which resulted in the "Great Ideas of Western Man" campaign, a turning point in the content of advertising and a cornerstone of their wealth. She was unhappy at the change in Aspen in the 1980's saying,"Aspen had become a town of glitz and glamour... a nut without a kernel. My heart is broken."
| PRIOR DATE | | HOME | | WOA INDEX | | NEXT DATE |
---
Grace Ogot, Kenyan Novelist
Grace Ogot, a Kenyan novelist's interest in the occult inspired her first novel The Promised Land about a family driven from their Tanzanian home through the use of witchcraft. A trained nurse, she worked in London and Nairobi before marrying and turning to writing. Her short stoies which often turn on occult experiences are highly regarded.
| PRIOR DATE | | HOME | | WOA INDEX | | NEXT DATE |
---
Queen Esther of the Seneca Tribe of Indians
"In the enemy's (Indian) ranks some of the women were foremost in the work of carnage. Esther, the queen of the Seneca tribe of Indians - a fury in female form - it is said, took upon herself the office of executioner, passing with her tomahawk round the circle of prisoners, counting with a cadence and sinking the weapon into the heads of victims. In the journal of one of Sullivan's officers, her plantation is described as 'an extensive plain near the Susquehanna where she dwelt in sullen retirement.' "
-- Elizabeth F. Ellet, The Women of the American Revolution (1849)
| PRIOR DATE | | HOME | | WOA INDEX | | NEXT DATE |
B. 08-11-1823, Charlotte Mary Yonge - English novelist who wrote of high mindedness and romance. Her novels all portrayed the eventual victory of virtue, especially for a woman. She sought to return the Church of England to the standards of the 17th century and used her "idealistic" writing as a means of influence.
B. 08-11-1836, Sarah Morgan Bryan Piatt - U.S. poet with 17 volumes to her credit. SMBP was very popular and critically admired, her later books were simultaneously published in American and England.
Following her mother's death when SMBP was eight, she was passed around relatives until she settled with her aunt and attended the prestigious Henry Female College in Kentucky. Her lifelong "sadness and reserve" is attributed to her unsettled childhood, although she wrote extensively about children, sometimes from a child's view. She had eight children.
A number of critics considered her a poet of great intensity but her poetry has passed out of favor.
B. 08-11-1862, Carrie Jacobs Bond - U.S. songwriter. She was spurred into selling her compositions by the practical reason that she had to provide a livelihood for her family.
She had been left a penniless widow with a baby son and earning her living running a boarding house and painting china. She had written songs before her marriages (her first ended in divorce) and was able to supplement her income by giving recitals in private homes.
Her growing popularity gave her courage to start her own publishing company. Using borrowed money, the Carrie Jacobs-Bond and Son Publishing Company became highly successful printed the sheet music to her songs.
Wildly popular in her day, the perennial favorite "I Love You Truly" made her a wealthy woman but it was "When You Come to the End of a Perfect Day" that was the most popular of all, selling more than 5 million copies of the sheet music. She wrote about 400 songs and published slightly less than half.
Critics point to her sentimental style that went out of favor after World War I as a defect, but with such a fertile imagination and obvious ability, one would have to believe that if she had been born 100 years later, she'd have been a rock star.
Her autobiography is The Roads of Melody (1927).
B. 08-11-1873, May Wilson Preston - U.S. artist and illustrator.
MWP's work was published in the major magazines of her day and is increasing in value today.
She became the first woman member (for a long time the only woman) of the Society of Illustrators and founding member of the National Association of Women Artists. MWP was active in the woman's suffrage movement.
Although she married a member of the Ashcan school of realistic urban art and exhibited with them at times, she is not considered one of them. Her work appeared in Harper's Bazaar, Saturday Evening Post, Ladies Home Journal, and others, usually to illustrate the work of noted authors. A skin infection made work difficult in later years.
B. 08-11-1897, Louise Bogan - U.S. poet. LB was chair of poetry at the Library of Congress, poetry critic for New Yorker magazine for 37 years (1931-1969), and a distinguished poet in her own right.
Although highly admired, she never seemed to fulfill her promise. The ear was excellent, her cadence and language pure, but she held the world and emotion outside herself.
Her mother was tempestuous and often disappeared for lengthy periods of time which may have contributed to LB's inability to maintain close relationships. LB married twice and had one daughter.
She suffered from lifelong depressive periods and had several emotional collapses.
LB was sole support of her daughter and her father. She formed close, non-romantic, professional friendships with Margaret Mead, Elizabeth Mayer, May Sarton, and Elizabeth Roget. Her final collection The Blue Estuaries: Poems, 1923-1968 (1968) presents her finest work.
B. 08-11-1912, Jean Parker Montana - U.S. actor.
B. 08-11-1922, Mavis Gallant - Canadian short story writer and novelist. Although she settled in France, she considered herself primarily a Canadian. She traveled widely.
Most of her short stories were published in The New Yorker magazine.
Her father deserted the family and MG felt she was sent away to schools to get her out of the way when her mother remarried. "Green Water, Green Sky," "A Fairly Good Time," and "Home Truths" are considered her best stories by many.
B. 08-11-1924, Arlene Dahl - U.S. actor and frequent panelist on TV shows of the 50s and 60s.
B. 08-11-1934, Diana Scott Beattie - U.S. professor biochemistry (1976), Mt. Sinai School of Medicine, New York City.
B. 08-11-1937, Anna Massey - U.S. actor.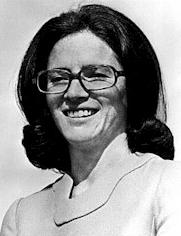 B. 08-11-1941, Elizabeth Holtzman, U.S. Representative from New York who was very active in the ERA battle and a supporter of women's rights.
Her congressional biography reads in part:
(She defeated the incumbent who opposed the Equal Rights Amendment and favored the war in Vietnam.) In addition to her work on the impeachment hearings in her initial term in the House, Holtzman in 1973 filed suit to halt American military action in Cambodia. A district court ruled the Cambodian invasion unconstitutional, but the Court of Appeals reversed the decision.
As a member of the Judiciary Committee she also contributed to the formulation of new rules for the presentation of evidence in federal courts and worked to revise immigration laws... In 1978 she helped win an extension of the ratification deadline for the Equal Rights Amendment. She also helped secure a prohibition on sex discrimination in federal programs. (Her attempt to move on to the U.S. senate was unsuccessful, losing to the Republican.) In 1981 she was elected District Attorney of Brooklyn and served in that office until she was elected Comptroller of New York City in November 1989. She served as Comptroller from 1990 until 1994. In 1992 she was again an unsuccessful candidate for the United States Senate. She resumed the practice of law; is a resident of Brooklyn, N.Y. Bibliography: Holtzman, Elizabeth J., with Cynthia L. Cooper, Who Said It Would Be Easy?: One Woman's Life in the Political Arena. New York: Arcade, 1996.
Event 08-11-1943: A few Women of the Air Service Pilots (WASPs) were assigned to fly tiny planes - PQ-8's - from the factory to March Field - across country.
The planes are so small that the women have to sit on their parachutes with their legs stuck straight out. Most of the cockpit space was used by radio equipment - but there no ground-to-plane communications. (Any wonder they were given to the women to fly? It is unlikely that men would have put up with such conditions.) The little planes were drones to be used for gun crews to shoot at.
There were no manuals and their capabilities are unknown. The WASPs are ordered to land every hour until they can determine how far the planes can fly on a tank of gas!
The altitude capabilities of the planes are also not known and the Sierra mountains were in their path. They take the southern route near El Paso.
Flight leader Byrd Granger (who authored the book from which this story is taken) said their orders were to fly along the road as they climbed the Guadelupe Pass because "if the planes wouldn't go high enough, they were to land on the road and taxi over the pass!"
Granger wrote,
"Members of the flight know what the order is... what the leader does, they will do. Come to think about it, it might be fun to drive these toys through the pass... A special angel rides with them, for there is no slope downdraft and they clear the pass one by one, with maybe 30 feet to space. Joyfully the five WASPS swoop like swallows....
"The women, each exceptional pilots, are doing the almost impossible.
"But their reception at air fields as they grasshopper across country was not warm. Men resented seeing women in military planes. (Psychologists would later explain that the terrible animosity shown toward the women was because of fear. The men knew that if women did the 'safe' flying jobs at home, they were more likely to be sent overseas to the shooting war. There was also the man's image. If a woman could do it, where was the glory for a man?"
One of the wooden propellers was damaged in refueling but the military base C.O. refused to replace it. "You get this thing off my field, you hear!"
Tiny bits of wood began peeling from the prop and the WASP pilot is forced to land at a B- 24 base... "the vibrations were teeth chattering," Granger wrote.
"Immediately on landing, military police surrounded the plane and the pilot was escorted to the C.O.
"He is one angry man," Granger said. "But, unlike the other C.O. that sent the woman to her almost certain death with a defective propeller, he at least listens! The propeller is replaced but the treatment is typical of what the women faced as they risked their lives flying military planes, getting them ready for the war overseas."
The flight leader with the bad prop is Byrd who wrote about the incident in the third person:
"No one at the El Paso airfield was interested in the visible crack in the airling propellor... flight members stay close to Granger's plane after they leave El Paso. If she goes down, they are to note her position and fly on to get help... the flight crosses the Arizona border. The vibration is worse. Tiny bits of wood, mere splinters, peel from the prop... she is forced to land at a B-24 base... the vibrations are teeth chattering...
"Within minutes Flight Leader Granger (escorted by two M.P.'s) is standing at attention in the C.O.'s office... he is one angry man. Why have those little whatchamaycallums landed on a B-24 base? - 'Emergency, sir.' - 'Why did you land without calling in?' - 'Lots of radio equipment on board but not air-to-ground radio'
-- (the story unfolds and a VERY angry C.O. tells his command to get a new propeller installed and promises Granger that he will personally take care of the C.O. who ordered her off his field without replacing the propeller.)"
When the women get to March Field they can't land because a PQ already there is doing strange things - appearing to land and then veering off. Finally the women pilots holding formation in the air watch it land. The pilot gets out and collapses.
It turns out that there was no pilot onboard. The man was a radio operator who took what he thought was a radio controlled ride to check the equipment - and the plane went out of control with him in it. The little whatchamaycallum, the PQ-8 made several aborted landings all by itself, circled and then came on again. Its fuel exhausted, it makes a perfect landing. The very frightened radio operator gets out of the little plane and collapses. He is taken away in an ambulance.
Granger wrote a very exhaustive report on the WASPs that was privately printed. The report verified what had happened to the women in 1943 and 1944 in the air and on military bases where they couldn't get medical care, warm blankets, and sometimes, not even food. The report was instrumental in getting Congress to finally award women military benefit in 1977 - a 44 year wait. Many of the women had died, including Byrd Granger who did not live to see the victory. She died shortly after she finished the book.
B. 08-11-1946, Marilyn Vos Savant - U.S. writer with the world's highest IQ according to the Guinness book of records.
B. 08-11-1952, Ann Michelle England - U.S. actor.
B. 08-11-1954 Lina Polito - Italian-U.S. actor.
Event 08-11-1972: Colonel Norma E. Brown became the first woman to command a mixed-sex company in he U.S. Air Force. On 12-10-1973, Colonel Mary E. Bane will become commanding officer of the Headquarters and Service Command at Camp Pendleton.
| PRIOR DATE | | HOME | | WOA INDEX | | NEXT DATE |
BEARD, MARY:
"At a large gathering of men belonging to the American Association for the Advancement of Science... during the lull between two world wars, William Wheeler, professor economic entomology at Harvard University assured his audience that man is the real instigator of progress.
" 'Throughout the ages,' said this profound student of ants and bees, 'the aggressiveness, curiosity, unstable, intelligence, contentiousness, and other anti-social tendencies which the man inherited from his anthropoidal ancestors have kept society in a constant turmoil... The restlessly questing intellect, driven by the dominant impulses of the mammalian male, furnishes the necessary stimulus to progress in human societies. Feminine societies are indeed harmonious, but stationary and incapable of further development. If woman ran society, as among such insects as ants, bees, and wasps, the men merely would be tolerated as necessary for reproduction. The important difference (between insects and man) lies, I believe, in what I call the problem of the male, which has been successfully solved by the social insects but not be human societies.' "
-- As quoted in Mary Beard's Woman as a Force in History, pp. 69-70.
"In that vast domain of writings and speaking known as general literature or polite letters, including both creative and critical works, the image of women drawn by men are so varied as almost to defy classification.
"There the whole gamut of men's emotions, from love and admiration to neglect, hate, and contempt, is run; and it is often difficult to discover whether the portraits of women are intended to be evaluated by standards of cleverness or by accepted evidence of truth.
"But whether such views of women created by men are sampled at random or examined wholesale in any huge collection of books and reviews, one distinct type of image appears with insistent regularity.
"It is the image of woman as not much of anything measured by man's standards of intellectual excellence."
-- Women as a Force in History (1946)
SAYERS, DOROTHY:
"A desire to have all the fun is nine-tenths of the law of chivalry." 1
U.S. SUPREME COURT:
"Because abortion involves the purposeful termination of POTENTIAL LIFE, the abortion decision must be recognized as... different in kind from the rights protected in the earlier cases under the rubric or personal or family privacy and autonomy."
-- U.S. Supreme Court's minority decision in Planned Parenthood of Southeastern Pennsylvania v Casey. (This decision unleashed a new tactic for the anti-rights for women forces. They now seek to have life declared at the moment of conception so the embryo has the same - actually more - rights as the woman.)
---
| PRIOR DATE | | HOME | | WOA INDEX | | NEXT DATE |