08-20 TABLE of CONTENTS:
Emilie Schindler the Greater Hero?
Leadership Ability Overcame Language Barrier
DATES, ANNIVERSARIES, and EVENTS
QUOTES by Mary Ritter Beard, Black Trillium, Toni Morrison, Irene Stuber.
---
(Mrs.) Emilie Schindler May Have Been the Greater Hero
"For what I did, I did not expect any reward. I just did what (one does) when others are in trouble, when other people are murdered."
So commented Emilie Schindler in 1994 when she lit a flame in the Los Angeles Simon Wiesenthal Museum courtyard memorializing the six million Jews killed in the Holocaust in 1998.
During the ceremony dedicating the center, the dean of the Wiesenthal Center said, "Emilie Schindler was more than the woman behind the man. She was more than an equal partner in (Oskar Schindler's) achievements."
Yet Oskar remains the hero and Emilie is ignored.
Emilie has been consistently overlooked by those who form the basic script for the historical record (and movie producers), but it was she who physically risked her life almost daily. It was Emilie who had to answer, person-to-person, the Nazi questioners when she explored the black market to buy food and medicine for the 1,200 Jews employed at her husband's factory.
When her husband was arrested, Emilie risked being arrested herself when she negotiated for his release.
Oskar Schindler alone was immortalized in the Academy Award winning movie Schindler's List and credited for saving 1,200 Jews.
The couple later divorced amid charges of Oskar's womanizing and alleged financial irresponsibility.
| PRIOR DATE | | HOME | | WOA INDEX | | NEXT DATE |
---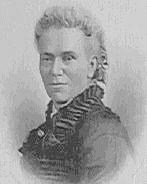 Mathilda Gage
The Final Battle for U.S. Woman's Suffrage Brings Together Nefarious Foes
A six-volume History of Woman Suffrage was begun by Elizabeth Cady Stanton, Mathilda Josyln Gage, and Susan B. Anthony about 1870 and completed shortly after the 19th Amendment was ratified in 1920 by Ida A. Husted Harper - one of the giants of women's literature.
Without this remarkable set of books that contains first-hand reportage, professional investigation, and original documents, much of women's labor in the largest civil rights movement in the history of the United States would have been lost. (The foresight of Carrie Chapman Catt, president of the National-American Suffrage Association, shines through from 1922 when she deposited a copy of all six volumes of The History of Woman's Suffrage in every public library in the nation. I treasure the books that are in my local library that I have devoured through the years. Because they are out of copyright, I am in the process of scanning them. A tedious job, to say the least, but my way of saying thank you.)
With all the revisionist history, the books stand as a testament to what really happened. For example, look at what has been forgotten about that hot summer in Nashville Tennessee when woman's vote guaranteed by the U.S. Constitution hung in the balance.
Starting on page 616 of Vol.VI of the History of Woman's Suffrage:
"RATIFICATION. When the Legislature of Washington in March, 1920 ratified the Federal Woman Suffrage Amendment making the 35th (state with 36 needed for ratification), there came an absolute stop.
"The southeastern States had rejected it and it had been ratified by all the others except Vermont and Connecticut, whose Governors refused to call special sessions... There was every reason to believe that the Legislature of Tennessee would give this one if it were not prevented by a clause in the State constitution." (However, a decision had just been handed down on another matter that stated the U.S. Constitution was the supreme law of the land and superseded the Tennessee law that was preventing a special session.)
In face of the decision, President Woodrow Wilson telegraphed Tennessee Governor Roberts asking him to call a special session. "Allow me to urge this very earnestly," Wilson wrote.
Gov. Roberts did so in face of telegrams from many influential Democrats. He was mindful that it was an election year. He called the legislature into session for August 9, 1920.
Roberts appointed Mrs. Leslie Wagner to organize a committee for ratification with more than 100 members coming from all parts of the state. Marjorie Shuler, chair of publicity of the NSA, assisted and they all urged Carrie Chapman Catt to come to Nashville to head up the final push. She arrived in the middle of July.

CC would write of that summer in Nashville:
"Never in the history of politics has there been such a nefarious lobby as labored to block the ratification in Nashville. In the short time that I spent in the capital I was more maligned, more lied about, than in the thirty previous years I worked for suffrage. I was flooded with anonymous letters, vulgar, ignorant, insane.
"Strange men and groups of men sprang up, men we had never met before in the battle. Who were they? We were told, this is the railroad lobby, this is the steel lobby, these are the manufacturers' lobbyists, this is the remnant of the old whiskey ring.
"Even tricksters from the U.S. Revenue Service were there operating against us, until the President of the United States called them off... They appropriated our telegrams, tapped our telephone, listened outside our windows and transoms.
"They attacked our private and public lives. I had heard of the invisible government.' Well, I have seen it work and I have seen it sent into oblivion."Speaker of the Tennessee House Seth M. Walker had pledged to support suffrage to win elective political support, "but bitterly opposed it through the entire session," and much of the legislative maneuvering that attempted to block... In the days following the ratification vote on 08-18-1920, House Speaker Walker and his cronies tried everything, legal and illegal, to stop the Governor from certifying the vote.
Thirty-six male legislators even fled the state. A temporary injunction was issued by a friendly judge to hold up the vote certification and that injunction had to be circumvented.
Other legislative tomfoolery continued until Chief Justice D. L. Lansden of the Tennessee Supreme Court issued a writ of supersedeas and injunction. Gov. Roberts was then free to sign the ratification and he mailed the certificate of ratification to U.S. Secretary Colby at noon, August 24. Colby received it on the morning of August 26, having waited up all night for it, and immediately certified the 19th Amendment as part of the U.S. Constitution.
| PRIOR DATE | | HOME | | WOA INDEX | | NEXT DATE |
---
Leadership Ability Overcame Language Barrier
Karen Nixon-Lane from the U.S.A., couldn't speak Ukranian and the orchestra members couldn't speak English but with her leadership ability and eye contact she was able to lead the National Symphony Orchestra of Ukraine so well that she beat out 15 other conductors who were vying for the opportunity to be its guest- conductor.
Nixon-Lane is the music director and founder of the Farmington Area (Michigan) Philharmonic. The competition she won in the Ukrain was held by the International Institute for Conductors in Kiev.
In an interview KNL said she spoke to them through eye contact while conducting, "and they understood exactly what I wanted. I wasn't able to tell them where to start after we stopped, but a violist could interpret those basics for me."
| PRIOR DATE | | HOME | | WOA INDEX | | NEXT DATE |
B. 08-20-1841, Maria Louise Pool - U.S. author. MLP wrote 20 novels that were well received by the public. Almost all would have benefitted by modern "tightning" of plot but the characterizations of both the Southern and New England lifestyles were exceptional for the day.
B. 08-20-1843, Kristina Nilsson - Swedish soprano.
B. 08-20-1863, Margaret Clay Ferguson - U.S. botanist. MCG was full professor and head of the Wellesley College botany department 1902-1930, making it one of the nation's leading undergraduate centers for the study of plant science. She did important work on non-Mendelian influence on color or pattern in flowers, particularly petunias.
DIED 08-20-1880, Ellen Tree Kean - Irish-English actor. ETK and her husband were recognized as the leading actors in London. She toured the U.S. in 1836-39 ETK was known for her realistic acting.
B. 08-20-1896(?), Berta Gersten - U.S. actor.
BG was the mainstay of the Yiddish Art Theatre from 1918 until its demise in the 1950s. She then transferred her awesome talents to "regular" theater where she continued to star. BG was continually employed as an actor for the entire 54 years of her career. Her mother worked as a dressmaker for actors to support the family while BG was a child.
B. 08-20-1904, Rose Hum Lee - U.S. sociologist. RHL in 1956 became chair of at Roosevelt University, Chicago, the first woman of Chinese ancestry to chair a department at an American university.
Her mother Hum Lin Fong was a mail-order bride to a much older man who had emigrated to the U.S. from China as a young man.
Following his death, though illiterate, she taught herself his business. She insisted her children be educated, even the girls. She supported RHL's Ph.D. studies which occurred after RHL's marriage.
As a result, both mother and daughter faced strident hostility from the Chinese community that RHL accused of trying to block the progress of its women. Contributing to her difficulties were her revelations that white slavery in the Chinese community was being operated by the local tong.
B. 08-20-1906, Edna Flannery Kelly - U.S. Congressional Representative from New York 1949 - 1969. EFK introduced equal pay for equal work legislation, social security expansion, and expansion of federal social controls.
She was an outspoken foe of any cooperation with the Soviet Union.
EFK was research director for the Democratic party in the New York legislature before being appointed to fill a vacancy in the congress. EFK was the only one of seven sisters who did not become a school teacher.
She was defeated when her district was divided and she was forced to oppose one of the strongest men in the congress.
B. 08-20-1921, Jacqueline Susann - U.S. novelist. Her novel Valley of the Dolls (1966, and the movie in 1967) became the world's most popular, best-selling novel to that time - and remains the top selling novel even today.
t sold more than 17 million copies. Her other novels were also made into movies and were best sellers. She died at the peak of her success at 53.
B. 08-20-1936, Carla Fracci - Italian prima ballerina noted for her exquisite styling.
B. 08-20-1946, Connie (Constance Yu-Hwa) Chung - U.S. journalist, the only one of the ten children of her family to be born in the United States.
A star among TV broadcasters, she was edged out of top TV exposure following a controversial interview with the parents of then House Speaker Newt Gingrich. During the interview the couple was shown drinking golden liquid from short glasses and, especially the mother, of saying some indiscrete things.
She was accused of misleading the couple, getting them to say things that were private. However, the editor who chose the contents for broadcast in spite of Chun's on-the-record-promise, "just between us," was not fired. connie
Actually, all she did was ask the same question in the same way of Mama Gingrich that Mike Wallace of 60-Minutes asks of HIS interviewees, but Chung was strongly criticized while Wallace continues being an TV interviewing icon.
B. 08-20-1956, Joan Allen - U.S. actor.
B. 08-20-19??, Phyllis Lyons - U.S. actor known for her role of Arlene Vaughan on the TV soap All My Children.
B. 08-20-1957, Cindy Nicholas, Canadian athlete who swam the English Channel 19 times
B. 08-20-1968, Elena Välbe - Russian Nordic Skiing champion. EV won three gold and four bronze in the 1992 at Albertville, 1994 at Lillehammer, and 1998 at Nagano winter Olympics.
| PRIOR DATE | | HOME | | WOA INDEX | | NEXT DATE |
---

BEARD, MARY RITTER:
connie"As long as women are dominated by fear of men's hostility to learning about women's potent thought and potent deeds in the past, women must be prepared to accept what men decide to grant or withhold from them, however long a view they take of the future and what it seems to promise."
connieconnie--Mary Ritter Beard, "What nobody seems to know about woman," Independent Woman, April 1950.
The Black Trillium:
connie"Judge not so quickly. Your sister made no willing surrender. Fear can become so great as to give birth to madness. In that there is no guilt.
connie"Only weakness...
connie"Weakness you may taste of also, and even you may know great fear. SPEAK NOT AGAINST ANY ONE WHOSE BURDEN YOU HAVE NOT WEIGHED YOURSELF."
connieconnie-- from The Black Trillium, a jointly written novel of magic, adventure, and love by Marion Zimmer Bradley, Julian May, and Andre Norton.
MORRISON, TONI:
connie"Everywhere, everywhere, children are the scorned people of the earth."
connieconnie--Toni Morrison: Conversations with American Writers.'
MURPHY, ANNIE:
connie"He said that I had to give this child up, that this child was my repentance. He said from giving the child up, I would be cleansed and could start my life anew."
connieconnie-- Annie Murphy who had a child fathered by Irish bishop Eamonn Casey.
STUBER, IRENE:
connie"If the past isn't important why do guys sit around and discuss the accomplishments of baseball, football, and basketball stars and the stats of games from years back?"
connieconnie-- Irene Stuber
---
| PRIOR DATE | | HOME | | WOA INDEX | | NEXT DATE |