09-25 TABLE of CONTENTS:
Women's Rights Statue kept in Congressional crypt
DATES, ANNIVERSARIES, and EVENTS
QUOTES by Carolyn G. Heilbrun.
---
Women's Rights Statue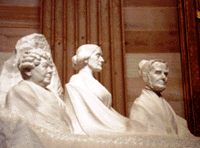 If anyone wanted to see the only statue devoted to women in the U.S. Capitol Building between 1921 and 1997 they would have to go into the basement, way around into the area called the crypt - an area that was absolutely closed to the public until 1963.
Part of the crypt next to the elevators was developed as a souvenir sales area in 1976, but even when buying souvenirs of what men have done in Washington, you'd still needed directions to find the 7-ton statue created by Adelaide Johnson.
The massive piece features portraits of Lucrettia Mott, Elizabeth Cady Stanton, and Susan B. Anthony, renowned pioneers in the women's rights movement. There is also a rough unfinished portion behind them that artist Johnson said represents the future generations of women who will continue the unfinished struggle for women's rights.
When the statue was completed in the early days of the 20th century, the men in Congress dreamt up dozens of reasons not to accept it. But Alva Belmont, that strong-willed and fabulously wealthy woman who headed the Women's Party, got tired of listening to excuses. Under her tutelage, the Women's Party had it loaded up on a wagon and delivered to the Capitol on January 15, 1921 when Congress was not in session. It was the birth date anniversary of Susan B. Anthony. The Women's Party women then held a reception in the rotunda for themselves.
After the women left the statue in the rotunda, infuriated male Congressional leadership (there were no women in Congress at that time) had the statue buried by moving it to the far reaches of the Capitol building basement.
And there it languished - no statue of a woman has ever resided in the rotunda, nothing in the Capitol marks the largest civil rights movement in the history of the world: the fight for women's suffrage and equal human rights.
No way were the men leaders of Congress going to recognize that women were citizens of the United States with equal rights - voting rights gained in 1920 be damned!
The statute languished in the dark reaches of the basement for 75 years. Several campaigns were waged by women to move the statue back into the rotunda but all have failed until 1995 when a group of women raised the $75,000 necessary to have it moved. Then conservative Republican House speaker Newt Gingrich refused to schedule any legislation to permit the statue to be moved to the rotunda.
From 1995 to 1997 House Speaker Newt Gingrich who was at the time voted the man most hated in the U.S. blocked the move of the women's statue upstairs. All other statues of men in the Capitol are moved by federal dollars, by the way.
Finally, enough pressure was brought to force him to allow the move and the statue was moved by WOMEN movers (there was only a four-inch leeway through the doors).
And so it was temporarily in the Rotunda in the fall of 1997 when the author of WOA made her pilgrimage. I was shocked to find there was not one single placard or sign indicating what it was. Just a statue among dozens - all the others nicely tagged as to artist, subject, times, place, etc.
The statue was wonderful to see - but its treatment by the Republican lead Congress insulting.
The various commercial guides who take group visitors each make up their own stories about the statue and by the time I left the Rotunda, I was LIVID.
My letters of complaint to the speaker went unanswered.
A big hurrah to The Woman Suffrage Statue Campaign, 303 W. Glendale women Ave., Alexandria, Va., 22301.
By the way, there is a picture of me with tears in my eyes standing in front of the statue in the WiiN Exhibit Hall.
Those women were so brave!
Why are the men of the Congress so petty?
| PRIOR DATE | | HOME | | WOA INDEX | | NEXT DATE |
---
Elizabeth Neufeld, National Medal winner
Elizabeth Neufeld, a University of California, Los Angeles, biochemistry geneticist, was recognized in 1994 with the National Medal of Science, the nation's top scientific honor, for ground-breaking research on inherited diseases, particularly enzymatic defects in children.
According to a survey of state insurance commissioners, U.S. college fraternities were ranked as the sixth WORST insurance risk in the nation. The number five risk was nuclear waste.
-- USA Today, 1992
| PRIOR DATE | | HOME | | WOA INDEX | | NEXT DATE |
---
09-25 DATES, ANNIVERSARIES, and EVENTS
---
DIED 09-25-1615, Arabella Stuart - English pretender to the throne. AS was the first cousin of King James I who was the handpicked successor to Elizabeth I. She was the second in ascension after James. Because she was English-born (James was the King of Scotland as James VI). She was welcomed into James's English court but when she showed signs of marrying (and perhaps having children to challenge James) she was arrested. She secretly married William Seymour, another claimant to the throne and that sealed her doom. Both were arrested but Seymour escaped to Europe. AS was confined to the Tower where she had a nervous breakdown and died at age 40.
B. 09-25-1728, or 09-14, Mercy Otis Warren, early U.S. writer, poet, and historian. MOW was one of the large cadre of women in Colonial American who strongly influenced the revolutionary fervor. She was a personal friend of Abigail Adams and is probably one of the "we" that Abigail Adams referred to when she wrote her president-to-be husband about women calling for their civil rights. MOW called for revolution and separation from England before most men in the colonies did.
One writer described her thusly: "Such was her economy of time, that, never neglecting her domestic cares or the duties of hospitality, she found leisure not only to improve her mind by careful study, but for various works of female ingenuity."
It appears women had to do domestic work before they were able to think, while men could ignore all forms of work to do their writing, etc. She wrote Poems, Dramatic and Miscellaneous (1790), and History of the Rise, Progress, and Termination of the American Revolution (3 vols. 1805).
B. 09-25-1778, Suzanne Theodore Vaillange Douvillier - French dancer and choreographer.STV probably presented the first ballet performance in the U.S.
B. 09-25-1793, Felicia Dorothea Hemans - English poet. FDH was an immensely popular poet of her day. She wrote romantic themes in a straightforward yet flowing style. Some refer to her writing as containing childhood innocence.
B. 09-25-1843, Maria Parloa, U.S. home economics pioneer.
B. 09-25-1847, Vinnie Ream, U.S. sculptor/artist. VR created the full-scale marble statue of Lincoln holding the Emancipation Proclamation in his hand that stands in the Capitol rotunda. She was awarded the commission when she was only 18 and many have implied that it was her personal charms rather than her artistic ability that won the $10,000 commission from congress.
Although lionized in her day when she and her husband were part of the social life of Washington, D.C., today her work is criticized for its naiveness, its amateurism, lack of vigor, etc. One wonders about other sculptures in the Capitol building that are never, never criticized although a number of them are obviously ill made. Ream's Lincoln by comparison a masterpiece.
One of her most noted later commissions was $20,000 for a bronze of Admiral Farragut that stands in the square of his name in Washington, D.C. Another of her noted sculptures is that of the revered Sacajawea (Sacagawea) for the State of Oklahoma. A natural talent, VR did busts of a number of congressional representatives as well as noted European dignitaries
. Although she gave up sculpture at the request of her husband, she later returned to her art.
B. 09-25-1863, Nellie Nugent Somerville - U.S. suffragist and state legislator.
B. 09-25-1867, Fannie Fern Phillips Andrews - U.S. peace advocate. FPA founded the American School Peace League (American School Citizenship League) and helped organize the Central Organization for a Durable Peace at The Hague. She attended the Versailles Peace Conference. The International Bureau of Education (1927) was formed according to her plan.
B. 09-25-1884, Abbie Mitchell - U.S. singer and actor. AM was a very popular singer and actor in her day. Her mother was black, her father Jewish. Her son Mercer Cook became a university professor and U.S. Ambassador to Niger, then Senegal.
B. 09-25-1898, Dr. Margaret Schlaugh - U.S. educator and author. MS, as a philogist, specialzed in medieval literature, with emphasis on AngloSaxon and Viking contributions. She rose through the ranks (1927) to professor New York University (1940). She authored Gift of Tongues (1942), a readable introduction to linguistics. Following World War II she emmigrated to Poland, became its citizen, and embraced communism.
(WOA author recommends a marvelous memory of Dr. Schlaugh by Doris Grumbach in her journal Coming Into the End Zone. New York: Norton, 1991. What gems Grumbach's journals are. I don't think you HAVE to be old to enjoy them. They speak in the voice of a strong older woman with both a sense of humor and a sense of history - and a sense of her own mortality. After a lengthy marriage and four daughters, at about age 53 Grumbach divorced and began to share her life with Sybil. The journals speak to the day-by-day relationship between two adults who are content in each other's spheres in the year Grumbach became 70. Her reflections on Dr. Schlaugh explain a lot!)
B. 09-25-1903, Olive Ann Beech Waverly - U.S. industrialist. OBW who with her first husband founded the Beech Aircraft Corp. (1932). After his death in 1950, she modernized the small company and developed it into a major corporation by converting it to jet planes. In 1935, in a major break with tradition, OBW convinced her husband to allow a woman (of all things!) use one of their regular planes in the 1936 Bendix coast-to-coast race. It was supposed to show that brute strength was not needed to pilot a Beechcraft. In fact, it did much more than that.
Louise Thaden won the race in a remarkable performance of flying in a standard Beechcraft as opposed to her mostly male opponents who had specially built, souped up racing machines. The race was the premier race for the foremost pilots of the day - men pilots, that is. It was the first time a woman won a transcontinental air race against men. OBW also diversified the corporation with other manufacturing enterprises.
B. 09-25-1908, Raya Garbousova - Russian cellist. A critic wrote of RG: "She sings so tenderly that she melts the heart... there is something diabolic in her energy of attack, like the slash of the sabre. What temperament! What surety! What purity of intention! Technically she perilously approaches perfection!" Her mentor was the noted cellist Pablo Casals and many compared their styles favorably.
B. 09-25-1917, Mary Clabaugh Wright, U.S. historian.
B. 09-25-1930, Francine du Plessix Gray, French-born U.S. essayist and novelist. FDG is perhaps best known for her novel Lovers and Tyrants (1976). A prolific writer, her non-fiction works received highly favorable notice as well as her essays in Divine Disobedience; Profiles in Catholic Radicalism (1970). She also wrote on militarism, racism, and the myth of sexual equality in the USSR.
B. 09-25-1931, Barbara Walters, U.S. journalist and renowned interviewer. She was the first news personality in TV to receive a $1 million a year salary to the great resentment of her male colleagues. After writing for various shows on TV, she was given the opportunity for on-air spots on the Today show. In those days the women were pretty smiles, long legs, and airhead remarks. mouths. Her interviews, however, were exciting. Her role on the show expanded and in 1974 she became co-host with Hugh Downs.
Many years later, she and Downs would team up again for the very popular evening news show 20/20. She began producing a series of evening talk shows. Following her $1 million salary announcement, her co-hosting on ABC evening news was a failure as alcoholic co-host Harry Reasoner showed bitter resentment against her on the air - and was supported by a number of other spoil-sport less qualified men reporters.
She then began her very popular series of interview shows Barbara Walters Presents. Today, anyone who is anyone appears on her show and opens themselves up to her incisive and penetrating questions. She has won a number of emmys and in 1990 was inducted into Hall of Fame of the Academy of Television Arts and Sciences.
09-25-1931, Juliet Prowse - U.S. modern dancer and actor.
B. 09-25-1947, Cheryl Tiegs, U.S. model and actor. She was one of the country's highest paid models when she turned to acting. CT made her name on the TV show, Charlie's Angels, a no brainer divised to show pretty girls that slowly broke out of the mold because of the real acting talent of the "angels." CT developed into a highly successful business person. Her mother worked in retail stores.
B. 09-25-1952, Bell Hooks - African-American feminist. BH is the acclaimed writer of more than a dozen books and thirty essays. She criticized not only the standard white supremacists, but also the mainline feminist movement - even the black patriarchs. She wrote that race and class play as big a role as gender in the subordination of poor and nonwhite women.
B. 09-25-1954, Anne Bridge Baddour - U.S. aviator. ABB was the holder of a number of world class speed records for single-engine aircraft. She is a member Ninety-Nines, the women's organization of aviators.
B. 09-25-1961, Heather Locklear - U.S. model and actor.
Event 09-25-1981: Sandra Day O'Connor is sworn in as first woman Justice of U.S. Supreme Court. Appointed to the court as a solid Republican conservative with "assumed" anti-abortion views because she is Roman Catholic, she astounded everyone when in 1992 she upheld the right of a woman to have an abortion under the U.S. Constitutional right of privacy. She wrote the court's majority decision. [See the library section of WiiN for excerpts of this famous decision.] As a Roman Catholic she "personally" opposes abortion but set aside her beliefs when judging what our constitution says.
| PRIOR DATE | | HOME | | WOA INDEX | | NEXT DATE |
---
HEILBRUN, CAROLYN G.:
"My mother was quite aware that her life was a loss and so she was very clear to me; be independent, be your own person, do something. It was a very strong message and I listened to it."
-- Carolyn G. Heilbrun, English professor at Columbia University for 32 years before taking early retirement. "It's like a marriage ending. Sad, exhausting - and infuriating, because Columbia will continue to be run by male professors who behave like little boys saying 'This is our secret treehouse club, no girls allowed.' Well, I'm sick of the treehouse gang."
She didn't stop working, however. She is aka Amanda Cross, creator of the very popular Kate Fansler mysteries.
---
| PRIOR DATE | | HOME | | WOA INDEX | | NEXT DATE |