06-05 TABLE of CONTENTS:
Will Gives Suffrage Fight $2 Million
DATES, ANNIVERSARIES, and EVENTS
QUOTE by Patricia Cornwell.
---
MR. Leslie, a Woman, Wills Feminism $2 Million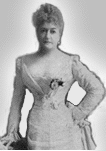 After the bankruptcy and death of her husband Frank, Miriam Florence Folline Leslie rebuilt the Leslie publishing empire, changed her name officially to Mrs. Frank Leslie and willed $2 million to Carrie Chapman Catt personally to forward the cause of women's suffrage. History was advanced by the bequest.
It would cost Catt more than a million dollars in legal fees to fight the family challenge. (The family ignored the fact that Miriam helped build and then single-handedly rebuilt the publishing empire and earned the money herself). The challenges left women's suffrage with about $800,0000.
CCC used the money to set up a wonderful publicity and information bureau named after Leslie. News papers, magazines, and leaflets went out to millions of people swaying them to support women's suffrage and organizing them. It was the greatest publicity blitz in the history of this nation - and perhaps the world.
After MR. Frank died broke in 1880, Miriam who had personally edited several of the publications took over the management of the floundering publishing empire and gained the title of the "Joan of Arc of American publishing." The Leslie publishing empire consisted of a number of weekly and monthly magazines, the most successful and popular publications of their time. They supported the Leslies luxuriously.
MFFL became a legendary party hostess and her life was as intricate as any fiction. She started off on the stage in an act that starred the legendary Lola Montez. She married a Leslie publications editor and before her divorce shared her life and her husband's home with publisher Frank Leslie whom she eventually married in a renowed menage a trois.
After Leslie's death, she was married for a short time to the brother of Oscar Wilde. The details of the Leslie Legacy and how CCC used the money can be found in the Leslie documents in the WiiN library.
| PRIOR DATE | | HOME | | WOA INDEX | | NEXT DATE |
06-05 DATES, ANNIVERSARIES, and EVENTS
---
Event 06-05-1832, Kaahumanu, Hawaii's first feminist died. She co-ruled the islands with her husband Kamehameha II and then as regent for her son Kamehameha III.
She worked with her husband to unite all the islands and then broke down many of the native religions barriers against women. She convinced her husband to eat with women in public.
She began a system of laws that her son developed into constitution government and supported his requirement of literacy for all Hawaiian citizens.
She encouraged the Protestant missionary movement in the islands and converted to Christianity.
B. 06-05-1884, Dame Ivy Compton-Burnett - British novelist whose 18 novels are primarily narrated entirely through dialogue as they dissect human relationships
Recognized as a genius during her lifetime - somewhat comparing her writings to cubism and modernism - no writer has been able to sustain her incisive use of dialogue since. Her work has been called "the most brilliant and sustained verbal comedy in English."
She had a history of mental and physical breakdowns until at 35 she met her lifelong companion Margaret Jourdain, a freelance writer. She then wrote Pastors and Masters (1925) and followed with 18 novels in the distinctive dialogue style.
B. 06-05-1887, Ruth Fulton Benedict - U.S. anthropologist whose writings helped determine the U.S. postwar policy towards Japan. In spite of her world-renowned fame in the field of anthropology dating from 1924, she was not made a full professor at Columbia University until 1948, a few months before her death.
Died 06-05-1909, Kate Cumming, Confederate hospital administator and diarist.
Event 06-05-1922: Marie Luhring received her masters in automotive engineering after having been elected the first woman member of the American Society of Automotive Engineers.
She was forced to work as a draftsman in a car factory as her sex closed career doors that were wide open to lesser qualified men.
Event 06-05-1937: K. Elizabeth Ohi of Illinois is the first woman known to be of Japanese descent who was admitted to practice U.S. law.
B. 06-05-1938, Moira Anderson - Scottish singer who specialized in her native county's songs.
B. 06-05-1939, Margaret Drabble - British author, described as a chronicler of modern Britain where women cannot make do with old solutions. Many of her books explore the sexuality of modern women, including orgasms, marriage and motherhood as well as the effects of the patriarchy.
Her mother was an English teacher, Her sister is A. S. Byatt, also a noted novelist..
| PRIOR DATE | | HOME | | WOA INDEX | | NEXT DATE |
---
CORNWELL, PATRICIA:
"Why is it if you are the victim of a crime, you feel the shame? It should be the person who did the crime who feels the shame."
-- Patricia Cornwell commenting in 1993 about being sexual molested when she was 5. Her brother chased the "friendly" security guard away. Born 06-06(09?) -1956, PC is the creator of the wildly popular series featuring Richmond, Virginia, coroner Kay Scarpetti.

---
| PRIOR DATE | | HOME | | WOA INDEX | | NEXT DATE |