06-04 TABLE of CONTENTS:
DATES, ANNIVERSARIES, and EVENTS
QUOTE by Shirley Chisholm.
---
Quaker Woman First to be Hanged as Witch
On June 4, 1648, Margaret or Margery Jones, of Charlestown was the first woman in Massachusetts to be executed for being a witch.
Massachusetts Gov. John Winthrop's revealing diary indicated she dispensed herbs for healing and therefor was a witch. She was hung while protesting her innocence.
Margaret Russell of Lexington, Massachusetts wrote and a member of the WiiN board wrote: "Margaret (variously Margery) Jones of Charleston, in what was then the Bay Colony, was the first woman (or person) in the new world tried and hanged explicitly for witchcraft, in 1648.
"Winthrop further wrote: 'Her behavior at the trial was very intemperate, lying notoriously, and railing upon the jury and witnesses, etc. and in like distemper she died. The same day and hour she was executed there was a very great tempest at Connecticut, which blew down many trees, etc.' "
| PRIOR DATE | | HOME | | WOA INDEX | | NEXT DATE |
06-04 DATES, ANNIVERSARIES, and EVENTS
---
B. 06-04-1830, Mary Hannan Hanchett Hunt - U.S. temperence leader who used scientific methods in her anti-alcohol writings.
B. 06-04-1873, Constance M.K. Applebee, British-born athlete who believed sports activities made women strong physically, emotionally, and mentally. She actively coached field hockey until she was 95. She lived to 107.
She introduced field hockey to U.S. women at the Seven Sisters colleges in 1901 while attending a Harvard University summer school.
CMKA co-founded the American Field Hockey Association. She taught and coached thousands over the next 70 years. MKA published the first U.S. magazine on women's sports.
Known as "The Apple," she was an inductee into the U.S. Field Hockey Hall of Fame and in 1991 was inducted into the International Women's Sports Hall of Fame.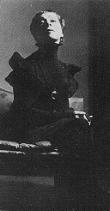 Nazimova as Hedda Gabler
on Broadway when she was 59.
B. 06-04-1878, Alla Nazimova, Russian-born U.S. screen and stage star. After a highly successful acting career in her native Russia, she took intensive English lessons to make her English-speaking debut on the New York state in 1906.
Her performances of Ibsen, Chekhov and O'Neill were riveting and critically acclaimed.
AN's film career was just as meteoric and successful as she quickly became the highest paid actor in Hollywood. However, her insistence on filming Salome (1923) with openly lesbian and homosexual scenes spelled the end of her starring film career. She segued back to Broadway where she gave a series of critically acclaimed performances.
In the late 1930s she returned to Hollywood to do character roles.
B. 06-04-1895, Nora Waln - U.S. author who during a visit in Germany wrote Reaching for the Star (1939) which depicted Hitler as not being representative of the German people's soul.
She mailed her only three copies of the manuscript from three different postal zones but none of them arrived at their destination. She had to rewrite the book from her notes after she returned to the U.S.
B. 06-04-1908, Rosalind Russell - one of the great comedic actors of U.S. stage and screen who also portrayed - just as perfectly - sophisticated career women.
She was nominated for four Academy Awards but never won. She did, however, receive the Jean Hersholt Humanitarian Award from the Academy in 1972. She is probably best known because of the late, late showings on TV for her work in Auntie Mame (1958) and Gypsy (1962) although her earlier role in The Women was perhaps her most riveting.
Her mother was Clara McKnight, editor of Vogue magazine.
Event 06-04-1920: Julia Catherine Stimson - superintendent of the U.S. Army Nurses Corps. who was given a "relative rank of major" by the U.S. Congress.
Nurses would not receive official military ranking until World War II.
B. 06-04-1928 Dr. Ruth Westheimer - U.S. TV's Dr. Ruth, sex expert.
B. 06-04-1940, Dorothy Rudd Moore - U.S. composer, poet, singer, and founder of the Society for Black Composers.
B. 06-04-1964, Andrea Jaeger, U.S. tennis player
B. 06-04-1966, Cecilia Bartoli - Italian soprano, the toast of the Italian operatic world in the second half of the 1990s.
A 1991 tour of the U.S. had ended in financial disaster but recording sales and appearances in Europe soon made her the hottest operatic property of the times.
Both her parents were members of the Roma Opera chorus and her mother was the only voice teacher she ever had.
Although a mezzo-soprano, she does the Italian soprano roles with enviable coloratura verve.
| PRIOR DATE | | HOME | | WOA INDEX | | NEXT DATE |
---
CHISHOLM, SHIRLEY:
"I am a candidate for the Presidency of the United States. I make that statement proudly, in the full knowledge that, as a black person and as a female person, I do not have a chance of actually gaining that office in this election year. I make that statement seriously, knowing that my candidacy itself can change the face and future of American politics - that it will be important to the needs and hopes of every one of you - even though in the conventional sense, I will not win."
U. S. Representative Shirley Chisholm, press conference 06-04-1972.

---
| PRIOR DATE | | HOME | | WOA INDEX | | NEXT DATE |