06-10 TABLE of CONTENTS:
U.S. Women's Suffrage Gets Its First State Approval
DATES, ANNIVERSARIES, and EVENTS
QUOTE by Hattie McDaniel.
---
The Nineteenth Amendment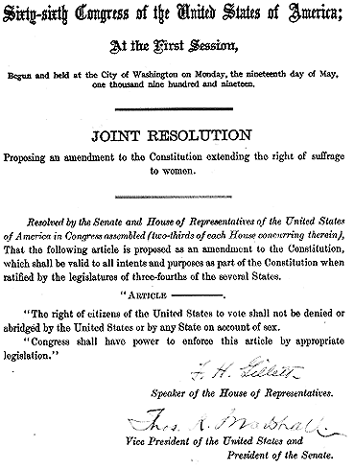 This is a copy of the actual Joint Resolution adopted by the U.S. Congress on May 16, 1919 that sent the 19th Amendment to the states for approval.
"The right of citizens of the United States to vote shall not be denied or abridged by the United States or by any State on account of sex."
---
On June 10, 1919, Illinois, Wisconsin, and Michigan became the first states to ratify the 19th amendment to the U.S. Constitution that would remove the barriers to women voting in the U.S.
Women had been voters in several states in colonial days, but in the 1787 at the U. S. Constitutional Convention (built on the precept that all men are created equal), the right to qualify voters was placed in the hands of the states that had already deemed women unqualified to vote. The one exception was New Jersey, which fell into line in 1807.
It wasn't until Carrie Chapman Catt devised "The Plan" in 1916 - to fight for the vote nationally while continuing the state-by-state march - that the first recognition came that only the federal government could or would guarantee women's rights on a permanent basis.
Since then almost every guarantee of women's rights has had to come from federal government action, often opposed and fought against by state and local governments, including birth control information, abortion rights, equal pay, equal insurance rates, etc.
For example, many states retain or have passed laws would nullify most women's rights if Federal laws did not supersede them.
You might be very surprised to find out how few rights your state government would allow women without the umbrella protection of federal law.
Several states have still not ratified women's suffrage and most have very repressive laws to curtail women's reproductive and money freedoms.
The rights which women enjoy state-by-state are almost always coincide with the number of women who serve in eaccch state's legislature.
| PRIOR DATE | | HOME | | WOA INDEX | | NEXT DATE |
06-10 DATES, ANNIVERSARIES, and EVENTS
---
B. 06-10-1833, Pauline Cushman - U.S. actor and lecturer, served as spy for the Union cause during the Civil War, even to dressing in Confederate uniforms.
She was captured and escaped twice. When captured a third time, she was condemned to death by hanging.
She became ill and her hanging was postponed by Gen. Bragg, who wished to make an example of her, until "she was well enough to be hanged." Before the sentence could be carried out, Union forces drove back Bragg's army and she was set free.
B. 06-10-1835, Rebecca Ann Latimer Felton, a noted suffragist, spent a lifetime aiding her husband to become and stay a U.S. Representative from Georgia. She wrote his speeches and created and directed his campaign strategies.
She founded and edited a newspaper and became one of the most respected political factors in her state. Following the 1920 ratification of the 19th amendment to the U.S. Constitution that enfranchised U.S. women to vote, the Georgia governor (who had vehemently opposed women's suffrage and needed friends for the next election that would have women voting) appointed Felton to a temporary vacancy in the U.S. Senate.
The appointment was intended to be only symbolic because Congress had adjourned and a male Senator had already been duly elected and scheduled to would take the seat when Congress reconvened.
However, Felton, who was 87 years old when appointed to the U.S. Senate, convinced the elected successor to delay presenting his certification and on November 21, 1922, she became the first woman to be sworn in as a United State Senator.
She made a brief speech and then turned her seat over to the gentleman from Georgia - who, incidentally - opposed suffrage but who knew that women were watching him to see how he treated Mrs. Felton - and he needed their votes. Mrs. Felton would be the only woman who served in the U.S. Senate until Hattie Caraway from Arkansas was appointed to fill out her husband's term. Caraway, however, didn't step aside. She ran for election and beat almost a dozen men who were running against her and then she was re-elected six years later.
B. 06-10-1881, Sidonie Haatsner Gruenberg, Austrian-born author of books about raising children. She won Parent's magazine awards in 1930 and 1939.
Shortly after moving the family to the U.S., her father died and her widowed mother from a "cultured, sheltered life," was forced to make a living for herself and her five children. The mother became an importer of rubber and raised her children well.
B. 06-10-1922, Judy Garland - U.S. singer, dancer and actor on film, TV and radio.
At 15 she was already a star but her life was in the process of being ruined by drugs adminitered to her by MGM executives who feed her "uppers" to keep her going while filming her very popular movies and then "downers" to put her to sleep.
Her oldest daughter Liza Minelli inherited all her mother's abilities - and some of her faults as Liza admittedly also fights drugs
In her later years, Judy became a cult as her millions of fans tried with their pouring out of love at her live concerts to keep her from destroying herself. They failed and she died while still in her 40s.
B. 06-10-1922, Rose Mofford, first governor of Arizona who was also a woman.
B. 06-10-1930, Grace Mirabella, editor Mirabella (1989), editor-in-chief, Vogue 1971-1988.
B. 06-10-1982, Tara Lipinski, youngest girl to ever win the ice figure skating Olympic gold.
The adulation following her stunning victory led to excesses and she became addicted to drugs. She has never been able to regain her amazing Olympic form.
| PRIOR DATE | | HOME | | WOA INDEX | | NEXT DATE |
---
McDANIEL, HATTIE:
"The only choice permitted us is either to be servants for $7 a week or to portray them for $700 per week."
-- Hattie McDaniel, born 06-10-1898. She portrayed black servants in movies and on radio. Her greatest role was as Mammy in Gone With the Wind for which she won the first academy award ever given to a n Afro-American woman. She was the first black woman to ever sing on radio.

---
| PRIOR DATE | | HOME | | WOA INDEX | | NEXT DATE |