06-11 TABLE of CONTENTS:
Dame Millicent Fawcett British Suffrage Leader
DATES, ANNIVERSARIES, and EVENTS
QUOTE by Lucia Gilbert.
---
Dame Millicent Fawcett British Suffrage Leader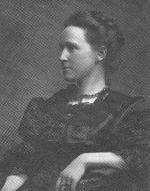 Born 06-11-1847, Dame Millicent Fawcett, maneuvered and wooed political friends for 50 years to setting the stage for women's suffrage in England. She was in the forefront of the dedicated women who slowly overcame men's total resistance to rights of any sort for women. For example, when she started her campaigning, married women did not even own their own clothes and certainly did not own or have access to their money whether it was inherited or earned by their own labors.
Although much has been written about the radical actions of the Pankhursts in gaining the vote in England, many claim they came close to wrecking the suffrage movement and it was only through Fawcett's long-standing, assiduously won political friendships and record of achievement that saved it.
The British situation was very much like that of Alice Paul and Carrie Chapman Catt. Paul had learned radical actions at the knee of the Pankhursts and took them back to the U.S. Her actions so infuriated so many in the U.S. that when the last state was on the brink of voting down the 19th amendment and Catt and her people went to Nashville, TN. Paul was told by her own people to stay away because it was felt her very presence would defeat the measure.
Like the U.S. suffrage movement, historians have found it easier to write about violence than the hard, day-by-decades of political strategies that actually got the job done. Therefor, Fawcett is almost a footnote to suffrage history.
Millicent Fawcett was the sister of pioneer British woman physician Elizabeth Garrett Anderson. [WOAH would appreciate any information about the mother of Fawcett and Anderson. To have had two daughters as independent as she did, their mother must have been someone very special.] MF was the founder of Newnham College, Cambridge (1871), one of the first colleges for women in the UK.
Born on the same day our years later, Mrs. Humphry (Mary Augusta) Ward, who in 1908 formed the Anti-Suffrage League in England. She feared the vote would coarsen women and take away their moral superiority. In her novels she claimed Christianity centered on theology rather than on serving social needs. She wrote, "Religion consists alone in the service of the people."
| PRIOR DATE | | HOME | | WOA INDEX | | NEXT DATE |
06-11 DATES, ANNIVERSARIES, and EVENTS
---
B. 06-11-1769, Anne Newport Royall, author and generally conceded as the first American journalist. Considering her scandalous, her husband's male relatives succeeded in breaking her husband's and she was left penniless at age 54. In desperation she turned to writing and many of her works provide invaluable source material for the period.
Not a timid soul, at one time she was convicted for being "a common scold" for her attacks on political corruption in Philadelphia.
She moved to Washington, D.C., where she was recognized as the city's conscience as she published several weekly papers that attacked corruption no matter how highly placed. She died in terrible poverty.
B. 06-11-1815, Julia Margaret Cameron, pioneering English photographer - perhaps the greatest of the 19th century - who developed dramatic portraits through the use of close-ups and dramatic lighting in soft focus.
She got her first camera when she was 45, taught herself the craft, and then built her own studio from an old chicken coop. She used an old coal cellar for a dark room.
B. 06-11-1832, Lucy Pickens - noted Confederate hostess whose likeness was engraved on the $100 bill of the Confederacy.
No woman has ever appeared on the paper money of the U.S. (The Susan B. Anthony dollar was so close to a quarter in size that it could not be used with any confidence - and most feminists (WOAH compiler included) considered the coin's size an insult. In 2000, a legendary Indian woman's likeness was set on the SAME SIZE dollar coin but with a "gold-like" surface. It is NOT being readily accepted. The size of the coin dollars was chosen by coin vendors.)
B. 06-11-1860, Mary Jane Rathbun - U.S. biologist. For many years MJR was the Smithsonian's complete department of marine invertebrates where she studied, cataloged and preserved specimens.
Through her basic studies and published works she fixed the nomenclature of Crustacea and became a recognized world authority in zoology and carcinology.
When the department needed an assistant, she resigned as superintendent and used her salary to hire someone. She continued to work without pay.
B. 06-11-1862, (Violet) Florence Martin, one half of the Irish cousins/lovers who wrote novels under the name Somerville and Ross. Martin was Ross. Edith Somerville (b. 05-02-1858) continued to publish novels under both their names after Martin's death in 1915.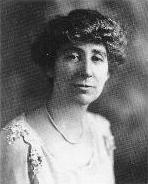 B. 06-11-1880, Jeannette Rankin - U.S. pacificist, suffragist, and fighter for women's and children's rights, was elected from Montana as the first woman elected to the Congress of the United States (1917).
A pacificist, she voted against the U.S. entry into World War I and was not reelected until 1940 just in time to vote again in opposition to a U.S. entry into war, this time World War II.
Again she was not reelected and she devoted her remaining years to various anti-war crusades. She led several large anti-Vietnam war demonstrations.
B. 06-11-1883, Charlotte Eugenia Hawkins Brown - first Black woman honored by North Carolina with a state historic site. Her Palmer Memorial Institute at Sedalia, a school for Black children, taught not only academics but manners, morals, and ethics.
B. 06-11-1913, Ris Stevens - U.S. opera singer and movie star, noted for her Carmen.
B. 06-11-1937, Amalya Lyle Kearse - U.S. attorney, judge of the U.S. Court of Appeals (2nd Cir.) 1979-, champion bridge player, and writer about bridge.

left, Anna Akhmatova
B. 06-11-1889, Anna Akhmatova - Russian poet recognized at her death as the greatest woman poet in Russian literature.

| PRIOR DATE | | HOME | | WOA INDEX | | NEXT DATE |
---
GILBERT, LUCIA:
"The wimp is the man who has a social conscience, who can understand the oppression of women, who is warm and caring, who fixes the family's meals after a rough day at the office. Women don't view such men as wimps; only other men see them that way."
-- Lucia Gilbert

---
| PRIOR DATE | | HOME | | WOA INDEX | | NEXT DATE |