08-01 TABLE of CONTENTS:
Three Noted Astronomers Who Were Also Women
DATES, ANNIVERSARIES, and EVENTS
QUOTES by Margaret Sanger, Robert McCord, and Rush Rhees.
---
Three Noted Astronomers Who Were Also Women

Caroline Herschel was honored
for her work but remembered
for her help to her brother
Event 08-01-1785 Caroline Herschel becomes the first woman KNOWN to have discovered a comet and was almost overlooked as the discoverer because she was noted for her "contributions to the astronomical researches of her brother Sir William Herschel."
Her brother utilized and claimed for his own glory the fruits of laborious calculations made by Caroline (as did Albert Einstein of his wife's work) in the usual way of male prerogative.
By taking time out from running her brother's household and catering to his personal needs, doing his calculation, and polishing the mirrors used in the telescopes etc., she still found time to find three nebulae in 1783 and eight comets from 1786 to 1797.
Her individual fame grew and she received a direct salary from the King as her brother's assistant in 1787.
Eleven years later she presented the Royal Society her index Flamsteed's observations and a catalog of 560 stars additional stars and an errata to the British Catalogue. After her brother's death she returned to her native Germany and cataloged 2,500 nebulae and star clusters.
When she was 77 the Astronomical Society awarded her its gold medal. She lived, basking in glory, until 97.
And yet, her fame is still listed for her "contributions to the astronomical researches of her brother Sir William Herschel."
ARRGGGHH!
---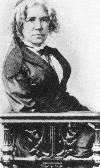 Maria Mitchell received world praise
but no job offers.
Born 23 years after Caroline Herschel's first comet discovery, Maria Mitchell (b. 08-01-1818) U.S. astronomer. MM was the first woman elected to the American Academy of Arts and Sciences. She was elected to Hall of Fame for Great Americans in 1905.
MM established the orbit of a new comet in 1847, using her father's home telescope in Nantucket while she was working days as a librarian. The discovery thrust her into international prominence but no offers of work in the field were forthcoming.
Although she traveled to Europe to discuss astronomy, she was tied to her widowed father in the customs of the times and was expected to take care of him at the cost of her own dreams. [Many authors not that he urged her to move on, but such as action was impossible for a single woman who would have been destroyed socially (and professionally) had she deserted her father.]
In 1858 a group of feminists gave her a large telescope so she could continue her work.
In 1865 MM became the much admired professor of astronomy at the new Vassar Female College and director of its observatory. She founded the Association for the Advancement of Women in 1873.
Born on Nantucket Island, Massachusetts, she showed a precocious interest in science and mathematics as a child. (The stars seem so close when looking at them from the sea... ) As a teenager she taught herself astronomy by reading books.
As the honored Vassar professor, MM was a pioneer in the daily photography of sunspots and was the first to discover that they were not clouds but whirling vortices of gas on the sun's surface. She also studied solar eclipses, double stars, nebulas, and the satellites of Saturn and Jupiter.
An observatory was built in her honor on Nantucket.
---
And 87 years after Mitchell's birth...
B. 08-01-1905, Helen Battles Sawyer Hogg-Priestly, U.S. astronomer, internationally recognized expert in the field of variable stars within globular star clusters. Her cataloging of variable stars is one of the mainstays of the International Astronomical Almanac.
| PRIOR DATE | | HOME | | WOA INDEX | | NEXT DATE |
B. 08-01-1764, Anne Willing Bingham conducted social salons for leaders of the newly born United States such as Jefferson, Washington, etc., and had a lot to say to them. AWB is one of the largely unrecognized cadre of early American women who along with Abigail Adams, Mercy Otis Warren, and others attempted to gain human rights for women from the framers of the U.S. Constitution.
B. 08-01-1881, Edna Belle Scott Sewell - leader of U.S. farm women.

Calamity Jane -
more legend than fact
DIED 08-01-1903 - Calamity Jane aka/ Martha Jane Cannary Burk. Between legend and the usual misrepresentations, the true life of this frontier woman is shrouded.
She usually dressed as a man, yet historians claim she was a prostitute. She claimed to have scouted for the army, including for Gen. George Custer while others say that was impossible.
She was part of a geological expedition to the Black Hills and stayed after gold was discovered. CJ was said to have been a "companion" of Wild Bill Hickok who died 27 years and one days before CJ and she is buried next to him, not his wife in what was probably a setup as a tourist attraction.
She lived her last years in poverty. How she earned her living appears to be a mystery as many historians claim that she was not a stage driver, a scout, nor anything else like that. She was in El Paso for a time where she married a Clinton Burke who soon deserted her. She was believed to have been a mail carrier in Deadwood, but her exact ways of earning a living are just not known.
Most of what we think we know of CJ is the product of dime novels of the era that portrayed her as beautiful and daring.
Event 08-01-1911: Harriet Quimby, became the first woman in the U.S. and the second in the world to pass the pilot's licensing test. She died in a freak accident (not her fault) in 1912 after a short, but very flamboyant and famous career. She was the first woman to fly across the English Channel.
B. 08-01-1916, Anne Hebert, French-Canadian poet, novelist and playwright.
B. 08-01-1933, Iris Love, archeologist and art historian who in 1969 discovered the great circular temple of Aphrodite in the ruins of Cnidus (now Turkey) that rates as one of the top finds of the century. It shows that Aphrodite worship was older and more exalted than authorities had believed. In an interview published in Discovery she said, "I learned how the Greeks revered her (Aphrodite). She was an omnipotent deity, one of the mightiest of gods." IL was often criticized for her intuitiveness in her decade-long evacuations of Cnidus - since the "intuitiveness often disagreed with the conventional views as all goddesses as subservient to the god or gods."
Died 08-01-1943, Jr. Lt. Lydia Litvak, U.S.S.R. fighter pilot was killed in action. She was an ace with 12 confirmed kills of German planes in World War II.
LL soloed her PO-2 biplane military trainer after only four hours instruction. She had been an instructor at one of the Soviet's flying clubs where she had learned to fly at 16 (breaking all the age rules). She loved to do aerobatics and her flamboyant maneuver of swooping over the hangars, soaring up into a victory roll, then making a tight turn and a perfect landing would signify to onlookers that she had made a combat "kill."
On her first official sortie on the front she was the primary destroyer of a Heinkel bomber. Her Yak plane was hit by bullets from a Messerschmitt 109. By the end of the year she had shot down six German planes by herself. She had 168 missions and was credited with 11 aircraft and 1 balloon individually, and 3 shared victories. ///Her flamboyant personality extended to putting herself in greater danger by marking her plane with paintings of large White Roses which enabled the enemy to spot her coming. Legend has it that German pilots would exchange warnings when they spotted her distinctive markings.
She was shot down and killed 08-01-1943.
A memorial to her was built at Krasny Luch in the Ddonetsk region.
"Name variations: Liliya, Lilya. Pronunciation: Lit-VYAHK. Born Lidiya Vladimirovna Litvyak on August 18, 1921, in Moscow, USSR; died August 1, 1943 in Dmitreivka, Ukraine as a result of air combat. Daughter of Vladimir Leontovich Litvyak (a railway employee) and Anna Vasilevna Khmeleva Litvyak (saleswoman). Unmarried; no children. Personal chronology: Became pilot in 1937; instructor pilot, 1939-41; joined Soviet military 1941; fighter pilot with 586th Fighter Aviation Regiment 1942; transferred to 437th Fighter Aviation Regiment and achieved first kill 1942; transferred to 9th Guards Fighter Aviation Regiment 1942; transferred to 73rd Guards Fighter Aviation Regiment and achieved all subsequent kills, 1943; disappeared in combat August 1943.
"Awards: Order of the Red Star; Order of the Red Banner; medal 'For the Defense of Stalingrad'; Order of the Patriotic War, 1st degree; Hero of the Soviet Union (awarded posthumously in 1990)."
-- Submitted by Reina Pennington to WOAH, noted expert on U.S.S.R. women in World War II.
[WOAH's author cannot tell you, Reina, how grateful she is for the information... and future generations will thank you for pulling back another curtain of historical neglect to let the glory of brave and accomplished women shine through with your books.]
According to Bruce Myles in his Night Witches - the Untold Story of Soviet Women in Combat. California: Presido Press, 1981, LL had just shot down her ninth German plane, a Heinkel 111 bomber, but a gunner on the doomed plane got in one burst and a bullet ripped through her enginer, stopping it dead - and then passing through Litvak's thigh. She forced landed and made a tourniquet from her scarf and fortunately was rescued quickly before she bled to death. She was left with a slight limp but returned to combat flying.
However, Myles did not speak Russian and badly misinterpreted many interviews so he got a bunch of things wrong. Including a fanciful description of her fatal flight and events leading up to it.
She was actually shot down by the pilot of a single Messerschmitt German fighter wile she was escorting a unit of Soviet bombers. She evidently died in the cockpit when she crashed. She was buried under the wing of the plane (a usual burial tradition) but the location was lost because the plane was used for salvage - and thus a legend that she might have been taken prisoner, etc. The grave was discovered in 1989 and she was awarded one of the nation's highest awards by then Soviet leader Mikhail Gorbachev.
Event 08-01-1989: Gwendolyn King, becomes the first American of black African descent to head the Social Security Commission.
| PRIOR DATE | | HOME | | WOA INDEX | | NEXT DATE |
---
SANGER, MARGARET:
"The Ona Daigaku, the feudal moral code (of Japan) counseled: 'A woman shall get up early in the morning and go to bed late in the evening. She must never take a nap in the daytime. She shall be industrious at sewing, weaving, spinning, and embroidery. She shall not take much tea or wine. She shall not visit places of amusement, such as theaters or musicals. She must never get angry - she must hear everything and always be careful and timid.' "
-- from Margaret Sanger's Autobiography.
McCORD, ROBERT:
"Women in America - more so than in other countries - are challenging male supremacy and rape as a way to show that men are still boss. Passion and sexuality have very little to do with rape. Sociologists see rape as a real power trip, brought on by low self-esteem and hostility....
"...studies show that convicted rapists would try to kill any person who raped their wife, girlfriend, etc...(these) men see women as THEIR PROPERTY TO DO WITH AS THEY CHOOSE, AND WHEN THEY ARE ABUSED BY SOMEONE ELSE, IT IS THE MEN, NOT THE WOMEN, WHO ARE OFFENDED.
"The long-term solution to the problems of rape is to teach men at the earliest possible age not to abuse women. Feminists urge the immediate improvement of the status of women, giving them equality and independence by legislation so that no man will think them inferior or beholden.
"SOME EVEN ADVOCATE MAKING RAPE A CIVIL RIGHTS VIOLATION LIKE LYNCHING.
"They have a point.
"Lynching happens because of race.
"Rape happens because of gender."
-- Robert McCord, columnist, Arkansas Gazette.
RHEES, RUSH:
In his 1901 report to the Trustees, President Rush Rhees of the University of Rochester expressed his preference for "co-ordinate education," where men and women attend the same college, take most of their classes and laboratory work together, but in certain courses, where more delicate subjects may be discussed, such as literature, physiology, and hygiene, there be separate sections to "allow for full and frank consideration to all phases of the matter under discussion."
---
| PRIOR DATE | | HOME | | WOA INDEX | | NEXT DATE |