08-02 TABLE of CONTENTS:
Some Facts about Women That Somehow Keep Getting Lost in the Cracks
DATES, ANNIVERSARIES, and EVENTS
QUOTE by Linda Zwiren, Margaret Atwood, Leslie M. McIntyre, Ms. Magazine and Euripides.
---
Some Facts about Women
That Somehow Keep Getting Lost in the Cracks
Lady Murasaki Shikibu (970-1004) wrote The Tale of Genji, the first novel ever recorded. In the days before the European "opening" of Japan, many women were active in government. (Note: Japanese women from about 700 A.D. to 1250 A.D. were active in Court and artistic life, then their writings were "lost" and did not surface again until modern times.


Comtesse de Die was a troubador poet who used the "musicality of language."


B. 1310, Juana II, Queen of Navarre 1328-1349. Should have been Queen of France. Wanting a son, her father Louis had her mother Marguarite smothered between two mattresses, but his only son from a second wife died shortly after birth. Juana was prevented from assuming the French throne under Salic law that stated land could not be inherited by a woman. The barons of the time added, "Lilies do not spin wool. France is too noble a kingdom to be entrusted to a woman." However, a number of French Queens acted as regents for their minor sons after the husband-king's death, but they are NEVER recognized as rulers in their own right.


"In 1189, a papal bull forbids women to join the Third Crusade, but some will go with the knights to fight in the Holy Land despite the bull, just as they did in the first two crusades." Women would also accompany all the Crusades doing "womanly" things such as cooking, laundry, and relieving men's "anxieties."


Joan I. (1326 - May 22, 1382) - Queen of Naples. She faced religiois opposition, murder, marriages, with various popes for and against her... in all a varied life. Joan I was a patron of poets and scholars.


B. 1327, Giovanna I, Queen of Naples, 1343-1381.


Lived 1364-c.1430 Christine de Pisan, French widow. She is the first woman known to earn her living in European society. "After Agincourt, she retired to a convent, probably about 1415 and her next work was a song in honour of Joan of Arc in 1429."


B. 1371, Maria, Queen of Hungary, 1382-1395.


Lived 1492-1549, Marguerite de Navarre, Queen of Navarre by her second marriage. Because of her patronage of artists, she is often referred to as the mother of the French renaissance. She was also an accomplished poet.


Ascended the throne 1384 - Jadwiga, reigned as Queen of Poland from 1384 to 1399. She was elected queen by the Polish people to separate Poland from Hungary. She restored the University of Krakow and is venerated as a saint in Poland.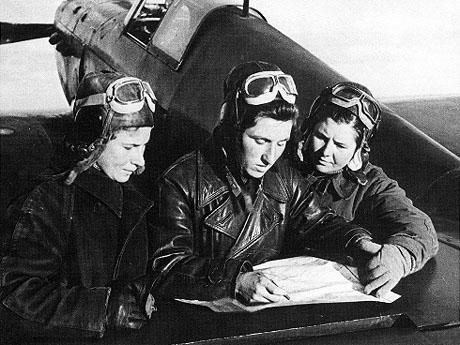 World War II Russian pilots who were also women.
The involvement of Soviet women in actual combat during World War II was one of the most closely guarded secrets of HIStory for almost 50 years before feminists began to tell the tales. WOAH emailed the first episode in 1994.
The bravery of the Soviet women pilots matches anything ever said about men pilots. For example in July 1943, during the Kursk offensive which would prove to be one of the most crucial battles of the German-Russian war, two women piloting Yaks were the only ones airborne when they spotted 42 Junker and Dornier bombers.
Against all odds they went into them with guns blazing and in two passes downed four bombers. The rest broke and ran. However their planes were badly damaged. Tama Pamyetnich bailed out of her plane. Ria Sooranchevskaya belly landed hers. Both were decorated for valor and flew and fought with the Soviet's 586th Fighter Regiment on an almost daily basis all the way to the conquest of Berlin.
| PRIOR DATE | | HOME | | WOA INDEX | | NEXT DATE |
B. 08-02-1878, Princess Ingeborg of Sweden.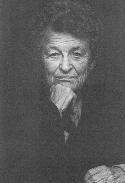 left, Federal Judge
Sarah Tilghman Hughes
B. 08-02-1896, Sarah Tilghman Hughes - U.S. jurist and woman's rights advocate. A federal district judge from Texas, she became the first and only woman to administer the oath of office to a president of the United States, swearing in Lydon Johnson on Air Force One in Dallas, Texas, following the assassination of John F. Kennedy.
STH served in the Texas State Legislature 1931-35 where she framed and helped pass provisions for child support while a divorce was pending. She was voted one of the Texas legislature's most valuable members.
To get her education, STH qualified for a four-year scholarship to Goucher (no mean feat) and then supported herself as a Washington, D.C., police officer while she studied law.
B. 08-02-1900, Helen Morgan - U.S. vocalist. HM was the sensational American "torch" singer of the speakeasies and of Broadway and the movies. She introduced such song- standards as "Bill," "Can't Help Loving that Man," and "Why Was I Born?" She was romanticized as the typical "flapper" living free, but in truth she chose a series of nasty men as her intimates - gangsters and losers - and she was physically abused and turned into an alcoholic.
B. 08-02-1905, Myrna Loy - U.S. actor and activist. Best known in the movies for her portrayal of the unflappable Nora Charles in the Thin Man series. ML stopped making movies during World War II to work for the Red Cross. (The work stoppage was at the height of her earning years in contrast with a number of men Hollywood stars who made war movies at big salaries and are considered heros today although they did nothing for the war except collect big pay checks and play dress-up soldiers.)
ML was appointed a representative from the U.S. to UNESCO. She organized opposition to Sen. Joseph McCarthy's out-of-control witchhunt and said fearlessly to him:
"Congress has the right to investigate ...but we question the right of any official to abuse citizens in order to make headlines."
ML was awarded the Kennedy Center honors in 1988.
B. 08-02-1918, Beatrice Straight - legendary U.S. actor.
B. 08-02-1926, Betsy Bloomingdale - U.S. department store mogul.
B. 08-02-1938, Yvonne Rügg - Switzerland's gold medal winner in the 1960 Olympics in the giant slalom. Yvonne Rugg
B. 08-02-1941, Doris Kenner-Jackson - U.S. pop singer, a member of the The Shirelles vocal group.
B. 08-02-1944, Bernadine Healy - U.S. health official. A cardiologist by medical training, BH was appointed the first female to head the National Institute of Health (1991). "My heart and soul is feminist," she said.
B. 08-02-1945, Joanna Cassidy - U.S. actor.
B. 08-02-1950, Kathryn Harrold - U.S. actor.
Event 08-02-1955: Mrs. Sheldom Rubbins become the first known female cantor in the history of Judaism.
B. 08-02-1959, Victoria Jackson - U.S. actor.
B. 08-02-1956 Isabel Pantoja Spain, Spanish singer (Genio y Figura).
B. 08-02-1961, Apollonia - actor.
B. 08-02-1963, Cynthia Stevenson - U.S. actor.
B. 08-02-1964, Mary-Louise Parker - U.S. actor.
| PRIOR DATE | | HOME | | WOA INDEX | | NEXT DATE |
---
ZWIREN, LINDA:
"I can see no reason why a woman can't throw as effectively as a man. There are a lot of statements about anatomical differnces, but there is not much documented evidence. Maybe we're really talking about poorly skilled people. People with poor athletic skills tend to throw poorly."
-- Linda Zwiren, director of Human Performances Laboratory, Hofstra University, 1976
ATWOOD, MARGARET:
"The moon seen from the moon is a different thing."
McINTYRE, LESLIE:
"Nobody objects to a woman being a good writer or sculptor or geneticist if at the same time she manages to be a good wife, good mother, good-looking, good-tempered, well-groomed and unaggressive."
Letter to the editors of Ms. magazine after one of its first issues: "I do not agree with your last article, and I am cancelling my wife's subscription."
(The wife's letter arrived the next day: "I am NOT cancelling MY subscription!")
EURIPIDES, as Medea:
"They say we live a life free from danger in the house while they fight! ///"What fools! I'd be ready to take my stand in battle three times rather than give birth just once."
-- Medea speaking in the play by the same name by Euripides (431 B. C.) (It has been noted that Euripides uses the neuter word oikourema for woman, meaning "a thing" rather than a human being caring for the house. The Athenian woman's role was that of chief female domestic servant in the UPPER classes. In the lower classes (the majority population), the position was closer to domestic slave and family wage earner.)
---
| PRIOR DATE | | HOME | | WOA INDEX | | NEXT DATE |