Women Who Cracked the "Glass Ceiling/Men-Only" Barriers in Professions and Industry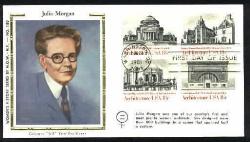 Julia Morgan (b. 01-26-1872) American architect.
*first woman student University of California at Berkeley college of engineering,
*first woman admitted and first woman graduate of the architectural section of the cole des Beaux-Arts of Paris,
*first woman to get an architectural license in California.
JM had a very successful architectural firm that built a number of landmarks in California and became the favorite architect of Phoebe Apperson Hearst.
She designed more than 800 buildings but is best known for William Randolph Hearst's San Simeon complex, which took 21 years to complete. At her peak she employed 35 architects in a learning atmosphere.
JM had a plane with a full-time pilot to take her to various construction sites during her 40-year career.
Even though Hearst's La Casa Grande is one of the most lavish private residences in the world, JM was noted for designing fine buildings with beautiful interiors on limited budgets.
Her genius is particularly prominent in San Francisco and the Bay area because she'd opened her office in SF just prior to the 1906 earthquake.
Born 02-14-1838, Margaret E. Knight, who received 27 U.S. patents including one for the machinery that makes flat-bottomed paper bags (rather than the envelope type). Patented in 1870, the basic machinery design is still in use today. Dubbed the female Edison, she failed to realize great financial profit from her inventions, which included a safety valve for power looms -invented when she was 12- six patents for shoe manufacturing machinery, plus valves, rotors, even engines.
"I do not claim that all women, or a large portion of them, should enter into independent business relations with the world, but I do claim that all women should cultivate and respect themselves and their ability to make money as they respect their fathers, husbands and brothers for the same ability."
--Ellen "Nell" Louise Curtis Demorset
A businesswoman before her marriage, Ellen Demorset and her husband (who had not been successful before and was, in fact, a chronic loser) packaged paper dress patterns and promoted them through a magazine outspoken in support of women's rights, abolition, and temperance.
ECD was sole administrator of the company and supervised the manufacturing.
She was one of the first employers in the US who hired blacks on equal terms with whites, and the races worked side-by-side. Not surprisingly, some people refused to buy the patterns (or did not allow their wives to buy) because of her integration policy.
In spite of the bigots, in 1876 alone more than three million Mme. Demorset's Paper Patterns were sold.
In addition to her multimillion dollar business, ECLD founded Sorosis, a women's organization, as well founding a home for abused women and children. American's Eleanor Butterick is the originator of the paper pattern.
B. 01-16-1925, Felice N. Schwartz, founding president of Catalyst, a company that worked with businesses to effect changes for women and created the Felice N. Schwartz Fund for the Advancement of Women in Business and Profession.
B. 01-10-1898, Katharine Burr Blodgett, American research physicist who developed the first "invisible" or no-reflecting glass (1938) and was the first research scientist at General Electric Laboratories who was also a woman.
B. 01-06-1794, Rebecca Lukens, American iron works/mill executive.
Pregnant and with four small children, RL took over her late husband's (originally her father's) almost bankrupt steel mill and made it a success.
She overcame financial depressions, lawsuits, ambiguous wills which left her heavily in debt to other heirs, adverse court orders - as well as resentment directed toward a woman's operation of such a business.
The mark of her managerial style was loyalty to her workers, who were employed through bad times and good.
B. 01-09-1886, Ida Cohen Rosenthal, Russian-born American manufacturing executive, operated a small dress store in New York along with Ethel Bissett.
To make their clothes hang better, the duo added tucks in front of the strips of cloth that were the brassieres of that time.
The resultant "cupped" bras became so popular that they organized the Maiden Form Brassiere company in 1923.
ICR's mother ran a store in Europe to support the family because her father was a Hebrew scholar.
Note that bras were designed and worn as beauty aids, not for any medical or health reason.
B. 02-09-1819, Lydia E. Pinkham developed a home tonic of herbs and 18% alcohol that she gave her children.
The tonic grew famous in her neighborhood, and she made her first sales in 1875.
She needed the money since she was married to a dreamer whose ship never came in.
Later her son marketed the home remedy under her direction.
By 1879 Lydia's Pinkham's tonic was a flourishing enterprise.
She wrote about women's "ills" in her advertising copy in a more sensible fashion than was popular in the day. LEP emphasized cleanliness and wrote frankly about menopause, uterine collapse, etc. - all subjects women did not have general access to because of the male-centered medical system.
When the compound was first marketed, many home remedies contained opium with doses of mercury and arsenic in a 27 to 35% alcohol solution. Doctors were also recommending nitric acid douches for "female" problems. By comparison, Pinkham's tonic was a healthy compound and millions swore by its medicinal effects.
Rose M. Knox (b. 11-18-1857) managed the Knox Gelatine Company for more than 40 years and recognized as one of the leading businesswomen of the U.S.
Following her husband's death she changed the emphasis of using gelatine as an everyday food and within seven years had developed Knox into a multi-million dollar firm.
On the first day of her management, she locked the back door and ordered everyone from president to janitor to use the front door. She invested in a remarkable research kitchen, offered recipes, and wrote newspaper columns.
B. 09-14-1897, Margaret Fogarty Rudkin, American businesswoman. MFR was a socialite who in 1937 started kneading and baking her own bread to develop a healthy product for one of her sons and parlayed those few loaves into a major commercial company, Pepperidge Farms.
The company had yearly sales of $32 million by 1960 when she and husband sold out. She stayed as president supervising the day-to-day operations personally until her final illness after an 11 year-battle with breast cancer.
B. 09-14-1913, Mary Virginia Sink who in 1936 was the first woman automotive engineer with Chrysler and the first woman to head a study panel of the Automobile Manufacturers Association. A contemporary news article noted: "Equally at home cooking in the kitchen ..."
Since the feminist rebellions of the 1970s, women in industry and the professions have proliferated. However, the very top spots where the big money and power is are still held by males - with only a very few exceptions.
Those exceptions include among others the head of a major film studio, a billion-dollar toy company (woman owner and woman CEO), and a computer hardware company. But they are still exceptions, not the rule.
HOWEVER, the next tier down is heavy with women who are capable and exerting strong pressure on that glass ceiling. The control of their companies are gently but firmly being transferred to them.
A revolution in the actual occupancy of the corner office upstairs in a large number of corporations can be expected within the decade.
Working Woman magazine is recording this change and helping women help themselves to be part of the revolution.