MARIA MITCHELL, Astronomer, 1818-1889
On October 1st, 1847, while scanning the skies with a telescope, from her rooftop observatory, 29 year old Maria Mitchell spotted an unknown comet. This discovery won her a gold medal from the king of Denmark and instant recognition as an astronomer. In 1865 Matthew Vassar invited her to become the first professor of astronomy in the U.S. at Vassar College. This remarkable woman was one of the most famous American scientists of the 19th century.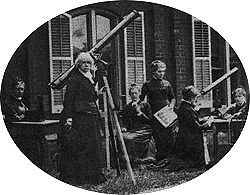 Professor Mitchell with her students on the lawn at Vassar.
Vassar College Library Photo.
Some of Maria Mitchell's accomplishments were:
1847 -- discovered the comet of 1847 - Comet Mitchell 1847VI
1848 -- appointed the first woman to the Academy of Arts and Sciences
1853 -- awarded the first advanced degree given to a woman - from Indiana Hanover College.
1859 -- awarded the Medal of Merit from Switzerland and the Republic of San Moreno
1865 -- appointed to the American Philosophical Society
1865 -- appointed the first woman to the faculty of Vassar
1875 -- elected president of the American Association for the Advancement of Women