Lincoln and Woman Suffrage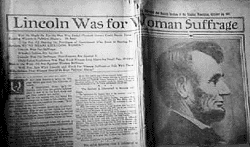 1915 Front Page Editorial and Society Section of
The New York Sunday American Dated: October 24, 1915
Actual size of this top fold is eleven by eighteen inches.
The type in the box on the top left reads as follows:
Well He Might Be, for the Man Who Ended Physical Slavery Could Hardly Favor Keeping Women in Political Slavery.
He Said: "I Go For All Sharing the Privileges of Government Who Assist in Bearing Its Burdens BY NO MEANS EXCUDING WOMEN"
Lincoln Was for Suffrage - Whiskey Sellers Are Against It.
Lincoln Was for Suffrage - Dive Keepers Are Against It.
Child Labor Exploiters, Men That Work Women Long Hours For Small Pay, Driving Men to the Wall, All Are Against Woman Suffrage.
Will You Side With Lincoln and Work For Woman Suffrage or Side With Those Who Believe That Women Should Be kept Political Slaves?