"Meanwhile, in the United States,
Americans were safe with the idea that their women
were never put in danger. Balderdash... We just didn't
give our women guns to defend themselves."


And the Women Stood on the Sidewalks and Waved...

By Irene Stuber

(This article originally was published in the Rebel magazine, 1995.)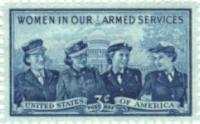 Rebels are not always thin, brown men with bandannas wrapped around their sweaty brows...
Sometimes the rebels are women - although history has pictured all women wearing silk gowns, languorously sipping afternoon tea waiting for the brave menfolk to come home from the wars.
Our HIStory books honor and record one kind of rebel (the kind men writers can imagine in their mirrors) while the rebels in skirts are ignored.
And the most totally ignored are the women who rebelled against their positions of non-involvement and took up arms against their oppressors - the same as men did.
For example, there was Boadicea (Boudicca) (fl 40-65), who led an army against the conquering Romans, shouting,
"Is not much better to fall honorably in defense of liberty, than be again exposed to the outrages of the Romans? Such, at least, is my resolution; as for you men, you may, if you please, live and be slaves."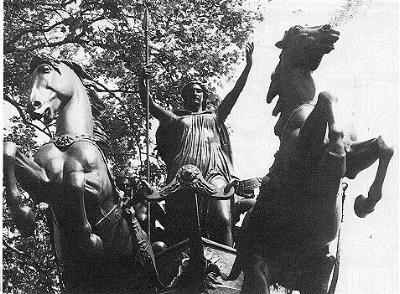 Boadicea and her Daughters is a bronze statue in London erected in 1902 that appears to represent the Victorian ideal of Britannia battling tyranny rather than a representation of the Icenian hero. But at least she's recognized.
When her King-husband died, Boadicea of Iceni was flogged by the Romans and her two daughters raped in front of her.
Rape was used by the Romans to emphasize subordinate status and the uselessness of resistance. Rape has always been considered one of the perks for soldiers - and is used to the present day such as in Bosnia.
Boadicea then led a Celtic revolt that conquered two cities, including London, before her armies were defeated and slaughtered.
Historian Dio wrote, "All of this ruin was brought upon (Rome) by a woman, a fact which in itself caused them the greatest shame."
Men Have Turned Into Women
HERstory remembers other women who fought the fire of violence with violence. Artemsia, 480 BC, Queen Regent of Halicarnassus, was the female commander in the army of Xerxes about whom he said: "My men have turned into women, my women into men."
Artemisia of Halicarnassus was probably the first woman to have a price put on her head and certainly the first for being the scourge of a naval fleet.
Artemisia took command of her husband's five-ship fleet at his death in battle. She was one of the important commanders of Xerxes (there were several women generals).
After the battle of Marathon, the Athenians offered a reward for her capture.
She was never captured.
Donna Catalina de Erauso (1592-1650) cut her hair and ran away from the nunnery at 15.
She spent the rest of her life disguised as a man as she became an accomplished swordshandler, bandit, and mercenary soldier.
She won honors for her exploits on the battlefield from such luminaries as the King of Spain and the Pope.
By comparing what we know of how women fought in ancient times with what we know of how women disguised themselves to fight in more modern wars, we can certainly surmise that women were actual fighters in wars and battles throughout all of HIStory, albeit, not recognized.
Actions of Women Ignored
For example, while the Minute Men have been idealized in our elementary school textbooks, the actions of women during the Revolutionary War have been ignored.
According to Carol Hymowitz and Michaele Weissman in their marvelous A Women in America:
One day after the Patriot defeats at Lexington and Concord, the women of Groton, Massachusetts dressed in men's clothing, armed themselves with muskets and pitchforks and set out to defend the local bridge from the retreating British. The women captured a small group of British solders, including a courier carrying valuable intelligence, and handed their prisoners over to the local militia.

As many of 20,000 women marched with the British and American armies. These women acted as paid and unpaid cooks, nurses, doctors, laundresses, guides, seamstresses, and porters. It appears that more women served the British than with the American army because, of course, the Americans could rely on local help.
And in another section, they quote a matron describing the appearance of the British forces as it entered Cambridge, Massachusetts:
"I never had the least idea that the Creation produced such a sordid set of creatures in human figure - poor, dirty, emaciated men, great numbers of women who seemed to be the beasts of burden, having a bushel basket on their backs, by which they were bent double, the contents seemed to be pots and kettles, various sorts of furniture, children pooping through the gridirons and other utensils, some very young infants who were born on the road, the women bar feet, clothed in dirty rags."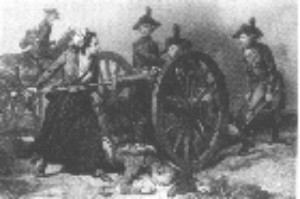 This use of women as beasts of burden, prostitutes, etc., as part of an army is never, but never recorded in mainstream HIStories, any more than the accomplishments of those women who actually took up arms.
We're all familiar with the Molly Pitcher tale, but few think beyond the stirring words and consider what Molly's presence on the battlefield meant.
In truth, women were all over most battlefields carrying water, food, ammunition, messages, etc., getting shot at, being wounded and killed the same as men, even being captured by the enemy.
On 06-28-1778, while "attending the (artillery) piece " with her husband at the battle of Monmouth, N.J., a cannon shot passed between the legs of Mary Hays (Molly Pitcher) tearing off the lower part of her skirt - and she kept on loading her cannon.
When her husband was wounded, she either fired the cannon once alone or several times, depending on witnesses.
In 1822, she was awarded a soldier's pension of $40 a year.
On 07-06-1779, the Continental Congress voted "that Margaret Corbin, who was wounded and disabled in the attack on Fort Washington (1776), whilst she heroically filled the post of her husband who was killed by her side serving a piece of artillery, do receive, during her natural life, on the continuance of the said disability, the one-half of the monthly pay drawn by a soldier in the service of these states; and that she now receive out of the pubic store, one complete suit of clothes, or the value thereof in money (later amended to a new outfit every year."
As a veteran she was also entitled to a liquor ration, but the military stores refused to issue it because she was a women.
She got the liquor ration after a lengthy campaign and with all the back liquor due her.
She had been taken prisoner by the British after she was wounded. Following her release, she went to West Point to seek treatment for her battle wounds.
Her home state of Pennsylvania gave her $30.
She is buried at the West Point cemetery.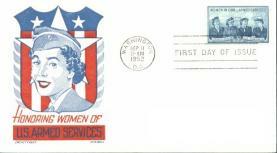 In the American Civil War, in addition to the women doing women things for the soldiers, there were women who disguised themselves as men and fought as the men did and were wounded, captured, and died.
Authorities estimate up to 400 women disguised themselves as men to join the Union forces, but the number is necessarily vague because most were never discovered. (And since there was and is widespread denial that women ever served, the numbers might have been much larger, especially since there are NONE listed on the Confederate side.
Historians claim the women only went to war to be close to the men they loved, but such a "romantic claim" fails to separate those women who became cooks, housekeepers, etc., and those women who were active soldiers.
The Confederate forces denied any women fought in their war, but sightings and revelations in diaries that are now coming to light (instead of being kept in the attic boxes as the dirty family secrets) contradict such claims.
Some of the Women Who Were Wounded - and Killed
Kate W. Howe, aka Tom Smith was wounded at the battle of Lookout Mountain in the Civil War and drew a pension of $17 a month. She was the granddaughter of Gen. Winfield Scott.
Frances Hook, aka Frank Miller/Henderson, wounded in battle with the 65th Illinois, was discharged but reenlisted in the 19th Illinois regiment.
She also served in the 90th and the 3rd Illinois.
She was taken prisoner in Tennessee when she was wounded in the leg and her sex revealed. Exchanged with other prisoners, she refused to "go home" and instead enlisted with the 90th Illinois, Company G.
She was captured and sent to the prison in Atlanta where she was shot while attempting to escape. She recovered and was again exchanged.
Sarah Emma Edmonds Seeleye, aka Franklin Thompson of the 2nd Michigan, Company F was the only woman recognized as a member of the Grand Army of the Republic and is buried in the GAR plot in Houston.
Sara Rosetta Wakeman, born 01-16-1843, aka Lyons/Edwin Wakeman died while with the 153rd NYSV, Co. G&H, as a regular soldier in the Civil War.
Her letters, a photo in uniform identifying her, and some personal belongings were found in a trunk in the family attic almost 100 years after her death.
She is buried in grave #4066, Section 52, of what is now the Chalmette National Cemetery, Chalmette, Louisiana, outside New Orleans.
Her letters contain references to other women in the military.

But most of the women who soldiered in the Civil War were like Pvt. Charles Johehouse.
While moving bodies from a battlesite near Gesaca, Georgia, for re internment to a national cemetery in 1886, the body of Charles Johehouse, Private 6th MO was noticeable by its small feet.
Examination revealed Johehouse to be a woman in full uniform who was shot through the head.
Her real name is unknown.
How prevalent were women disguised as men soldiers? Almost at the end of the Civil War, a strange Army regulation went into effect:
It required soldiers to strip to the waist when enlisting.
One can only surmise that it was because so many women were being discovered in uniform.
By World War I, the enforced medical examinations at enlistment and close living in barracks precluded women from infiltrating the male ranks and so they formed women-only groups that were allowed to assist men - and supposedly were kept away from danger.
That said, close to 200 American women were killed in World War I.
The number of European women who were part of the military in one way or another is not known, nor the awful price so many of them paid with life or limbs - and of course, rape.
Any number of women (English and French as well as Americans) drove ambulances on the front, many were wounded and killed. Even Marie Curie, the Nobel Prize winner, was on the front tending wounded with her portable x-ray machinery.
In Russia there was the Battalion of Death, women fighting in the trenches against the German invaders.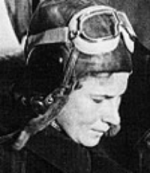 left, Lily Litvak
The tradition of Russian women fighting for their homeland alongside the men continued in World War II when the Soviets defended themselves with women soldiers as well as women fighter and bomber pilots. Almost every region of eastern Russia has its local woman hero who acted as a sniper, rear guard protector, or active soldier.
A thousand Soviet women became pilots, navigators, even mechanics - and there were three full regiments of 300 women each. They included such women as Lily Litvak, who shot down 18 German planes before she herself was shot down when ambushed by eight German planes on 08-01-1943.
A dozen other Soviet women qualified as "aces" with three or more "kills."
Meanwhile, in the United States, Americans were safe with the idea that their women were never put in danger.
Balderdash and complete LIES!
We just didn't give our women guns to defend themselves.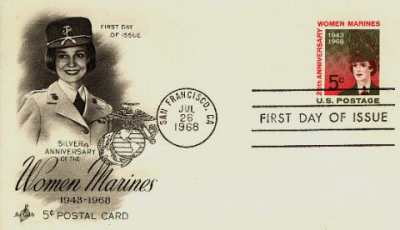 Ex-nun, nurse, and lesbian author Evelyn Kennedy, in the preface of one of her novels writes:
"More than 100 military nurses were captured when Bataan and Corregidor fell to the Japanese in 1942.
Sixty-six Army Nurses and eleven Navy Nurses remained in a Japanese concentration camp for 37 months, more than three years!

"Sixteen hundred Army Nurses and 565 WACS received combat decorations, including the Distinguished Service Medals, Silver Stars, Bronze Stars, Air Medals, Legions of Merit, Commendation Medals, and Purple Hearts.

"During the battle on Anzio, six Army Nurses were killed by German bombing, strafing and shelling of the tented hospital area.
Four Army Nurses among the survivors were awarded Silver Stars for extraordinary courage under fire.

"In all, more than 200 Army Nurses lost their lives during World War II.
Seventeen of those valiant women are buried in American cemeteries in foreign lands."
And Kennedy didn't attempt to list all the American women who died serving their country in World War II, just the nurses.
So many more died.
For example, 38 of the 1,104 women who made up the Women's Air Services Pilots Service (WASPS) died ferrying planes for the Army WITHIN the United States.
One pilot, Mabel Rawlinson, was actually shot down by an American gunner trainee and died in the crash, 08- 23-1943.
Her death and its cause was a more closely guarded secret than the invasion of Europe. It was thought that the news of an American woman dying (especially at the hand of an American soldier) might cause such a public outcry that women would be forced out of the serving their country although the desire of the military to cover its butt in the matter was probably truer. The son of a general was the instructor who stood next to the soldier who fired the bullets that downed Rawlinson's plane - and she would not have died if proper maintenence had been done on her ship. Her canopy jammed and she was burned to death in the fire that followed the forced landing. The man who rode the rear cockpit and controlled the trailing object that was supposed to be the target was able to open his canopy and walk away unharmed.)
We have no statistics on the large number of English women who were injured, wounded, shot down, or killed while ferrying RAF planes or serving as women auxiliary soldiers both in England and with invading forces, but it must have been astounding.
One of the world's most noted woman pilots, Amy Johnson was lost in the Thames River after the plane she was ferrying failed.
While male RAF pilots were too valuable to move shot up planes from the airbases to repair locqtions, women pilots were used.
Women uncovering HERstory are just beginning their investigations and the old legends of women's non-involvement in war and battles is being dismantled by facts.
For example, a number of women were with the FIRST wave that went into France on D-Day... another closely guarded secret or maybe just another fact erased from HIStory by men who write about themselves and ignore the number of women who were subjected to enemy fire, artillery, and bombs every day of every war.
One one of the history email lists, one gentleman wrote a summation of the estimated casualties during the Allied invasion of Normandy that indicated more than four times the number of French WOMEN were killed during the invasion of France than Allied soldiers from the bombings, artillery fire, etc.
The military never counts civilian deaths, it seems.
We should remember that in all those scenes of bombed out homes, destroyed farmhouses and cities, human people - mostly women because the men were safely in the miliary - died or were maimed.
The number of German women who died in the time period of World War II well exceeded the number of German soldiers!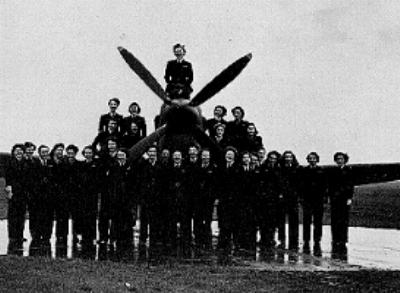 One ferry wing of the British Air Transport Auxilliary pose before
a Spitfire, the fighter warhorse plane of the Brits in World War II.
American women also went to England to help with the Battle of Britain before the U.S. entered WWII.
One was Mary Nicholson whose plane crashed when the propeller fell off. Women pilots flew damaged R.A.F. planes from airfields to repair depots, tested aircrafts' air worthiness (male fighter pilots were in short supply and couldn't do such things) as well as moved planes all over the island to protect them from incoming Nazi fighters and bombers.
Hundreds of British women died as pilots or around the air fields... and, of course, during the Blitz. Again the English casualties on the home front far exceeded the casualties of military personnel during World War II.
The wounding and killing of American women in Viet Nam was well on its way to being erased from history when The Wall was erected in Washington, D.C., with not a single woman's name on it.
The outrage was mighty, but only loud enough for the names of the American women dead to be engraved on the wall.
It was not been loud enough for the glory that women have shown in all our wars to be fully recognized.
But there are several groups who have since come forward, devoting their energies to uncovering women's history in the defense of their country.
The first ever national memorial to women who have served and died in defense of their country has been erected at the ceremonial entrance to Arlington Cemetery entrance
This living monument to Women in the Military was completed in 1996 not only honors women in the military but also serves as an information, recording all the names of women who served their country.
Its mission: "Relive the past, experience the present and envision the future of America's Servicewomen."
One of the better private websites about women in the military is operated by Capt. Barbara A. Wilson (ret) who was the first webitor of undelete.org. Her site is excellent and "remind(s) you that women are veterans too!"
Capt. Barb challenges "Did you know that there are almost two million women veterans?"
Some other sites:
http://www.pafb.af.mil/deomi/wommil95.htm is a small site that has some good information and text references.
http://pratt.edu/~rsilva/sovwomen.htm (Soviet women pilots).
http://members.aol.com/veterans/warlib66.htm (Links to American women veteran sites)
One organization that is devoted to unraveling the history of women in the military is The Minerva Center, Inc., 20 Granada Road, Pasadena, Md. 21122, email . It is headed by founder Dr. Linda Grant De Pauw of the Department of History, George Washington University.
One of the great problems regarding recognition of women who fought for their country is summed up in a message sent Women of Achievement and Herstory by Heidi Lyshol, a Norwegian woman who at the time was studying in England: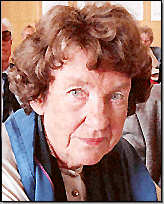 left, Randi Bratteli
"There was an enormous victory parade in Oslo, Norway's capital after World War II.
"All the military men who had been away for the duration of the war were in it. All the men who had been in the Home Front were in it.
"And on the sidewalks? Everyone else - including the women of the Home Front who did the same kind of dangerous, illegal jobs as the men did. A significant number of Home Front women died in the Ravensbruck concentration camp after being betrayed to the Germans.
"Labour Prime Minister Trygve Bratteli and (his wife) Randi Bratteli are examples of what it was like.
While (the couple) worked side-by-side during the war facing danger equally, HE marched and she cheered at the parade from the sidewalk..."