If you are looking for films about women in war, women as spies, prisoners and in uniform...you won't find very many.
Just for fun - can you name any movies other than "G.I. Jane" and "Courage Under Fire" that featured military women other than as token background?

What about M*A*S*H - the movie?

World War II spawned a few
poignant black and white films about
military women including this
one starring Claudette Colbert
and Paulette Goddard, "So Proudly We Hail!"
There was also:
"Cry Havoc", 1943, with Joan Blondell, Ann Southern and Margaret Sullavan.
"Keep Your Powder Dry", 1944, with Lana Turner, Larraine Day, June Lockhart.
"To the Shores of Tripoli" 1942, with Maureen O'Hara as a 2Lt nurse.

In 1944 Paramount produced a Bing Crosby vehicle starring Betty Hutton in a dual role as WAVE sisters, and introducing Sonny Tufts. About the only thing memorable to come from the movie - "Here Come the WAVES" - was the song "Accent-Chu-Ate the Positive" by Johnny Mercer.
And don't forget the military satire with Cary Grant and Anne Sheridan - "I Was a Male War Bride", 1949, where the military person was Anne Sheridan.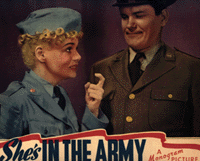 There was an obscure Monogram film called "She's In The Army" with a uniform in pale blue, never worn by any female in the military.

"The Lieutenant Wore Skirts"
came out in the '50s and was
not exactly a blockbuster either.