American Women Spies
---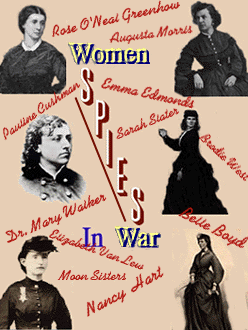 The gathering of information about one's enemy has been around since prehistoric times.

From clan head to marauding conqueror, leaders needed to know the strengths and weaknesses of their enemies. Through the ages spying developed into an art form and no one was better at it than women.

In the early days of the Revolution many Philadelphia women passed key information along to General Washington at Valley Forge.

Lydia Barrington Darragh spied on the British and informed American officers. She made several trips from the city to Washington's headquarters, one in which she concealed an American uniform from the British.

All up and down the east coast women spied for the cause.

Ann Trotter Bailey carried messages across enemy territory in 1774.

Sarah Bradlee Fulton,sometimes called the "mother of the Boston Tea Party," delivered dispatches through enemy lines.

Emily Geiger rode 50 miles through British and Tory enemy territory to deliver a message to General Sumter.

During the Civil War Belle Boyd spied for the Confederacy by carrying important letters and papers across enemy lines. She was imprisoned in a Union prison for her espionage activities. Ironically, before the war ended, Belle Boyd married a Captain Harding, a Union naval officer.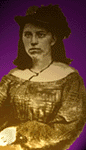 Nancy Hart served as a Confederate scout, guide and spy, carrying messages between the Southern Armies. She hung around isolated Federal outposts, acting as a peddlar,to report their strength, population and vulnerability to General Jackson. Nancy was twenty years old when she was captured by the Yankees and jailed in a dilapidated house with guards constantly patrolling the building. Nancy gained the trust of one of her guards, got his weapon from him, shot him and escaped. After the war Nancy married Joshua Douglas and settled in Virgina.
Elizabeth Van Lew asked to be allowed to visit Union prisoners held by the Confederates in Richmond and began taking them food and medicines. She realized that many of the prisoners had been marched through Confederate lines on their way to Richmond and were full of useful information about Confederate movements. She became a spy for the North for the next four years, setting up a network of couriers, and devising a code. For her efforts during the Civil War, Elizabeth Van Lew was made Postmaster of Richmond by General Grant. After she died, in appreciation of her loyalty to her country, the people of Massachusetts had a gravestone erected on her grave which read, "She risked everything that is dear to man - friends, fortune, comfort, health, life itself, all for the one absorbing desire of her heart- that slavery might be abolished and the Union preserved."
The most famous, and controversial, spy of World War One, though not American, was Mata Hari - actually Margaretha Geertruida Zelle McLeod - a Dutch born woman who carried embellishment and exotic stripping to an art form. But was she ever really a spy? So many myths and legends have surrounded her past that it's hard to tell reality from mystery. She was an admitted courtesan, was not as she invented, an exotic dancer from India, and she was shot by the French as a spy on October 15th 1917. Historians now say that her principal French accuser was in reality a spy for the Germans and that her death was as much a needless charade as were her bumbled attempts at spying. Bettmann Archive Photo
Another woman who was executed during WWI was Edith Cavell, a nurse from England who was working in Belguim during the war. Secretly she worked helping British, French, and Belgian soldiers to escape from behind the German lines and eventually rejoin their units. She housed as many as 35 refugees at once in the nursing school where she was the administrator. When the Germans occupied Belguim they converted Cavell's nursing home into a Red Cross hospital, and let her continue as Matron under German supervision. By 1915 she had helped more than 100 British and an additional 100 French and Belgian soldiers. but the Germans grew suspicious and arrested her in August. Her trial in October lasted only two days and resulted in a death sentence, in spite of appeals from both the American and Spanish ambassadors for clemency. On the morning of October 12th , 1915, Edith Cavell was executed by a German firing squad and buried nearby. Eventually her body was exhumed and returned to her native soil in Great Britain for reburial - you will find these words on her statue in St Martins Park - "'Humanity, Fortitude, Devotion, Sacrifice"

During WWII A young woman from Baltimore, Virginia Hall, went to work for the French as an agent and was so successful that the Nazis began an all out hunt for her. By the winter of 1941, the Nazis were about to arrest her, but she escaped on foot over the Pyrenees Mountains into Spain. This was no easy task for Virgina Hall had lost her leg in a hunting accident earlier and wore a wooden leg at the time. Not content to rest she trained as a radio operator and then transferred to America's OSS. In November 1943, disguised as an elderly milk maid, she returned to France and resumed her espioniage duties.
Virginia was hunted by the Gestapo. They circulated a wanted poster with the warning, "the woman with the limp is one of the most valuable Allied agents in France and we must find and destroy her". But her elaborate disguise fooled the Germans and she painstakingly taught herself how to walk without a limp. Virginia collected and sent invaluable intelligence and coordinated air drops in support of D-Day. She also trained and led maquis resistance groups in guerilla warfare and sabotage.

After the war Virginia Hall was awarded America's Distinguished Service Cross in a simple ceremony...the only American civilian women to receive the DSC. She was also awarded the the MBE, the Member of the British Empire, for her courageous efforts. Virginia Hall continued to work for the OSS, later the CIA, until her retirement in 1966.
Though we began by looking at American women spies, your input on women spies from all over is most welcome and enthusiastically encouraged. If you have a true spy story, please submit it for inclusion here.