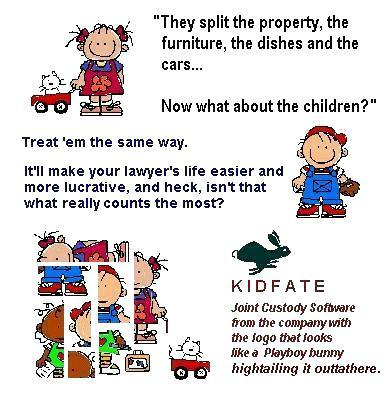 JOINT physical custody isn't about "sharing." It's about splitting the spoils (in this case, rendering children possessions) down the middle to "share" in the sense of halving.
It's about operating separate automonous households that do NOT have to confer, because EACH can do whatever the heck it wants to, consistent or not, approved by the other parent or not.
This page was inspired by the "KidMate" joint custody software ad on page 35 of the Spring 1999 Family Advocate, Vol 21, No.4, American Bar Association. A decade later, the opportunism and commercialism are geometrically worse.
The original ad also was online at http://www.kidmate.com/ Yes, they really had the sex bunny logo. Same rabbit, different position. Freudian? The webpage also sold advertising to other businesses -- political websites usually do that, not companies. A joint custody propaganda tool.