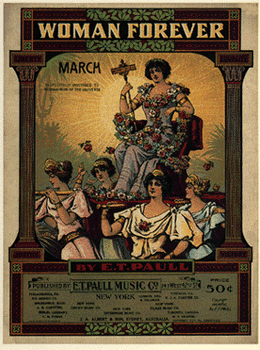 Rare Sheet Music - "Woman Forever" by E.T. Paull,
circa 1916, Private Collection.
Many of the photographs, prints, engravings and digital images that are brought to you on these pages are from the private collections of women and men who have graciously donated their use on this site. Some are from century-old books, documents, and artifacts. Other sources include The U.S. Library of Congress, The National Archives, and the personal collection of Irene Stuber. In accordance with Title 17 U.S.C. Section 107, this material is displayed without profit or payment, to those who have expressed a prior interest in receiving this information for non-profit research and educational purposes only. Email istuber@undelete.org with any suggested additions or to make a donation to this collection.
CURRENT LIST OF EXHIBITS: