FLORIDA FAMILY LAW APPEALS -- All Florida Courts:
Palm Beach Divorce Lawyer Lisa Marie Macci and Broward County Family Lawyer Elizabeth J. Kates.
This page is http://www.thelizlibrary.org/therapeutic-jurisprudence/custody-evaluator-testing/rorschach.html

The Rorschach Psychological Test
Are Psychologists Hiding a Lack of Expertise?
When You Should Just Walk Out. PDF
By Elizabeth J. Kates, Esq.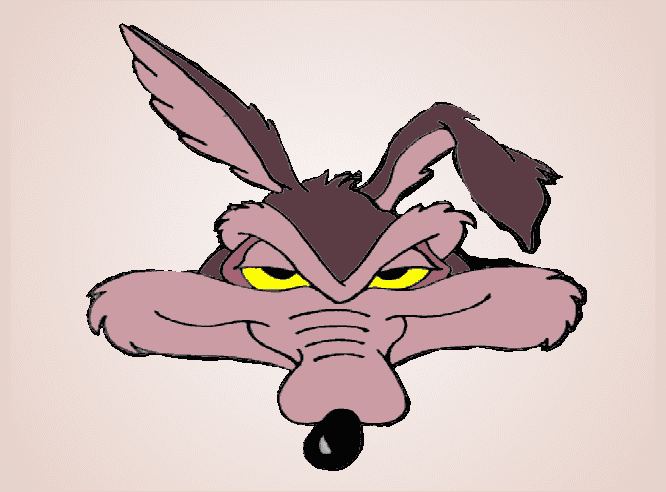 The Rorschach is only marginally better than an astrology reading. In other words, it's nonsense. And yet it's staunchly defended by its adherents -- ostensibly well-educated, thoroughly trained, smart and expert -- many of whom I suspect have just invested too much time, effort and money in the course of their careers "mastering" or specializing in this crap either to face the truth or comfortably switch gears. (Or perhaps this is just one facet of a more comprehensive problem, which I will get to below.)
The true believers, just like believers in a religion, can be found arguing vehemently, offended at the criticism that has been thrown their way. They take it personally. (See, e.g., reviews of "What's Wrong With the Rorschach" on amazon, linked below). Not all of the vehement and insulted are true believers, of course. Some are like the sociopathic serial cheater who screams at his wife who suspects him of cheating that he's now fed up with not being trusted.
Others are just fooling themselves. Among those using these tests in the psychology communities are also the studiously dispassionate ever-so-scientific and professional faux neutrals. These posit with wise and articulate demeanor to the effect that they know all about the "strengths and weaknesses" of the Rorschach and various other psychological tests but are using them to "add to the data" (and their fees, of course.) (Godknows what they think they are going to do with "data" that has nothing to recommend it and as to which there is no scientifically sound conclusion to which it can be applied.)

Some attempt to justify the use of the Rorschach and similar tests as good way to "prompt" interviewing, thus allowing the application of "clinical judgment" and the psychologist's impressions about the person being interviewed. Used this way, the Rorschach test results are trash per se. A forensic psychological examiner, essentially a stranger receiving among other things possibly completely false information from opposing parties in a stressed and artificial setting, simply does not have the breadth or depth of familiarity or perspective with regard to the situation and individuals involved even to begin to form an opinion using "clinical judgment" that is anything close to reliable. (Their formal assessments frequently are equally bad, but in theory at least, the evidence on which these opinions are based is supposed to be objective and transparent, thus permitting review.) At any rate, "clinical judgment" and other unreliable gut feelings and guesswork are inappropriate in the forensic context.
Even if, arguendo, the Rorschach has some validity, the test is so tedious to "properly" administer and "score" that this lawyer strongly suspects that many forensic psychologists who use it in child custody evaluations don't in fact bother to administer or score it as it is supposed to be administered and scored. What they actually do is a half-assed "interview" using the cards. And then they report or say what they want to report or say. (Who was there to see what they did or said or what the subject did or said, or whether what they wrote down was accurate? Who is going to argue with them?) Not that it necessarily worsens the defects if there are bogus results claimed in connection with a test that is bogus anyway, but it is perhaps one of the many reasons that psychs refuse to turn over their test data and notes in discovery.
The danger presented by all of these tests, as I've stated repeatedly over the years, is that they lend the appearance of expertise where there is no expertise to be had.
If you're a lawyer or litigant, ideally there will not be any forensic evaluator giving any psychological tests at all in your case. If this is unavoidable, however, at the very least you will want to get a ruling in connection with the court appointment that the Rorschach (and any other "projective, inappropriate, unreliable, invalid and/or incorrectly administered instruments or procedures") will not be used.
Below is a short excerpt from the introduction and first chapter of The Cult of Personality, by Anne Murphy Paul; below that are the Rorschach cards, then more on psych testing and child custody evaluations.
The story begins with Hermann Rorschach, a Swiss psychiatrist possessed by a desire to create "a key to the knowledge of mankind." The inkblot test that bears his name, though one of psychologists' favorite tools for more than fifty years, has come under increasingly intense criticism... numerous detractors charge that the Rorschach... "overpathologists", making healthy individuals look sick. Multiple investigations have concluded that many of the test's results are simply not supported by evidence. Yet the Rorschach is still used by eight out of ten clinical psychologists, administered in nearly a third of emotional injury assessments and in almost half of child custody evaluations... p. xii.

1917...Reading Hens's paper, Rorschach felt the painful jab of professional jealousy -- but also a gratifying flash of insight. Hens, he realized, had focused on the content of what his subjects discerned in the blots. For Rorschach, however, what his patients saw mattered less than how they saw it: Did they take in the entire shape, or did they concentrate on one part? Were the figures they saw moving or still? How did they react when colored blots were introduced? Such perceptual processes, Rorschach believed, revealed far more about the viewer than the simple content of their answers... p. 19.
2003... nineteen students are gathered on the campus of Columbia University to learn about the Rorschach... Standing at the front of the room, [Barry Ritzler] has asked the students to tell him about the test results they've been receiving from the patients they work with... Interpreting Rorschach responses is a difficult and arcane craft, like building ships inside bottles, and he is guiding them through the process with solicitous care. "In Card VI, my client saw monsters and a volcano," offers one student... "Are the monsters on the volcano, or climbing up the volcano?" inquires Ritzler. Assured that it is the latter, he replies, "Well then, that's a Movement response." Another student asks what it means when her patient insistently focuses on one small area of the blot. Ritzler tells her that such responses indicate a narrowness of perspective, as contrasted to whole or "W" responses: "W's indicate someone who's ambitious -- like you guys," he explains. "You're graduate students at Columbia, living in New York. That kind of ambition takes a lot of W's."... pp. 31-32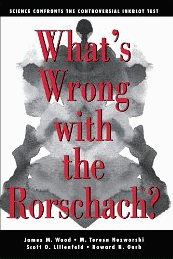 The test's potential defects first came to Wood's attention when he was asked to consult on a custody case involving allegations of child abuse. He was troubled to learn that although the mother in the case was described by several trustworthy sources as honest, caring, and sensible, her Rorschach test labeled her seriously disturbed, prone to pathological lying, and unable to express affection to her children.

I didn't know then that the Rorschach was a hoax," says Wood. "I started digging into the research." The result was a series of articles beginning with his 1996 publication in Psychological Science, and eventually a book, What's Wrong With the Rorschach, written with M. Teresa Nezworski, Scott Lilienfeld, and Howard Garb and released in 2003. Wood and his coauthors' numerous criticisms of the Comprehensive System [Exner Comprehensive System for interpreting the Rorschach] come down to three very serious charges.

First, many of its scores have "essentially zero validity" -- that is, when the Rorschach reports that a test taker is depressive, or narcissistic, or overly dependent, that person is quite likely not to exhibit those traits at all... Only a handful of the more than one hundred variables in the [Exner] Comprehensive System have stood up under investigation...

The second of the group's criticisms concerns the "norms" provided by the Comprehensive System, or the standards of normality against which test takers are judged. The Rorschach routinely "overpathologizes" healthy people, Wood and the others maintain, making them seem much more dysfunctional than they really are... If Rorschach scores for a normal adult are interpreted according to Exner's norms... that person will appear "self-focused and narcissistic," "unconventional with impaired judgment and distorted perceptions or reality," "depressed, anxious, tense, and constrained in emotional expression," "insecure and fearful of involvement," "vacillating and inefficient," with "low empathy," "a tendency to withdraw from emotions," and "poor emotional control." The Comprehensive System's model of normality... doesn't actually represent normal people.

Their third point of contention takes aim at the very foundations of Exner's method... Exner cites mostly his own research to support his claims for the Rorschach's usefulness. Less than a quarter of these works [are]... articles published in peer-reviewed journals. More than half are unpublished studies from the Rorschach Workshops, a series of seminars organized by Exner (Barry Ritzler has often led them)... some have not even been written... When Wood and others asked to see some of this research... they encountered resistance from Exner and his staff at the Rorschach Workshops...

[L]ack of validity, skewed norms, and questionable scientific support might seem like yet another bitter internal battle, of interest only to its bloodied combatants -- except for one thing: the Rorschach's regular appearance in our nation's courts. pp. 36-38
Below, the Rorschach cards. You are shown the card and asked what you see in it. It's a parlor game. Keep in mind, though, that this horseshit when taken as gospel by a psych who believes in it, involves more than "what" the responses are, such as whether you saw a monster or "insect" when if you were more normal you should have seen a dog or "butterfly"-- although if you see only blood and vaginas in all the cards, or insist they are all "inkblots", you're in more trouble with the psych than if you see a variety of people doing things, flowers and butterflies. You're also in trouble if you are unduly visually creative or if you're not, and can't think of much. If you are prone to wisecracking or being Tosh-like, remember that forensic psychs are often humorless people, but even if your forensic is not, the scoring system takes your responses with deadly seriousness.
The scoring also includes such things as the psychologist's "observations" of how you responded, whether you gave too many or too few responses, whether you paused, and how you behaved, in addition to whether you saw scary or sexualized or violent things in cards in which "normal people" see happy nice things. You are judged on whether you turned the cards to look at them from different points of view, whether you saw objects in the inked portions or the white (negative) spaces, whether you saw lots of living things or only impersonal objects, whether you repeatedly saw stuff that few other people see, or things that aren't listed as something anyone ever saw, what and whether additional or extraneous comments you made as you were finding things in the cards, and whether you kept saying the same comments over and over again, whether you looked at the supposedly scary card (as did this author) and saw a puppy, and similar nonsense. (Of course, unless you are having the "test" videotaped, there's really no telling -- or contesting -- what some (most) of these mavins of observation and detectives of life, will themselves perceive about you or accurately write down -- and that's assuming that they will strive to be honest and also turn over their "data" in discovery.)
Click on the thumbnails to see bigger image. (You may also want to read Psychwatch, thank gilligan, info at Scientific American, wiki, skepdic (good essay), and other information now available on the internet.)
Card Two
Slap me five!
Great campfire.

Or a trilobyte.

Card Three
Cooking over
campfire and
the wind has
blown our hair
off. Also our
(#2) kimonos.

Card Four
Kid wearing
snow suit or
footsie pajamas
riding hunched
on a 'cycle.

Card Five
Easter Bunny
taking out
the yard
trash. Or a
moth (yawn).

Card Six
Fairy standing
on summit of
bread mold.
Or floor
schmutz.

Card Seven
Attempt to
paint a
watercolor
stone effect.

Card Eight
Goldilocks
from back;
prairie dogs
riding on her
arms, holding
her pigtails.

Card Nine
Seahorses
superimposed
on pelvic
bones.